Keep the softest tissues in the toilet if you want to earn brownie points from investors
Kakkar and VT Bharadwaj, popularly known as VT, Managing Director and Patner, Sequoia Capital shared notes in a humorous and insightful talk on their memories of each other as an entrepreneur and venture capitalist.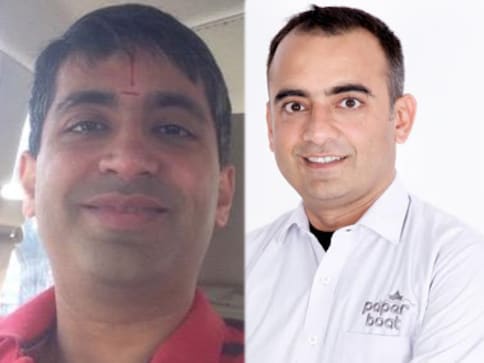 How does a start-up entrepreneur go about raising money? Make pitches, put out an impressive plan, strategy in place, etc, etc. Nah! If one were to go by what Neeraj Kakkar of Hector Beverages says, that's not on the top of priorities.
Kakkar and VT Bharadwaj, popularly known as VT, Managing Director and Partner, Sequoia Capital shared notes in a humorous and insightful talk on their memories of each other as an entrepreneur and venture capitalist. Each had different take on the same situation.
Here are excerpts from a discussion at the recently held Wharton Economic Summit in Mumbai between Kakkar and VT Bharadwaj.
Be authentic
Kakkar: When one is raising money and the to-be investor is meeting you in your office, the first thing you do is to clean up your office, make sure there are the softest tissues available in the bathroom and discuss with your co-founder what you should wear. We [Hector Beverages] did not need the money. So expectedly we did not bother about dressing up. James, my Co-Founder, wore jeans that were torn and came in slippers -- the galeech  kind of garb to come to work in! When the meeting started, our dog Hector walked in. After a while, he got bored of the talk that was going on, that he snored!
VT: I remember it was a very cold day when I went to their office in Gurgaon... What was interesting for us was that here was a company – Hector Beverages Pvt Ltd., which was raising capital and one wondered how would their office look like. I remember it was cold in Gurgaon that day, and I actually saw not one, but four dogs lying outside. The company had raised money 18 months before. What I remember about the meeting is that we found a certain innocence in the founders, and their ideas were authentic.
Put aside ego
Kakkar: When we made our presentation to Sequoia, I did not put Paper Boat as part of the presentation. We wanted to promote Dzinga, our energy drink. The energy drink market is $50 million globally. We wanted to launch this brand. I was apprehensive to approach Sequoia as I knew VT has this thing about focus. Paper Boat as a brand is very close to my heart. I think it is important to speak your mind to investors.
VT: Four months after we invested [in Hector Beverages], Kakkar came up with this idea of launching Dzinga. We were backing Hector for building a beverages company. A founder will be extremely attached to every person, product and infrastructure. But what will make you big will be revealed by the market. You need to put your ego aside and put the customer first. The customer is important and you must respect the flavor (he likes). You are building business with consumer's money.
Neeraj is now trying to launch 100 percent sugar-free products. We have seen that every time such a product comes to the market, people reject it by saying cheeni kum hain.  What is amazing is that very rarely are you blessed with a product that can extend across all products. Paper Boat did not have to think of x-percentage of the market as it was the market.
Raising capital
Kakkar: We had a board meeting in Mysore in 2014. VT asked us to raise a large round. We raised the amount. Most potential entrepreneurs feel that when you do that, your personal equity will be low. However, the upside is the company has cash.
VT: Worry less about what you are raising and more about if it [funds raised] is enough to build business. Paper Boat was doing well and it was the perfect time to muscle it with advertising campaigns.
Business
Sequoia Capital India Investment III held 4.65 percent stake, Sequoia Capital India Growth Investment Holdings I and SCI Growth Investments II held 4.25 percent stake each.
News & Analysis
Startup aims to streamline processes in the packed goods industry helping them improve revenue streams
Startup
The number of active angel investors in India stands approximately at 400-500, a paltry sum when compared with more than 3 lakh angels currently active in the US and China's 16200 early-stage investors.