Just by fulfilling its commitment to SC, Trai can bring down mobile call rates by half. It should
Incumbent telecom operators -- Bharti Airtel, Idea and Vodafone -- have opposed any reduction in IUC, not to speak of making it zero and transitioning to BAK.
The Telecom Regulatory Authority of India (Trai) is about to make a critical intervention in the cost of mobile call charges. According to this cover story in the Times of India, Trai is pretty close to slashing interconnect usage charge (IUC) from the current 14 paise per minute to below 10 paise. This is a welcome move, one that has been long overdue, because Trai will demonstrate that though it is mandated to steer the telecom marketplace in a manner that ensures the health of the operators, its primary commitment is to a much larger cause: Consumer interest.
IUC is the charge telecom operators pay each other to enable voice calls across all networks. As an example, let's take the case of an Airtel user calling an Idea user. Here, Airtel is using the network facilities of Idea to make the call happen, so it will have to pay some costs (IUC) to Idea. The quantum of IUC is determined by Trai, currently it is 14 paise per minute. That is, the Airtel user pays 30 paise per minute to Airtel for the call. Airtel passes on 14 paise out of this to Idea. The reverse is true when an Idea user calls an Airtel user, then Idea will pay IUC to Airtel.
The stark fact that's hidden in the voice call charges you pay your operator is this: You pay 30 paise per voice call minute to your operator. Your operator pays 14 paise, or 45 percent, to the operator on whose network your call terminates. That is, almost half of your call charge is IUC, the charge that mobile operators pay each other (from your pocket, that is). What this means is that your call charges can drop to half if IUC is zero.
Over the years, Trai has been consistently bringing down IUC but in October last year it popped the big question through an industry discussion paper. It asked if IUC should be made zero and if the industry should transition to what is called Bill and Keep (BAK) system. BAK means exactly what it says; operators bill other operators but do not actually levy IUC. Under BAK, such charges are neither levied nor paid as they are supposed to get cancelled out due to call symmetry (similar number of calls originating and terminating on each network, according to this story in the Financial Express).
Incumbent telecom operators -- Bharti Airtel, Idea and Vodafone -- have opposed any reduction in IUC, not to speak of making it zero and transitioning to BAK. In fact, they are among those telcos which have actually sought an increase in IUC from 14 paise to up to 35 paise per minute. All of them have responded to Trai's consultation paper that the present 14 paise rate is below cost and there is no rationale for IUC to be zero. All three have also been saying at various fora that the cost of carrying incoming calls on their respective networks is 30 paise a minute, with Vodafone saying that after accounting for the licence fee each telco has to pay, this cost rises to 34 paise, a report in Times of India said.
Latest entrant, Reliance Jio Infocomm, reminded the Trai of its own arguments in favour of BAK and the commitment it made to the Supreme Court way back in 2011. In its submission to the apex court then, Trai had said that hardly any additional costs are borne by an operator for receiving calls on an existing network. "The operator therefore does not do anything special or extra to provide for receiving another service provider's calls. Thus, additionality for the cost of receiving calls, in the strictest sense, is close to zero," Jio submitted.
If the cost of receiving calls is close to zero, even as per Trai's stand of 2011, why is it that incumbent service providers are insisting on not just keeping IUC but more than doubling it? The answer is not far to seek. Some estimates say that the telecom industry (largely incumbent telcos) will take a hit of anywhere up to Rs 25,000 crore in revenue if IUC is set to zero, India Today reported.
The Times of India report quoted earlier says Bharti alone had an IUC dealing of around Rs 10,279 crore last year. According to a CNBC-TV18 report in Moneycontrol, if IUC were indeed to be cut to below 10 paise per minute, the incumbents, especially Bharti and Idea, could see a 4-5 percent impact on their EBIDTA margins. No wonder then that incumbent telcos have been leading the charge against IUC reduction.
In its response to the Trai consultation paper, Bharti said it was opposed to lowering IUC in any form and instead proposed slab-wise increase in this charge. It said "IUC is a zero-sum game" as the total number of outgoing, incoming calls are always the same at the industry level and a reduction in the IUC does not lead to any reduction in cost for the industry.
That above phrase, "reduction in IUC does not lead to any reduction in cost for the industry", suggests that the incumbent operators are looking only at the health of the industry, not that of the consumer. Lower or zero IUC would obviously be in the interest of consumers. But, even though Trai has committed itself before the Supreme Court to gradually set IUC to zero, stunningly the reverse has happened. IUC as a percentage of the voice call cost has more than quadruped in India over the years (see chart below):
IUC as a percentage of retail tariff has quadrupled in India
Year
IUC
Retail price (appox)
Ratio of IUC to
 
(Rs/min)
(Rs/min)
retail price
2003
0.30
3.00
10%
2009
0.20
0.76
26%
2015
0.14
0.50
28%
2017
0.14
0.30
45%
Though the incumbent operators claim that the IUC has been progressively reduced from the earlier 30 paise per minute to the present rate of 14 paise to their detriment, they do not talk about the simultaneous and steeper decline in call rates. As a result, while the higher 30 paise per minute IUC charge accounted for just about 10 percent of voice call charges in 2003, the lower 14 paise accounts for almost half the charges (45 percent) of each voice call in 2017.
We love to compare ourselves with China on every yardstick, so how do we fare against China in IUC as a percentage of retail call cost? It is 1 percent in China against 45 percent currently in India. We compare rather poorly with other big markets as well, as this chart below shows:
This debate is raging in India at a time when most large global markets have either moved to BAK system or a very low mobile termination charges model. Canada, USA, Brazil, Mexico, Hong Kong and Singapore are some of the countries that have already implemented BAK.
The International Telecommunications Union, the global telecom standards organisation, is also a votary of BAK advising member countries -- India is one of them -- to:
i) Keep interconnection regulation as simple as possible
ii) Establish BAK or free peering system wherever possible
iii) If termination charges continue to be regulated, bring them down towards zero as fast as possible.
It is legitimate for businesses to look after their interests. But it is the job of Trai, as the custodian of consumer interest, to do what is right by the consumer. Especially when it is convinced that a zero IUC regime is overdue in India, as underscored by its 2011 commitment to the highest court of the land. Trai should back its conviction with action and stand by the paying consumer.
(Disclosure: Reliance Industries Ltd is the sole beneficiary of Independent Media Trust which controls Network18 Media & Investments Ltd)
Find latest and upcoming tech gadgets online on Tech2 Gadgets. Get technology news, gadgets reviews & ratings. Popular gadgets including laptop, tablet and mobile specifications, features, prices, comparison.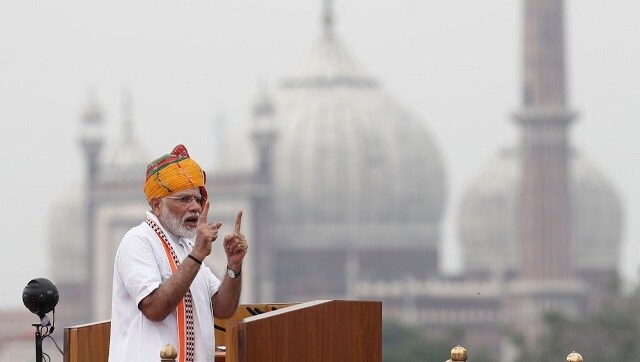 India
This year, the Independence Day event on 15 August is likely to consist of only Prime Minister Narendra Modi's speech, a 21-gun salute, the National Anthem, and the unfurling of the National Flag, reports said
India
Janmashtami, the birth anniversary of Lord Krishna, is celebrated in various parts of the country with great enthusiasm. The festival is celebrated with most fervour in Mathura which is said to be his birthplace. Janmashtami 2020 will be celebrated on two days — 11 and 12 August.
News & Analysis
You can download Krishna Janmashtami themed WhatsApp stickers apps from PlayStore.