Jul-Sep GDP at 6.3%: Recovery vindicates govt but more reforms need of the hour to further boost growth
Agriculture is a source of worry – growth has been slipping after Q3 of FY17. Rains this year have been poor and things could be a bit iffy going forward because of a warmer winter.
Is the Indian economy finally beginning to turn the corner? Yes, despite some areas of concern. And for once, it is relevant to look at quarterly performance than longer trends because the economy has suffered two shocks since the second quarter (Q2, July-September) of 2016-17 – demonetisation and the roll out of the goods and services tax (GST) regime.
A 6.3 percent, growth in gross domestic product (GDP) in the second quarter (Q2, July-September) of this fiscal over a 5.7 percent growth in Q1 (April-June) shows the economy is beginning to shrug off the demonetisation and GST-induced blues (though the recovery is lower than what most people expected). The 6.1 percent growth in gross value added (GVA) in Q2 of the current year is not just an improvement over the 5.6 percent growth logged in Q1, it is the first uptick since Q1 of 2016-17, after which there had been a fall every quarter.
And even this may be a bit of a subdued picture. Chief Statistician T C A Anant pointed out that there could have been some under-estimation because of the uncertainties stemming from the switchover to GST – this would have affected the tax-related proxies used to estimate GVA – so later revisions could see the Q2 figures bumping up a bit.
Manufacturing has posted a very smart recovery – from 1.2 percent in Q1 to 7 percent in Q2. This could mean that the effects of de-stocking in anticipation of GST are petering out. But let us not forget that the purchasing managers index for October (the start of Q3) fell to 50.3 from 51.2 in September. So this will need careful watching.
There appears to be a slight ray of hope in the construction sector, despite concerns about sluggishness attributed to the combined effect of demonetisation and the kicking in of the Real Estate (Regulation and Development) Act. The 2.6 percent growth logged in Q2 comes on top of a 2 percent growth in Q1, which itself was a significant improvement over the decline of 3.7 percent in Q4 (January-March) of 2016-17. The sector may just be getting back on its feet, though it may take a while for it to become the robust job-generator the economy needs. The core sector data for April-October, also released yesterday, show that cement production declined 1.6 percent over a growth of 4.9 in the same period of the last fiscal. Monthly production growth has been flat since July.
Agriculture is a source of worry – growth has been slipping after Q3 (October-December) of 2016-17 when it grew 6.9 percent. The Q2 growth of 1.7 percent is the lowest in five quarters and even this seems to have come from the non-crop component. Clearly the poor performance on rainfall this year has had an impact, though Q2 tends to be a bit subdued every year. Things could be a bit iffy going forward because the meteorological department has predicted a slightly warmer winter and this could adversely affect wheat yields.
But some structural problems remain. Growth is still being driven by private consumption and even this is beginning to falter. Not only has growth in private consumption fallen, as a percentage of GDP it remained flat at 53 percent in Q1 and Q2. Even this is lower than the 61.6 percent and 58.7 percent recorded in Q3 and Q4 of the previous fiscal respectively. This is a worrying sign.
The private investment story too is not quite falling into place. It has grown 4.6 percent over Q2 of the previous year, but fallen 1.3 per cent over Q1 of this year. After a slight uptick from 25.5 percent in Q4 of the previous fiscal to 27.5 percent in Q1, its share in GDP has again slipped to 26.4 percent. A State Bank of India Ecowrap report points out that new project announcements in Q2 (Rs 1.01 lakh crore) were half of what they were in Q1 (Rs 2.05 lakh crore). The drop in new project announcements between the first half of 2016-17 (Rs 7.1 lakh crore) and the first half of the current fiscal Rs 3.0 lakh crore) was steeper. A note by Crisil attributes this to low capacity utilisation as well, the twin balance sheet problem and GST-related uncertainties.
A Morgan Stanely 2018 India Economic Outlook note says it expects a recovery in private capital expenditure in 2018 and this will revive job creation. But the trickle down effects of this recovery may take time to manifest itself and so the outlook for the current fiscal will remain a bit subdued.
There is a limit to which government spending can fill the gap now, since expenditure has been frontloaded. The October monthly accounts data shows that total expenditure is already 60 percent of what was budgeted. As a percentage of GDP, government final expenditure has remained flat between Q1 and Q2 in the first two quarters of this fiscal.
So the government has certainly reason to feel vindicated about the growth figures but it needs to push further ahead with more reforms and easing the pain of GST and just keep steadfastly away from any kind of populism (which will be tempting given 2019 is coming closer and closer). These green shoots need careful nurturing.
Find latest and upcoming tech gadgets online on Tech2 Gadgets. Get technology news, gadgets reviews & ratings. Popular gadgets including laptop, tablet and mobile specifications, features, prices, comparison.
India
The handloom and handicrafts sectors will be drawing on their rich-but-checkered past, which previously saw them through prejudices and shortsighted policies, to work their way through the crisis posed by the coronavirus outbreak and lockdown as well.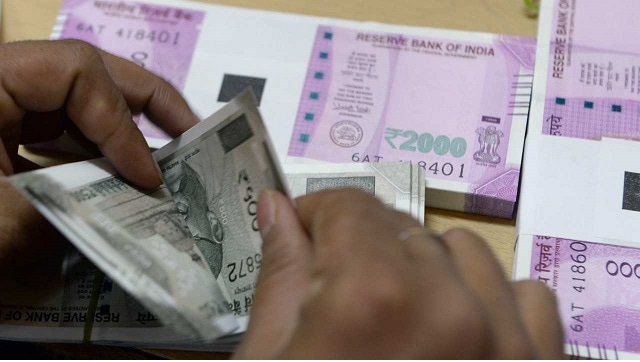 India
The RBI data also showed the current account deficit for the October-December quarter of fiscal 2019-20 was revised to $2.6 billion or 0.4 percent of GDP from $1.4 billion earlier.