J&J says Indian drug regulators visited facilities, took talc samples
By Rahul Singh, Aditya Kalra and Krishna N. Das NEW DELHI (Reuters) - Indian drug authorities visited some of Johnson & Johnson's facilities on Wednesday and took 'tests and samples' of its talcum powder, the company said in a statement. The visits came as regulators in India launched an investigation into J&J's Baby Powder following a Reuters report last Friday that the firm knew for decades that cancer-causing asbestos could be found in the product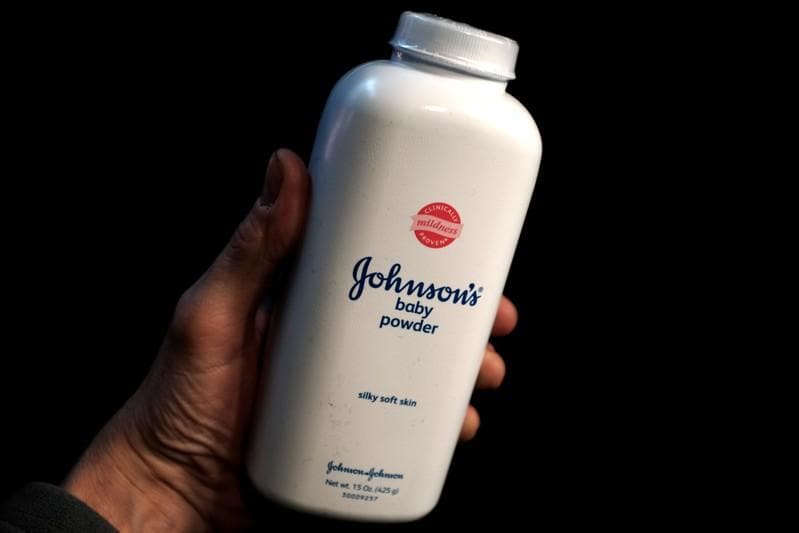 By Rahul Singh, Aditya Kalra and Krishna N. Das
NEW DELHI (Reuters) - Indian drug authorities visited some of Johnson & Johnson's facilities on Wednesday and took "tests and samples" of its talcum powder, the company said in a statement.
The visits came as regulators in India launched an investigation into J&J's Baby Powder following a Reuters report last Friday that the firm knew for decades that cancer-causing asbestos could be found in the product.
The company told Reuters in a statement that the facilities were visited by the Central Drugs Standard Control Organization (CDSCO) and some state-based food and drug administrations (FDAs).
"Today, a few of our facilities were visited by the CDSCO and local FDA authorities and we are fully co-operating with them by providing tests and samples," the J&J statement said.
"The characterization of these visits as 'raids' or 'seizures' is incorrect as has been reported in some instances," it said. "The tests have been conducted in the regular way that the FDA collects samples."
J&J added that the safety of its cosmetic talc was based on a long history of safe use and decades of research and clinical evidence by independent researchers and scientific review boards across the world.
It also said Indian FDAs and the CDSCO have in the past confirmed that its products "comply with Indian standards and are free of asbestos".
Quoting an industry source with knowledge of the matter, Reuters reported earlier in the day that drug inspectors had taken samples of Baby Powder from its Baddi factory in Himachal Pradesh.
A source at the CDSCO said its officials lifted samples for testing from nine Indian cities - Mumbai, Chennai, Kolkata, Ahmedabad, Hyderabad, Bengaluru, Indore, Chandigarh and Ghaziabad.
J&J did not immediately specify how many manufacturing plants the company has in India.
A CDSCO spokeswoman did not respond to a request for comment.
Surendranath Sai, a regional drug officer in Telangana, on Wednesday said he would instruct inspectors to collect samples there.
"On the basis of the news report, we are alerting staff to pick up samples. We will test them in a drug control lab here," said Sai. "We will take action accordingly. Certainly we are worried because millions of babies may be affected."
Earlier, the Times of India quoted an official source as saying 100 drug inspectors had been assigned to examine different manufacturing facilities, wholesalers and distributors linked to J&J India, starting early on Wednesday.
A health ministry spokeswoman declined to comment when contacted by Reuters. However, a senior official at the ministry said the report was worrying.
"We are concerned about it and will take action," the official told Reuters, declining to be identified due to the matter's sensitivity. The official did not elaborate on what kind of action the ministry could take.
A Reuters examination of company memos, internal reports and other confidential documents, as well as deposition and trial testimony, showed that from at least 1971 to the early 2000s, J&J's raw talc and finished powders sometimes tested positive for small amounts of asbestos.
It also showed that company executives, mine managers, scientists, doctors and lawyers fretted over how to address the problem while failing to disclose it to regulators or the public.
The documents also depicted successful efforts to influence U.S. regulators' plans regarding limiting asbestos in cosmetic talc products and scientific research on talc's health effects.
J&J said on Monday it planned to buy back up to $5 billion of its stock, after $40 billion was wiped from its market value following the Reuters report.
(Reporting by Rahul Singh, Aditya Kalra and Krishna N. Das; Editing by Sanjeev Miglani, Christopher Cushing and Jan Harvey)
This story has not been edited by Firstpost staff and is generated by auto-feed.
Find latest and upcoming tech gadgets online on Tech2 Gadgets. Get technology news, gadgets reviews & ratings. Popular gadgets including laptop, tablet and mobile specifications, features, prices, comparison.
World
OTTAWA (Reuters) - Canadian Prime Minister Justin Trudeau on Friday said he will continue to stand up against China's "coercive diplomacy" and its human rights abuses in Hong Kong and Xinjiang after being rebuked by Beijing for similar comments earlier this week. "We will stand up loudly and clearly for human rights all around the world, whether it is talking about the situation faced by the Uighurs, whether it is talking about the very concerning situation in Hong Kong, whether it's calling out China for its coercive diplomacy," Trudeau said in a news conference. (Reporting by Steve Scherer and Julie Gordon, Editing by Franklin Paul)
World
By Caroline Pailliez PARIS (Reuters) - Solene Tissot, a 19-year-old student in Paris, will obey the curfew imposed to fight COVID-19, but she has one request for her country's leaders: don't blame young people for the second wave of the virus. "There's been this kind of assigning guilt to young people," she said on Friday, hours before the new curfew was to come into force in Paris and major French cities. "I reject that." After a lull over the summer, the rates of transmission of coronavirus are going up in many parts of Europe and officials have identified social interactions between young people as a source of the resurgence.
World
By Adrian Portugal and Eloisa Lopez MANILA (Reuters) - Jailed Philippine activist Reina Mae Nasino wanted to hold her three-month-old daughter for the last time before she was laid to rest on Friday but she could not. Heavily armed prison officials guarding her refused to uncuff her despite pleas from her family and human rights supporters, who have decried what they described as inhumane treatment of Nasino and other mothers in Philippine jails.