Jean-etically Indian: Over 46 percent of denim-wearers use them as nightwear
Hyderabad is hygiene conscious and is the only metro where people – 45.59 percent, wash their denims once every week compared to other cities.
How many pairs of jeans do you own? If you are a daily denim wear kind of person, chances are you may have four or more pairs of jeans in your wardrobe. A 'Denim Survey' across six major cities in India found that denims are washed in some cities at least once a week! And many, thankfully, do not like to share their jeans. With long cycles of wash and wear of the sturdy apparel, it is kind not to share your much-used trousers with any one.
Westside conducted the survey across six cities in India and a sample size of 1200 respondents spoke about their favourite piece of clothing.
Around 47 percent of the sample size of 1200 people, who took the survey from Mumbai, Delhi, Bengaluru, Kolkata, Chennai, Hyderabad, and Pune, said they wear denims every day. Denim, not surprisingly, is free of gender biases. That is a huge relief in the kind of 'class, caste' identity issues that have been plaguing the country. More men – 41.76 percent against 39.46 percent of women own between four to six pairs of jeans. Both spend around Rs 1,000 to Rs 2,000 on their denims.
The survey found a fact 'shocking' -- that 62 percent of people above the age of 33 prefer wearing denims to work. That is natural considering that a) the fabric does not have to be washed regularly and it does not matter to the wearer, b) with a large percentage of the people in the under 30s at work, guess it is a matter of being part of the young brigade.
Hyderabad is hygiene conscious and is the only metro where people – 45.59 percent, wash their denims once every week compared to other cities.
Coming to styles, an overall majority of respondents said they opted for straight fitting jeans. The recent trend of ripped jeans has a large following in Delhi (9 percent), followed by 6.03 percent in Mumbai and the conservative Chennai at 1.85 percent.
As for the love-hate relationship we have with bell bottoms, (which have made a comeback this season), the style has found takers only in Pune, with 5.41 percent Puneites welcoming this trend. As for the classic denim-on-denim look, Kolkata leads the way with 74.6 percent respondents preferring this look.
While the majority is usually an indicator of conclusiveness, the minority in this space has led us to observe a kinship amongst cities with respect to the kind of jeans these cities are adorning.
There are territorial tendencies when it comes to your favorite pair of denims, with over 77 percent respondents saying that they will not share their jeans with anyone. As for 'how jeans are treated', overall a whopping 46.1 percent from the six cities where the research was conducted have admitted to snoozing in their denims.
"Understanding consumer behavior and preferences gives business insights that are useful in designing a brand's products and services. The findings of the Denim Survey by Westside, highlight the fact that irrespective of gender, geographic location and style, denims are the most comfortable and widely used piece of clothing in India," said Ms. Namita Pant, Head Marketing, Trent Limited about her opinion on the survey.
The Denim Survey was conducted online across cities such as among people in the age group of 18 to 32 years and above.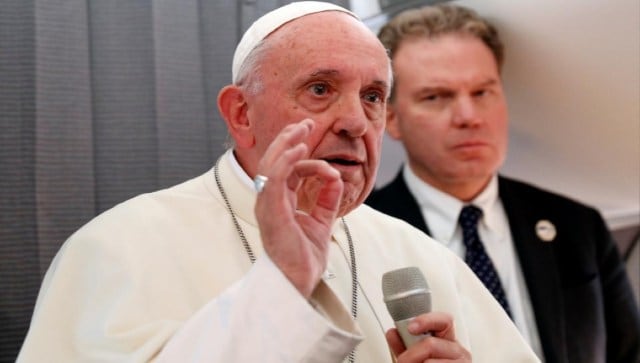 World
The pope spoke during his regular audience at the Vatican about a report released Tuesday that estimated some 330,000 French children were abused by clergy and other church authority figures dating back to 1950.
Sports
Tennis Canada confirmed that Fernandez pulled out of the team's roster for the 1-6 November matches in Prague and is being replaced by Carol Zhao.