Jaypee Infratech's home buyers stage protest in Noida after company files petition for insolvency
As hundreds of angry home buyers of Jaypee Wish Town staged a protest here, the Noida Authority on Saturday promised to protect the interests of the flat owners, saying a plan is being worked out in this regard
Noida (Uttar Pradesh): As hundreds of angry home buyers of Jaypee Wish Town staged a protest here, the Noida Authority on Saturday promised to protect the interests of the flat owners, saying a plan is being worked out in this regard.
The home buyers gathered at the company office here, shouting slogans against the management and demanding refund of their investments since the National Company Law Tribunal has admitted the insolvency petition filed by IDBI Bank against the debt-ridden Jaypee Infratech.
The protesters demanded that their money be returned first as they fear that if the company is declared insolvent, all their court cases will become ineffective and they will not be able to get possession of their flats and lose their hard-earned money.
According to the SHO of Noida Expressway police station, over 400 people protested at the company's office here, and personnel from four to five police stations were deployed to control them.
Jaypee Infratech is among 12 big corporate loan defaulters against whom RBI has ordered initiation of insolvency proceedings. The company had a debt of about Rs 8,000 crore till March 2017.
The company, which is developing about 32,000 flats and plots across various projects in its township project 'Wish Town' here, has been facing protests and litigation from home buyers due to huge delays in completion of projects.
Meanwhile, Noida Authority CEO Amit Mohan Prasad said, "Hard earned money of home buyers will not be allowed to go down the drain." Asserting that strict action will be taken against the defaulting developers, he said that the Noida Authority is working on rescheduling of the payment plan under which builders will be directed to deposit the dues within a specified period.
The Authority will then take over the unsold apartments and property of the builders and auction it to recover the dues, Prasad said. He said the Authority has written to Uttar Pradesh government seeking approval to take over possession of unsold property of the defaulting builders and recovering dues from its sale.
On the other hand, Union Consumer Affairs minister Ram Vilas Paswan said in New Delhi that the government cannot take any direct action in the matter. "It is a matter of concern. But, we cannot take direct action. Buyers have to approach consumer courts for justice," he said.
Jaypee Infratech has 2500 hectares of land in five parcels of around 500 hectares each. Now the company is planning to sell some unused land to banks to reduce its debt.
The Allahabad bench of NCLT has admitted the petition filed by IDBI Bank under Section 7 of Insolvency and Bankruptcy Code 2016, Jaypee Infratech had said in a regulatory filing a few days back.
This move has caused immense anxiety among the home buyers whose number is said to be around 32,000. Besides Jaypee group, home buyers of Amrapali group are also facing the same situation and are protesting.
The Amrapali group has dues of Rs 1200 crores, and it too has to deliver about 30,000 residential flats to buyers. NEFOMA, an association of home buyers of Noida, was not satisfied with the assurance given by the the Authority CEO. Its president Anu Khan said the state government should take some concrete action to convince the home buyers that their investments are safe.
He said they had met Chief Minister Yogi Adityanath four months back, and he had also promised that the government would intervene to help them but nothing has happened.
Khan alleged that the builder is deliberately getting the company declared bankrupt in league with the bank, and a CBI probe should be held into this. Company officials were not immediately available for comments.
On 9 August, the Allahabad bench of NCLT admitted the petition filed by IDBI Bank under Section 7 of Insolvency and Bankruptcy Code 2016. As per the order, Jaypee Infratech has defaulted on Rs 526.11 crore loan outstanding to IDBI.
NCLT has appointed Anuj Jain as the Interim Resolution Professional (IRP) to carry out the proceedings under the Insolvency and Bankruptcy Code.
The NCLT has directed that "all the personnel connected with the corporate debtor (Jaypyee Infratech), its promoter or any other person associated with the corporate debtor are under legal obligation to extend every assistance and cooperation to the IRP". The IRP "shall be under duty to protect and preserve the value of the property of the corporate debtor as part of its obligation imposed" on it, NCLT said.
In April, Jaypee group had held a discussion with home buyers in the presence of Noida Authority officials and committed to hand over possession of apartments to all allottees by 2020. The company had informed that working capital of Rs 800 crore was being secured for completion of the Wish Town project. Jaypee Group's flagship company, Jaiprakash Associates, recently sold its cement plant to Ultratech Cements for over Rs 16,000 crore to reduce its debt liability.
Meanwhile, the Yamuna Expressway Industrial Development Authority has made it clear that financial institutions cannot auction the Jaypee property as it was on lease and the authority has first right to recover its dues and then financial institutions can recover their amount.
Real estate sector is facing a multi-year slowdown that has resulted in significant delays in execution of projects, forcing buyers to protest and even file legal cases in various courts.
Find latest and upcoming tech gadgets online on Tech2 Gadgets. Get technology news, gadgets reviews & ratings. Popular gadgets including laptop, tablet and mobile specifications, features, prices, comparison.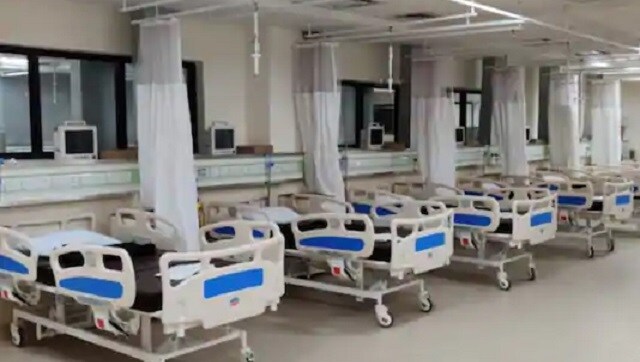 India
The government data also revealed that at 19.5 percent, India has highest share in global Covid-19 recoveries.
India
Singh, who was in New Delhi on Friday, said he will visit Lucknow on 20 September and surrender himself to the Uttar Pradesh Police
India
The residents of over 48,000 jhuggis along railway tracks in Delhi are demanding that they be consulted in the making of any plan that affects their homes