Jaitley in a spot: Public banks seek more capital and they need a lot of it
A fiscally constrained government wouldn't be in a position to fund such large capital requirement every year
(Re-publishing with updates.)
Finance minister Arun Jaitley has finally showed some willingness to change his adamant stance on the recapitalisation issue of India's fund-starved public sector banks (PSBs). Following government's assurance, a few banks have already made presentation to the government making a case for much higher quantum of capital than what was announced in the budget.
According to reports, four PSBs alone have sought capital infusion of over Rs 8,000 crore in the current financial year. Others are likely to queue up soon seeking fund infusion.
Of course, the fresh thinking on the government's part has come following repeated cautions from the Reserve Bank of India (RBI) about the weak capital position of PSBs. If denied capital, state-run banks are likely to fall into a deep crisis, especially in the backdrop of rising stressed assets on their books and on account of Basel-III obligations.
On the other side, there is tough competition from rivals in private sector. If there is no capital, PSBs wouldn't be able to expand their business even to good borrowers. Remember, these banks have been rapidly losing their market share. Things will only get more difficult for them when the industry is opened up to several new players such as the payments banks and small finance banks.
The reluctance of Jaitley to fund these banks was unwarranted in the first place and sent confusing signals to the industry, which is heavily dependent on government support. Thus, there wasn't any case for Jaitley to abruptly reduce capital infusion in banks without a warning.
Just about Rs 7,000 crore was infused in select banks last year compared with the promised Rs 11,200 crore. For fiscal year 2016 too, the government announced about Rs 8,000 crore infusion, while the actual requirement is much higher.
The requirement is much higher. According to estimates, PSBs will need at least five times more than the budgeted amount just to meet their Basel-III requirements in 2015-16. If one includes the burden arising out of extra provisioning due to fresh restructured loans and bad loans, the requirement will be even higher. The government couldn't have escaped its responsibility of supporting these banks as long as it continues to be the owner of these lenders.
But, Jaitley could have avoided the embarrassment of going back form his earlier decision, if he had given a serious thought on the issue, before rushing to take the drastic step. Squeezing capital to banks was, in some sense, a self-goal by the NDA government, which is struggling to revive growth. Banks with weak capital base wouldn't be in a position to expand credit to critical sectors.
This is yet another instance of the government being forced to review its decisions on key policy matters. Earlier, the government had to put on hold the decision to separate debt management and regulation of bond market from the RBI. Quite clearly, Jaitley was poorly advised on the bank capitalisation issue.
That said, the idea of rewarding banks based on their performance indeed deserved some merit since this will force banks to be more efficient, besides reducing the burden on state exchequer. The government is in the process of shifting its stake in these banks to a separate holding company and creating a Bank Boards Bureau (BBB) to take care of the capital needs of banks. But such strategies can work over a period of time, not in the short term.
Jaitley's mistake was that he pulled the plug too soon, leaving most state-run banks, which were so used to government's annual capital support, in a state of confusion. Instead, the government could have implemented the changed strategy in a phased manner.
"While the new criteria would reduce the burden imposed by the PSBs' equity requirement on government finances, this benefit is likely to be accompanied by other--possibly unintended--costs, which could be substantial," rating agency Icra said in a February note.
"While it may be argued that this approach led to complacency to an extent, it indeed was an anchor for the financial stability of PSBs, enabling many of them to extend credit to support economic activity when NPAs were high, profitability low, and dependence on external capital infusion significant," the agency added.
Secondly, when performance is the yard stick, the government has the responsibility to ensure there was a supportive environment for these banks to operate with sufficient autonomy, which obviously wasn't there. These banks were directed by the government to lend into specific sectors.
PSBs have been operating on a target-based lending approach for several years and not on quality of assets, which resulted in massive non-performance assets (NPAs) in the later years. Currently, over 90 percent of the NPAs (about Rs 3 lakh crore) in the banking sector are on the balance sheets of PSBs.
Chairmen at public banks were focused only on showing the maximum growth in their 2-3 years tenure at the post, while quality was ignored. This was never the case in private banks, where asset quality was focused than volume growth.
If Jaitley infuses capital, this can give a breathing space to banks, but only for now. Capital is a necessity, which banks will require every year, burdening the state finances. This is where the government should pay attention to the P J Nayak committee, which had recommended privatisation of state-run banks by reducing government stake below 51 percent. At present, the government holds stakes ranging from 56 percent to 84 percent in 27 state-run banks.
The surprising aspect is that Government seems to be in no mood to begin the process of exiting from the state-run banks, even when markets were upbeat last year. A fiscally constrained government wouldn't be in a position to fund such large capital requirement every year. The long-term solution, as we have noted before, is government showing the willingness to exit from majority ownership in PSBs and let them face the market competition.
Find latest and upcoming tech gadgets online on Tech2 Gadgets. Get technology news, gadgets reviews & ratings. Popular gadgets including laptop, tablet and mobile specifications, features, prices, comparison.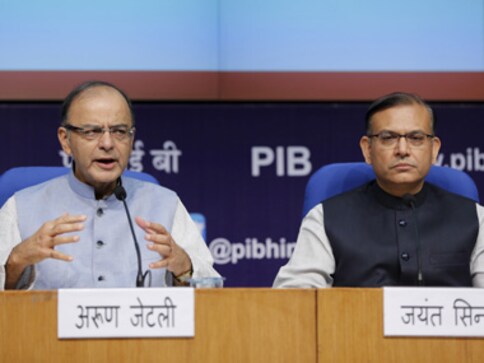 Business
The banking sector is crying for radical reforms, not temporary shifting of the problem from one hand to the other
Business
Zero coupon bonds are debt instruments that are issued at discount, but are redeemed at face value after the expiry of the specified tenure
Business
The government has made Budget provision of Rs 25,000 crore capital infusion in public sector banks for the current fiscal