It's time to revisit MBA entrance processes
When it comes to the regular 2-year MBA programs, India may be one of the few countries where accepting freshers or those with very little experience is the norm rather than the exception.
The father of the girl asks the prospective son-in-law - "Son, we hear you were very good at studies and you have a good job now. What exactly do you do at work? How much do you earn? When are you planning to move out of this rented flat and buy your own house? Will you let my daughter work after marriage? Do you smoke?"
This article isn't about the pros and cons of arranged versus love marriage or about real estate investments or about gender discrimination or about global warming. It's just an example to highlight two contrasting approaches to an evaluation process.
The father's not being too nosy. He just wants to identify the right husband for his daughter and ensure compatibility. Instead, what if daddy dear were to ask - "Son, we hear you did well at school. Considering there are so many eligible bachelors in the country, I'd like you to take a 2.5-hour test on maths and grammar first. Depending on your performance, I reserve the right to ask you other questions."
Not too tough to figure out the disconnect, right?
When it comes to the regular 2-year MBA programs, India may be one of the few countries where accepting freshers or those with very little experience (some real good talent out there, I must add) is the norm rather than the exception. We select the best brains from across the country, put them back in class, drill loads of theory into their super-absorbent minds and hope they'll come out at the other end as seasoned business leaders.
In fact, having 'too much' experience can actually be a deterrent when it comes to fitting into the class with younger peers. The bigger issue can come up at the time of placements. The concept of 'lateral hiring' i.e. targeting professionals with prior (management) experience for senior level positions is almost non-existent. The recruiters who come to B-school campuses aren't too sure what to do with applicants who have substantial pre-MBA work experience, as their recruitment and training processes are geared towards younger candidates with very little real world exposure.
So how do our management institutions decide who's got what it takes to be a good manager? So far our answer seems to have been - standardised tests that focus on quantitative and verbal concepts.
Consider the CAT for instance, the big daddy when it comes to management entrance exams. It plays a HUGE role in the selection, or rather elimination process, for the IIMs and many other institutions. It is an extremely crucial parameter that can decide an applicant's fate.
Of course, the CAT percentile isn't the only parameter used for decision making. Interviews, academic performance, and yes, work-experience also count, to varying degrees. Each institute allocates different weightages to each of these components. For instance, IIM Ahmedabad gives 30% importance to CAT scores and 70% to the personal interview. IIM Rohtak and Udaipur give it a 50% weightage.
However the important point to note here is that these weightages kick in only after the elimination round. When the CAT percentile cutoffs are pegged at over 99 percentile, it means many strong candidates who've scored just a notch lower will never have the opportunity to demonstrate their leadership and managerial potential.
So, hypothetically speaking, a really strong entrepreneur who has launched and built a business from scratch (in his graduation years), but stumbled on the entrance exams, will have to give up his seat to someone who probably has no aptitude for real world business but is extremely good at cracking entrance exams and does a fairly decent job with the interviews. Ironic!
We are unique and we don't need to follow international 'best practices' just for the heck of it. But it does make sense to re-evaluate our processes independently and ask ourselves if our management education system warrants a re-evaluation.
The basic concepts of marketing, finance, strategy taught in business schools, whether in India or abroad, don't change. A proportion of the business case studies - a key educational tool used in many business schools - may get a domestic flavour. But the essence remains the same.
The learning process can get a huge fillip if students can identify linkages of these concepts with the real world and relate them to problems that they encountered first hand before they got into the MBA program.
A good way would be to start with our selection procedures, extend it to the program content and produce well-trained managers who can balance the theoretical and practical aspects of what they've learnt in the class. That would also allow recruiters to offer senior level jobs where MBA graduates can make a bigger impact and use many of the skills and knowledge they've picked up in B school.
I'm glad to see that the process has begun...with a bang. Two premier Indian business schools figure in the list of top schools for relatively new 'products' that they offer. These are the shorter (1 year) MBA programs targeted at folks with experience. The concept of standardised test scores isn't eliminated (the CAT gets replaced by the GMAT), but the way the selection process is designed and managed (though it is far from being perfect) appears more balanced.
In the last Financial Times MBA rankings, the Indian School of Business (ISB) was ranked 13th and IIM Ahmedabad's Post Graduate Program for Executives (PGPX) was ranked 11th. That's a phenomenal achievement, considering both these programs are relatively new vis-a-vis most of the other top business schools that have been around for several decades (for schools like Harvard, make that a century).
But more than getting the approval of third party rankings that have their own methodology for evaluating MBA programs, what's important about featuring in the list of elite schools, is the fact that we have the potential to respond to the real market needs within India, come up with a strategy to develop new educational products suited for the Indian market and within a very short time achieve standards that'll not only give us a reason to thump our chests with pride but also give back to the growing Indian market the management education and a seasoned talent pool that was long overdue.
Lifestyle
Study Abroad platforms that provide guidance, test prep and other essential services to students have been especially hard-pressed to rise to the practical challenges posed by COVID: closed borders or travel bans, slowdowns in visa appointments, cancelled exams, vaccination or quarantine requirements, and students' understandable unease with online-only courses.
Arts & Culture
Formed in 2014, Pretty Loud symbolically seeks to give a louder voice to Roma girls, encourage education and steer them away from the widespread custom of early marriage.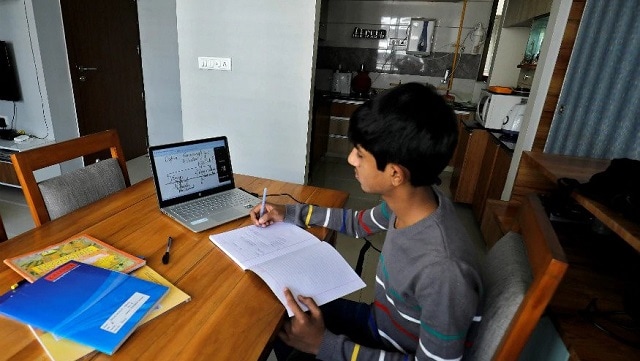 India
Digital learning has influenced educational institutions to a great extent, forcing a shift from traditional modes of learning