India Inc's one of the longest-serving Chairman, ITC's Yogesh Chander Deveshwar, has decided to make way for the young brigade to take the reins of the company after he steps down from his current position in February 2017.
Post this, the 69-year old and India's highest paid CEO will serve in as non-executive chairman of the now widely diversified cigarette-to-FMCG company.
Here are some of the key points to know about India's one of the finest corporate chieftain, and his various initiatives at ITC spanning over two decades.
1) In 1968, Y C Deveshwar joined ITC and became executive chairman in January 1996. In 2011, the company's board gave him an extension to continue as chairman from 2012-2017.
2) In 1990's Deveshwar proved his mettle as a smart businessman, when he staved off British American Tobacco company's takeover attempt, Moneycontrol website reported.
3) In fact, Deveshwar's smart business acumen can be seen when he made a smart move to de-risk the company's sole cigarette business and foray into FMCG sector. Under his stewardship, the company also created several world-class Indian brands in the FMCG space. The company diversified into businesses ranging from FMCG, hospitality, paperboard and packaging, IT and agri business. "He is the one who decided tobacco is not the future of any business in any country today. His foray into fast moving consumer goods (FMCG) was great," said Sunil Alagh of SKA Advisors.
4) Under him, ITC launched e-Choupal in 2000, an initiative to link directly with rural farmers via the Internet for procurement of agricultural and aquaculture products like soybeans, wheat, coffee, and prawns. There are 6,500 e-Choupals in operation in 40,000 villages in 10 states, affecting around 4 million farmers.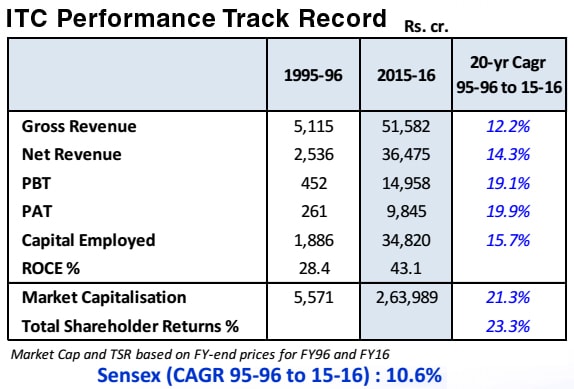 "I think the work is already in progress and I believe that stepping down at the current level and guiding in his next three years as a non executive chairman to the next leader, I think that will work well for the company," ET quoted Kaustabh Pawaskar, FMCG analyst with Sharekhan.
5) Competing with some of the country's large FMCG companies, ITC has seen its market-cap reach $40 billion, while 57 percent of its net revenue comes from non-cigarette segments. Also, the company's compounded annual growth rate (CAGR) in last 20 years accelerated to 12.2 percent as against Sensex's 10.6 percent during the period. 908 (almost 9 times).
When Deveshwar took charge at the helm in mid-90's, ITC was confronted with formidable challenges. The company's revenue was less than Rs 5,200 crore and profit before tax was Rs 452 crore.  In absolute terms, the company saw its profits surge 37 times (from Rs 261 crore to Rs 9,845 crore) and revenues grow nine fold (from Rs 5,115 crore to Rs 51,582 crore) indicating compounded annual growth rate (CAGR) of 12.2 percent for topline and nearly 20 percent for bottomline. Shareholders' returns grew by a whopping 23.3 percent (CAGR) as against Sensex's return of 10.6 percent (CAGR) during the period.
Your guide to the latest cricket World Cup stories, analysis, reports, opinions, live updates and scores on https://www.firstpost.com/firstcricket/series/icc-cricket-world-cup-2019.html. Follow us on Twitter and Instagram or like our Facebook page for updates throughout the ongoing event in England and Wales.
Updated Date: Jun 22, 2016 14:28:51 IST