Italy hopeful of imminent budget deal with EU
By Giuseppe Fonte and Steve Scherer ROME (Reuters) - Italy said it hoped to clinch a deal with the European Commission later on Monday on its contested 2019 budget, hours after the government sent an amended version to Brussels. A deal would end weeks of wrangling between the Commission and Italy's coalition government, which is made up of the anti-establishment 5-Star Movement and the right-wing League. After Economy Minister Giovanni Tria cancelled a scheduled appearance at a book presentation on Monday evening, his spokeswoman said he was tied up in last-minute negotiations with Brussels and hoped for a deal before the end of the day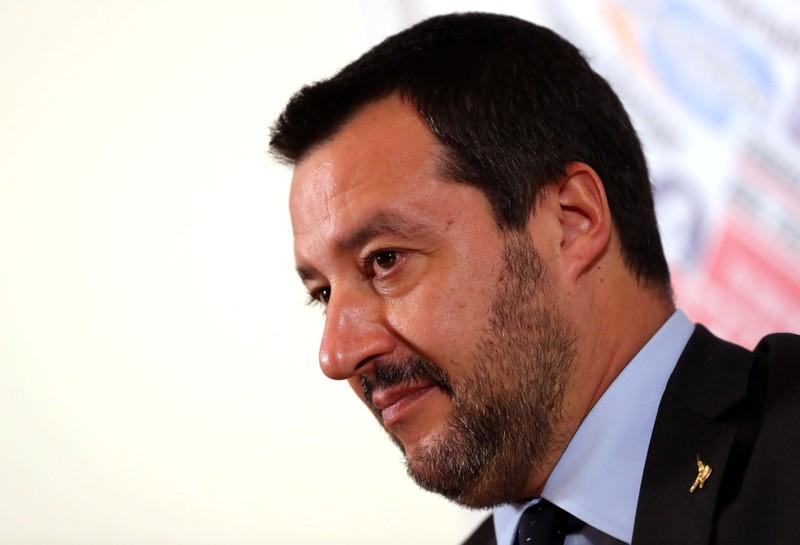 By Giuseppe Fonte and Steve Scherer
ROME (Reuters) - Italy said it hoped to clinch a deal with the European Commission later on Monday on its contested 2019 budget, hours after the government sent an amended version to Brussels.
A deal would end weeks of wrangling between the Commission and Italy's coalition government, which is made up of the anti-establishment 5-Star Movement and the right-wing League.
After Economy Minister Giovanni Tria cancelled a scheduled appearance at a book presentation on Monday evening, his spokeswoman said he was tied up in last-minute negotiations with Brussels and hoped for a deal before the end of the day.
The Commission rejected Italy's expansionary draft budget in October, saying it would not lower the country's large debt and declaring it in clear breach of EU fiscal rules. Rome submitted a revised plan last week with a lower deficit.
As part of the new plan, Rome is lowering its forecast for economic growth next year to 1 percent from 1.5 percent, a government source and a Commission source told Reuters on Monday.
The coalition sat down to a marathon meeting on Sunday evening to hammer out the details of a possible compromise, but few details emerged and there was no indication that Rome was willing to further lower its deficit target.
Italy's original budget proposal envisaged a deficit equal to 2.4 percent of gross domestic product in 2019, up from 1.8 percent this year. The revised plan presented last week lowered that to 2.04 percent.
"We are optimistic" that the EU won't open a disciplinary procedure, economy ministry undersecretary Massimo Garavaglia said on Monday in an interview with state-owned radio RAI.
The so-called "excessive deficit procedure" threatened by the European Commission, the European Union executive, could eventually end in fines, though these have never been levied on any EU member state.
Time is running out fast to finalise the 2019 budget law, which must be passed in both houses of the Italian parliament by the end of the year.
The ruling parties insist that any deal with Brussels must not prevent their flagship reforms - income support for the poor and a lower retirement age.
However, League leader Matteo Salvini and 5-Star chief Luigi Di Maio have said savings will come from revisions to both measures, mainly by launching them no earlier than March, instead of from the start of 2019.
Included in the budget are measures to raise taxes on luxury cars in order to provide incentives for electric and hybrid models, the coalition parties agreed on Sunday.
(Additional reporting by Gavin Jones and Giselda Vagnoni; Editing by Daniel Wallis and Mark Heinrich)
This story has not been edited by Firstpost staff and is generated by auto-feed.
Find latest and upcoming tech gadgets online on Tech2 Gadgets. Get technology news, gadgets reviews & ratings. Popular gadgets including laptop, tablet and mobile specifications, features, prices, comparison.
World
By Paul Carrel BERLIN (Reuters) - European Union sanctions against 40 officials in Belarus are "a small victory" but should be widened, opposition leader Sviatlana Tsikhanouskaya said on Monday, adding she would press Germany's Angela Merkel to do more at a meeting on Tuesday. Tsikhanouskaya fled her homeland for Lithuania amid a police crackdown in Belarus following an Aug. 9 presidential election, which official results said incumbent Alexander Lukashenko won, but which Tsikhanouskaya's supporters say was rigged
World
WASHINGTON (Reuters) - White House Press Secretary Kayleigh McEnany said on Monday she tested positive for COVID-19, while several U.S. media outlets reported that a number of other White House staff members also were confirmed to have been infected with the novel coronavirus
World
WASHINGTON (Reuters) - U.S.