Italy economy minister buckles to party chiefs and hikes deficit goal
By Giuseppe Fonte and Angelo Amante ROME (Reuters) - Italy's government has agreed to target next year's budget deficit at 2.4 percent of gross domestic product, party chiefs said on Thursday, ending a tussle between the ruling parties and Economy Minister Giovanni Tria. The move is a concession by Tria, who had wanted a deficit set as low as 1.6 percent, and appears at odds with Italy's promise to the European Union that it would cut the deficit decisively to rein in its high debt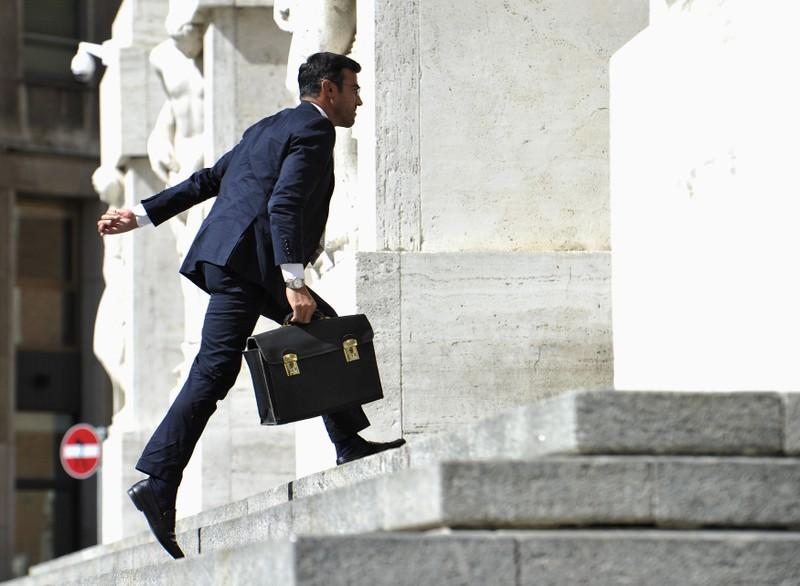 By Giuseppe Fonte and Angelo Amante
ROME (Reuters) - Italy's government has agreed to target next year's budget deficit at 2.4 percent of gross domestic product, party chiefs said on Thursday, ending a tussle between the ruling parties and Economy Minister Giovanni Tria.
The move is a concession by Tria, who had wanted a deficit set as low as 1.6 percent, and appears at odds with Italy's promise to the European Union that it would cut the deficit decisively to rein in its high debt.
The coalition of the 5-Star Movement and the League had been pushing for a deficit around 2.4 percent of GDP to fund costly policy pledges, while Tria had been slowly shifting his position but trying to hold out for something below 2 percent.
"There is an accord within the whole government for 2.4 percent, we are satisfied, this is a budget for change," 5-Star leader Luigi Di Maio and League chief Matteo Salvini said in a joint statement after meetings with Tria.
Italian assets may come under pressure on Friday, as financial markets had been betting on Tria to resist the pressure from Salvini and Di Maio, who are both deputy prime ministers.
"The good news is that there is a deal, at last," said Francesco Galietti, head of Rome-based political risk consultancy Policy Sonar. "The more complex part, however, is that until today markets had been betting on Tria's capacity to rein in political forces. That assumption is now crumbling."
There was no immediate word from Tria, but government sources said he had no intention of resigning.
The full cabinet began meeting at around 1900 GMT to sign off on the government's economic and financial targets for the next three years.
Some coalition voices had publicly told Tria he should quit if he couldn't back their spending plans.
The ruling coalition had been pushing Tria, an academic not affiliated to either party, to ramp up the fiscal deficit to finance their promises of tax cuts and higher welfare spending.
The coalition parties say the priority must be financing policies including a basic income for the poor and a reduction in the minimum retirement age, rather than meeting deficit goals previously agreed with Brussels.
"HISTORIC DAY"
"Today is a historic day, today Italy has changed," Di Maio posted on Facebook after the deficit goal was announced, as 5-Star parliamentarians and supporters gathered outside parliament waving the movement's flags.
Di Maio said it had been agreed that the 2019 budget, which must be presented by October 20, will set aside 10 billion euros for 5-Star's flagship policy of a "citizens' income" of up to 780 euro per month for the poor.
Salvini said the budget would also allow people to retire earlier, freeing up about 400,000 jobs for the young.
Financial markets have been nervous since the government took office in June due to fears its spending plans will boost Italy's debt, which is already the highest in the euro zone after Greece's as a proportion of GDP - around 131 percent.
A 2.4 percent remains inside the three percent ceiling prescribed by EU rules, but Italy had promised Brussels it would cut the deficit decisively to rein in its high debt.
The targets form the framework for the 2019 budget, which must be approved by the cabinet by Oct. 20.
Tria said on Wednesday the budget would include the parties' flagship policies, including the basic income for the poor and a lower retirement age, though it remains unclear how wide-ranging such measures will initially be and how they will be financed.
The League and 5-Star, rivals ahead of an inconclusive election in March, say they will govern together for a full five-year term and phase in most of their policies gradually.
(Additional reporting by Massimiliano Di Giorgio and Giselda Vagnoni in Rome and Francesco Guarascio in Brussels, writing by Steve Scherer and Gavin Jones, Editing by Toby Chopra, Jon Boyle, William Maclean)
This story has not been edited by Firstpost staff and is generated by auto-feed.
India
The Pulitzer prize winner, who was in Kandahar covering operations against Taliban, was killed when he was riding along with the Afghan Special Forces
India
Siddiqui had also covered the 2020 Delhi riots, COVID-19 pandemic, Nepal earthquake in 2015 and the protests in Hong Kong
India
Danish's photographs were not just documentation, but the work of someone who went down to eye-level, as they say in photographic parlance.