Isn't it time we stopped thumping our chests for being 'fastest-growing economy'? We are not
Here's the tail-sting to puncture the fastest-growing economy claim: for three consecutive years, our GDP in dollar terms has barely budged from $2 trillion, thanks to the rupee's decline
You can trust Raghuram Rajan, the Reserve Bank Governor, to prick any balloon of excess optimism when required. Even as the idea of India being the fastest-growing major economy in the world gets bandied about carelessly, especially by politicians who would like to claim credit for it, Rajan had this to say yesterday (28 January): "There are problems with the way we count GDP, which is why we need to be careful sometimes just talking about growth."
Nor does talk of India overtaking China on growth make much sense. At five times India's GDP, our 7 percent economic growth equals under 1.5 percent China's growth in terms of its impact on global growth. China may be reeling under excessive debt and is painfully readjusting its economic engine towards domestic consumption, but India's problems are hardly any less stark. We have a corporate sector staggering under loads of debt, and banks that would be heading towards bankruptcy if they were not government-owned.
The problem with us is that we tend to celebrate success a bit too soon; even if politicians feel the need to claim success even if it was largely due to luck, there is no need for the media to keep claiming that we are the fastest growing economy. India reforms only when it is on the brink of economic disaster - as was the case in 1991 - and trying to pretend that all is hunky-dory is the last thing we need. We continue to be in deep trouble, and even though there is slow improvement in the growth cycle, we are far from being home and dry. And the seven percent growth we have taken for granted for now can be yanked from under us if there is a meltdown in China or another 2008.
India's misfortune is that we shifted to a new way of measuring GDP - gross value added - just when the government changed. So we have new data from the ministry of corporate affairs' five lakh company database whose validity we have no clue about adding to the confusion, as Rajan pointed out. This has given the NDA government unnecessary bragging rights.
Caculated on the more accepted old GDP methodology, we are probably more at six percent growth than seven percent.
The latest bank results - from ICICI Bank and Axis Bank - show that the rotten loan portfolio has now begun to infect even private sector banks. ICICI Bank reported a near one percent rise in gross non-performing assets in the December quarter, which sends a worrying signal. The bad loans scenario is clearly a bigger problem than we thought earlier.
This means the Modi government has much more work to do before it can claim some degree of success in turning around the economy. The UPA has handed it a poisoned chalice which it has been drinking heartily from, assuming it was amrut. Not quite.
Consider the mess it has inherited in so many sectors, and why cheap oil alone will not help.
First, cheap commodity prices help the government bring down inflation and the subsidy bill, but it also depresses the profits of oil and coal companies, and has roiled the steel sector.
Second, the mess in corporate and bank balance-sheets ensures that there is no stock market nirvana. Loads of public sector equity can't be sold as petroleum and banking stocks are a huge part of the indices and prices are deadbeat.
Third, big bills are coming up on one-rank-one-pension and the Seventh Pay Commission. The only way to pay these bills is to let the fiscal deficit go where it will in 2016-17 and rein it in from the year after.
One hopes the finance minister bited the bullet fully in his next budget.
Fourth, the UPA left the infrastructure and real estate sectors - two of the biggest potential job creators - grinding to a halt. Reviving both will be a herculean task.
Fifth, despite wearing a bleeding heart on its sleeve for farmers, when the UPA left office, farm distress was about to get worse. The NDA's misfortune was to get two bad years of monsoon in a row, and lack of early action on this front has caused additional damage to rural growth.
Sixth, exports have been crashing for a year. And here there is no silver bullet. Improving competitiveness is not a one-shot exercise, and letting the rupee crash gives at best marginal relief at the cost of stoking imported inflation. When a falling rupee makes our exports cheaper, it also makes our imports costlier. The tradeoff is not worthwhile.
The Modi government has - to its credit - not done anything to make things worse, but it has clearly underestimated its economic challenges so far.
So, the best thing it can do is to stop thumping its chest with the "fastest-growing" economy claim. The last thing we need right now is complacency. It needs to get back to thinking it has many more things to fix.
And here's the tail-sting to puncture the fastest-growing economy claim: for three consecutive years, our GDP in dollar terms has barely budged from $2 trillion, thanks to the rupee's decline. How's that for the fastest growing economy in the world: near zero dollar growth? If the rupee had been where it was five years ago, we would be a three-trillion-dollar economy today.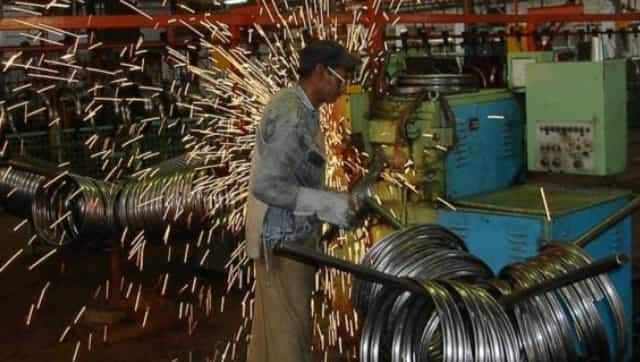 Business
Registration of manufacturing companies has shot up to the highest ever in the last seven years and the share of manufacturing companies in total registrations is also at almost highest level since the past decade, according to the report by Emkay Investment
World
In a virtual address at the opening ceremony of the BRICS Business Forum, the prime minister said there are investment opportunities to the tune of USD 1.5 trillion under the country's National Infrastructure Pipeline