"There's something about this data that bothers me. One, that in a country as large as India, the top ten publications, published in diverse languages such Hindi, Malayalam, Marathi, Tamil and English, all show startlingly similar performances. The range of change in growth is between +0.000122 and -0.00325 CAGR. None has grown more that 0.000122 and de-grown by more than 0.00325 CAGR," Firstpost had written immediately after the release of the Indian Readership Survey figures for 2012 Q2.
One could well have cut and pasted the analysis we did in June 2012 after we take a look at the performance of newspapers as measured by IRS for Q3 2012, released today.
Here's how the top 10 newspapers in India have performed: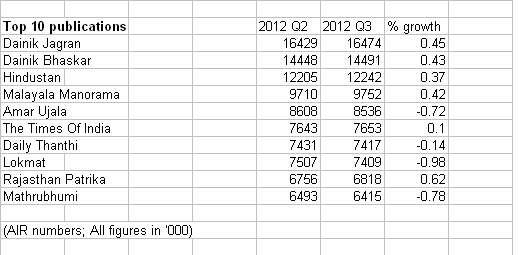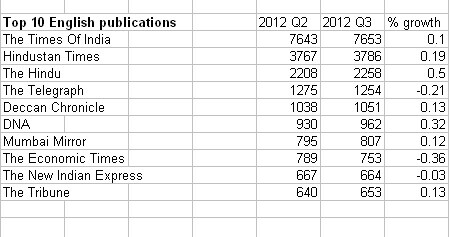 As is evident, not one newspaper has grown or shrunk by even one percent; their gain or loss is in the decimal points, as flat as one could imagine.
No purpose is served by re-analysing the mystery, so we reproduce what we wrote last year.
"It's the wafer thin band that is a puzzle. If India was a static market, a super-mature market, one could understand this kind of extraordinary stability. If all markets in the country were in the same stage of development, one could understand the stability. But it's difficult to understand the stability when the country, as a whole, is seeing extraordinary changes. Changes caused by migration, changes caused by the mobility of the new Indian, changes caused by more and more Indians being education."
It's not difficult to understand; it's impossible to understand, as battles rage in markets like Chennai (Times of India Vs Hindu), Kerala (Times of India Vs Hindu, etc). How is there no change in the readership?
Print continues to be battered by other media, growing, overall at a CAGR of 0.7 percent, a flatness that seems to be supported by the numbers for individual newspaper titles. But the flatness disturbs as well, considering the number of new titles and editions launched in the past year.
The Internet continues to gain ground, notching up an impressive 27.5 percent CAGR.

What's the story of the IRS Q3, then?
Print is in trouble, Internet is a great story. The same as it was a year ago.
And the same as it will be...
Updated Date: Dec 20, 2014 16:30 PM