Irony of H-1B visa policy: Jobs Trump is trying to protect are about to vanish altogether
Trump, fulfilling his campaign promise, has signed the order on Tuesday calling for an interdepartmental review of the H-1B visa program, which allows companies to bring in skilled foreign workers to work in the US.
American President Donald Trump's policy to protect jobs by imposing restrictions on H-1B visas is unlikely to be of any help to that country and may hurt US interests, say experts. What Trump is seeking to protect are entry level jobs that are being phased out by the tech majors, with automation, artificial intelligence and robotics paving the way to increased productivity. Tata Consultancy Services and Infosys are emphasising investments in areas such as machine learning and robotics to stay relevant. "The jobs at the entry level will simply be not there anymore," said Ankur Bisen, Senior Vice President, Teknopak Advisory Services.
It is not just Indian interests that will be hurt by the tightening of US policy. The ramifications will be for both sides – the IT services providers and the US economy. "Skilled foreign workers who come to work in the US by the route of H-1B visas don't just directly supplement the US IT industry with specialised skill sets, they also contribute indirectly to other industries in the US. Often H-1B workers bring their families along and thereby bring additional business for other industries like Real Estate, Banking, Hospitality to name a few," said Sanchit Vir Gogia, Chief Futurist, Founder and CEO of Greyhound Knowledge Group.
While 20 percent of H-1B visa quotas have been set aside for start-ups and small employers with 50 or fewer employees, there is no denying that this will be a dampener to the spirit of innovation and entrepreneurship. Gogia points out that the minimum salary requirement of US $130,000 is not too far from the current average and hence not a prohibitive figure to match. The current average salary of a skilled foreign worker employed via H-1B visa is $100,000. The newly announced minimum salary requirement of $ 130,000 is not prohibitive and can be managed by way of creative salary restructuring and including Per Diems, benefits and other allowances as part of base package.
Trump, fulfilling his campaign promise, has signed the order on Tuesday calling for an inter-departmental review of the H-1B visa program, which allows companies to bring in skilled foreign workers to work in the US. The order was signed at Kenosha, Wisconsin, headquarters of tool maker Snap-on Inc yesterday.
The H-1B visa is a non-immigrant visa that allows US companies to employ foreign workers in specialty occupations that require theoretical or technical expertise in specialised fields. Under the H-1B visa programme, US-based companies hire highly skilled foreign workers, up to a maximum of 85,000 a year. Of these 65,000 are hired from abroad and 20,000 from foreign nationals studying in the US.
To be fair, Trump has not banned outsourcing jobs or visas at all. How will this impact the industry where a large number of Indian IT companies have a strong presence? "The policy has not defined the threshold. The jobs that are vulnerable will be the $30,000 to $40,000 yearly salaried jobs," says Bisen.
India accounts for approximately 67 percent of the $124-130 billion US IT market. The sector is expected to grow at a rate of 12-14 percent in 2016-17 in constant currency terms and is expected to triple its current annual revenue to reach $350 billion by FY 2025. In 2015, India's exports to the US was $108 billion, a Brand Equity Foundation report said.
The Indian IT sector gets over 80 percent of its revenues from the US and Europe while the remaining comes from Asia and the domestic market. At a shareholders meet in February, Vishal Sikka, CEO, Infosys, had said, "If we sit still, there is absolutely no doubt that our jobs are going to be wiped out by artificial ingtelligence or AI 60-70 percent over the next 10 years, or maybe less than 10 years, of the jobs that we do today are going to be replaced by AI unless we continue to evolve ourselves, unless we continue to develop better technology and faster automation," Sikka said.
As per Greyhound Research estimates, post this restructuring average margin hit for an IT Services provider will be in the range of 5-10 percent year-on-year depending on the total base of employees currently on H-1B, the existing compensation and need for onsite in near-term. Critical to note, a hit beyond this number will force these firms to either renegotiate contracts with existing clients or else the street will act ruthlessly and these firms stand to lose potential ground on market capitalisation.
Indian IT firms have been accused of hiring Indians even in job roles that could have had local hires in the countries they operate from. Recently, IT doyen Narayan Murthy too pointed out to this anomaly while supporting the Trump administration's decision to tighten H-1B visa issuance. "I think by and large, the Indian mindset is always to take the soft option. Becoming multi-cultural is a very, very hard option, it's not easy," he said.
Cost is a major factor for not taking in local hires which many say does not ring true anymore with salaries being at par in the IT sector in the US. One of the reasons is cultural. Indians are willing to work late hours and can be contacted on phone or the internet. In the US, the work culture is such that employees largely do not respond to calls or mails after office hours and weekends, too. The IT services companies in India are known for long working hours, much beyond the nine-hour shift.
"We have survived tougher challenges in the past like the Y2K and the Lehmann crisis. I am confident this will not derail our growth," says Harish HV, Partner, India Leadership Team, Grant Thornton India LLP. He feels the growth estimates for the next two quarters may get impacted with these restrictions.
(Data inputs Kishor Kadam)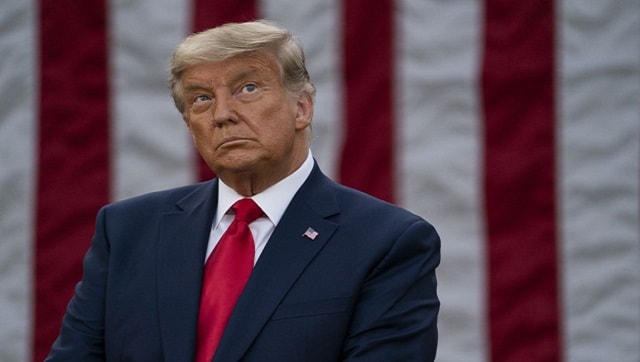 World
Former president Donald Trump has said the official ought to be tried for treason if the report was true
Business
The company will hold investor/analyst calls on 13 October to discuss the financial results for the quarter ending 30 September
World
The speech Biden delivered sounded much like what he would have said before the Taliban took Kabul, Afghanistan, without resistance, and before the pivot to Asia became a hindrance to relations with Europe