Instacart, Amazon's Whole Foods relationship to end next year
By Uday Sampath Kumar (Reuters) - Instacart said on Thursday it will stop delivering groceries for Whole Foods next year, ending a partnership that has been under stress since Amazon.com Inc bought the upmarket grocer last year. Amazon's $13.7 billion purchase of Whole Foods in August 2017 has been a double-edged sword for Instacart, throwing the Whole Foods relationship into doubt while driving rival grocers such as Kroger , Aldi and Costco into Instacart's arms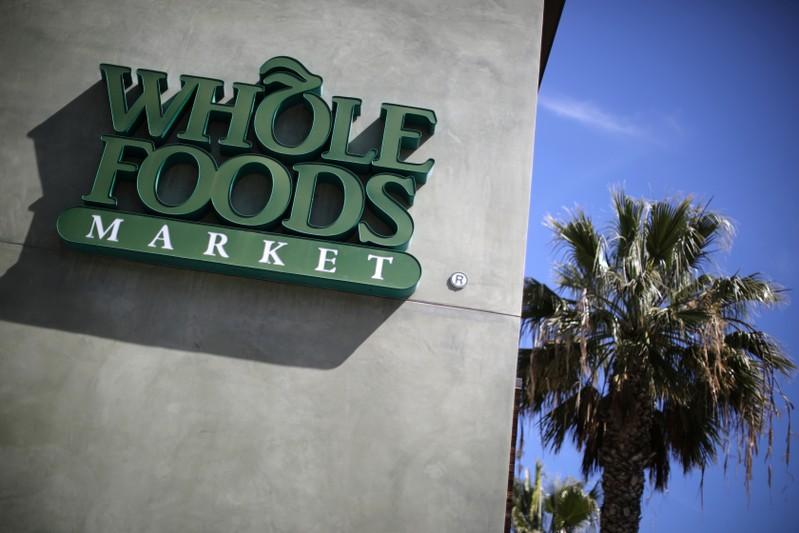 By Uday Sampath Kumar
(Reuters) - Instacart said on Thursday it will stop delivering groceries for Whole Foods next year, ending a partnership that has been under stress since Amazon.com Inc bought the upmarket grocer last year.
Amazon's $13.7 billion purchase of Whole Foods in August 2017 has been a double-edged sword for Instacart, throwing the Whole Foods relationship into doubt while driving rival grocers such as Kroger , Aldi and Costco into Instacart's arms.
"Amazon's intent from day one ... was to integrate Whole Foods with its own grocery-delivery efforts such as Amazon Fresh and Prime Now," Tom Forte, an analyst with D.A. Davidson said.
Instacart Chief Executive Officer Apoorva Mehta said on Thursday that about 350 of its 1,415 part-time delivery employees at 76 Whole Foods locations would be laid off once the divorce begins in February 2019.
Whole Foods started testing in-house delivery at a Cincinnati store in February. Whole Foods "pickers" prepare the orders and hand them off to Amazon Flex drivers for delivery. Whole Foods did not give Cincinnati shoppers the option to have Instacart provide those services, as it did in other markets.
At the same time, Amazon pushed the pedal on delivery speeds - adding one- and two-hour grocery delivery options that compete with Instacart and other third-party providers.
Instacart bagged the Whole Foods delivery deal in 2014, elevating its brand with influential young consumers who want everything from groceries to sofas delivered to their doorsteps.
In 2016, the companies deepened their relationship, forging an exclusive, five-year agreement to deliver perishables.
It is still not clear what, if any, penalties Amazon incurred for ending the partnership early. Amazon did not immediately respond to requests for comment.
Edward Jones analyst Brian Yarbrough said Instacart will find it difficult to recover from the separation as the delivery space becomes more crowded and competitive.
Instacart, which has raised $1.9 billion since its founding in 2012, is diversifying its customer and revenue base as grocers like Kroger and Walmart Inc expand in-house order "picking" and experiment with a variety of delivery services.
Instacart added about 100 retail partners this year and has built a service that uses shopper data to target consumers with coupons and promotions from packaged-goods brands such as Nestle , General Mills , Coca-Cola .
(Reporting by Uday Sampath, Vibhuti Sharma and Nivedita Balu in Bengaluru and Heather Somerville in San Francisco, additional reporting by Lisa Baertlein in Los Angeles; editing by Arun Koyyur and Sandra Maler)
This story has not been edited by Firstpost staff and is generated by auto-feed.
Find latest and upcoming tech gadgets online on Tech2 Gadgets. Get technology news, gadgets reviews & ratings. Popular gadgets including laptop, tablet and mobile specifications, features, prices, comparison.
World
OTTAWA (Reuters) - Canadian Prime Minister Justin Trudeau on Friday said he will continue to stand up against China's "coercive diplomacy" and its human rights abuses in Hong Kong and Xinjiang after being rebuked by Beijing for similar comments earlier this week. "We will stand up loudly and clearly for human rights all around the world, whether it is talking about the situation faced by the Uighurs, whether it is talking about the very concerning situation in Hong Kong, whether it's calling out China for its coercive diplomacy," Trudeau said in a news conference. (Reporting by Steve Scherer and Julie Gordon, Editing by Franklin Paul)
World
By Caroline Pailliez PARIS (Reuters) - Solene Tissot, a 19-year-old student in Paris, will obey the curfew imposed to fight COVID-19, but she has one request for her country's leaders: don't blame young people for the second wave of the virus. "There's been this kind of assigning guilt to young people," she said on Friday, hours before the new curfew was to come into force in Paris and major French cities. "I reject that." After a lull over the summer, the rates of transmission of coronavirus are going up in many parts of Europe and officials have identified social interactions between young people as a source of the resurgence.
World
By Adrian Portugal and Eloisa Lopez MANILA (Reuters) - Jailed Philippine activist Reina Mae Nasino wanted to hold her three-month-old daughter for the last time before she was laid to rest on Friday but she could not. Heavily armed prison officials guarding her refused to uncuff her despite pleas from her family and human rights supporters, who have decried what they described as inhumane treatment of Nasino and other mothers in Philippine jails.