Two of the top IT services companies have come out with their first-quarter earnings. While Tata Consultancy Services beat the analysts' estimates, Infosys disappointed.
Analysing the earnings, TCS CEO and MD N Chandrasekaran attributed the results to strong execution and accelerating customer adoption of Cloud, Big Data and Analytics, which resulted in a broad-based growth across key markets and industries.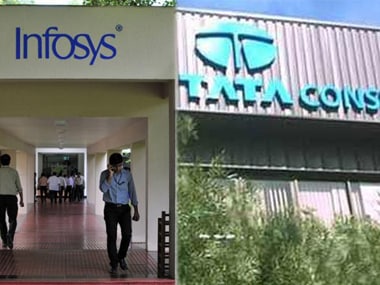 Rajesh Gopinathan, chief financial officer said the quarter witnessed good financial performance balancing revenue growth, profitability and cash generation.
"Our disciplined approach to operations have helped us counter strong headwinds in form of annual salary hikes and promotions as well as global currency and market volatility through the quarter," he said.
However, Infosys said there were a few unanticipated headwinds that impacted their net profit and revenue growth.
"We had unanticipated headwinds in discretionary spending in consulting services and package implementations as well as slower project ramp-ups in large deals that we had won in earlier quarters, resulting in a lower than expected growth in Q1," said Infosys CEO Vishal Sikka.
Infosys' numbers are particularly disappointing since the company has been doing well in the last few quarters. There was a broad consensus among observers that the company may be coming out of the woods after a two-year-long transition troubles.
The company's shares declined about 8.81 percent on the BSE today after the earnings, pulling down the IT index and other IT stocks with them.
Here are seven charts that will help you compare the two companies:
TCS posted a revenue of Rs 29,305 crore, up 3 percent on quarter (3.1 percent on constant currency basis). The company's volume growth came in at 3.4 percent on quarter (12.4 percent on year).
"For the first time after four successive quarters of decline, (TCS) reported pricing saw a marginal improvement of 0.3 percent Q-o-Q. A positive takeaway was broad-based growth in terms of verticals, service lines and geographies," Reliance Securities said in a post-earnings note.
Meanwhile, Infosys' revenue growth of 1.4 percent is much lower than the growth seen in the previous quarter (4.1 percent) and also in the year-ago period (7 percent). It is also to be noted that TCS has a larger base.
Infosys posted a net profit of Rs 3,436 crore, a decline of 4.5 percent on quarter. Analysts had expected the company to clock Rs 3,447 crore (down 4.2 percent), according CNBC-TV18.
TCS, meanwhile, witnessed a 0.4 percent fall in its net profit. Compared with the previous quarter, the number is bad but on year it is a major improvement.
When it comes to operating margin, analysts have been upbeat about TCS. Terming the company's margin management 'commendable', Religare said in a post-earnings note, "Despite multiple margin headwinds, EBIT margins beat estimates and came in at 25.1 percent."
Reliance Securities, meanwhile, said the lower-than-expected decline in the margin was because of TCS' 'operational efficiency'. It noted that selling, general and administrative expenses and other operating costs of the company declined 71 basis points as a percentage of revenue.
A major negative surprise for Infosys has been the sudden spike in the attrition rate to 21 percent. In the previous two quarters the company had seen its attrition rate declining due to measures taken by the management. However, the company in a post earnings press conference said it is not unduly worried about the situation. It has relaunched its employee stock option plan (ESOP) for junior to middle level management staff in a bid to stem the employee churn.
TCS, meanwhile, has witnessed a sharp decline in attrition rate from 15.5 percent in the previous quarter to 13.6 percent.
According to analysts who spoke on CNBC-TV18, Brexit is a bigger worry for Infosys than TCS.
"In terms of going ahead in quarter two, we expect some kind of recovery in growth but the Brexit impact will be major for Infosys because they have had about 4 percent growth in the last four quarters on an average from the European markets. European markets have outperformed the US market for Infosys, so going ahead you might see some kind of negative impact because of Brexit on Infosys specifically," said Karan Taurani of Daulat Capital to the channel.
Meanwhile, Reliance Capital feels the steep drop in Infosys shares on Friday (15 July)  is exaggerated.
"There have been positives also this quarter, which this steep decline ignores - large deal wins continued to come in higher ($ 800mn vs $ 757mn in 4QFY16 and $ 360mn in 3QFY16), driving confidence on improved revenue growth in 2QFY17, Y-o-Y margins were largely stable compared with a decline for most of the industry, and key verticals like insurance, telecom, manufacturing, retail and transport (a combined 55 percent of revenue) all clocked solid growth rates of 3-6 percent Q-o-Q," it said in a post-earnings note.
The brokerage expects Infosys to continue to grow ahead of industry in 2016-17.
Firstpost is now on WhatsApp. For the latest analysis, commentary and news updates, sign up for our WhatsApp services. Just go to Firstpost.com/Whatsapp and hit the Subscribe button.
Updated Date: Jul 15, 2016 16:18:16 IST