Infosys shares soar 6% despite firm posting lower-than-expected earnings for June quarter
Infosys was the biggest gainer among the blue chips on both indices during morning trade
New Delhi: Shares of Infosys rose by nearly 6 percent to hit its one-year high level on Monday even as the company posted lower-than-expected earnings for the quarter ended on June 30, 2018.
The stock, after a positive opening, further gained 5.75 percent to Rs 1,384.40 -- its 52-week high -- on BSE.
On NSE, shares of the company surged 5 percent to hit a one-year high of Rs 1,384.40.
The stock was the biggest gainer among the blue chips on both indices during morning trade.
Sanjeev Zarbade Vice President – Research Kotak Securities said, Infosys results missed the street estimates.
The country's second-biggest software services exporter, on Friday posted a lower-than-expected 3.7 percent rise in net profit for the quarter ended on June 30, 2018, due to a one-off charge related to fair value reduction of up-for-sale Panaya business.
The consolidated net profit in April-June at Rs 3,612 crore, or Rs 16.62 a share, was higher than Rs 3,483 crore, or Rs 15.24 a share, net earnings in the same period of the previous fiscal.
Revenue rose 12 percent to Rs 19,128 crore as the firm maintained earnings guidance for the fiscal year ending March 2019 at 6-8 percent in constant currency terms.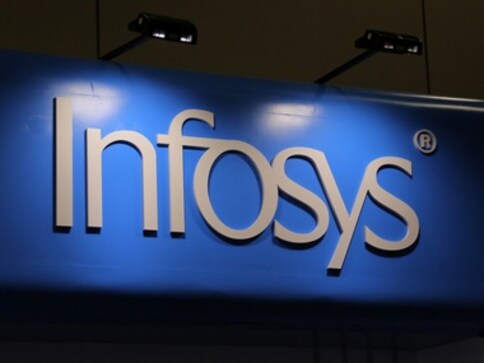 Business
Shares of Infosys on Monday fell as much as 6 percent on bourses after the company reported less-than-expected margin guidance for fiscal year 2018-19
Business
Infosys board member V Balakrishnan has sold 1 lakh company shares held by his two daughters on November 6 and 7 through open market transactions (November 7) for Rs 33.05 crore, , according to a regulatory filing on the Bombay Stock Exchange.<br /><br />
Business
At NSE, shares of Infosys went up by 0.82 percent to end at Rs 675.60