Infosys Q2 net up 5% on new client wins but cuts guidance on uncertainties
For the second time this year, the company slashed revenue guidance due to its recent performance and 'near-term uncertain business outlook'.
Infosys, India's second-biggest software services exporter, said on Friday its second-quarter net profit rose 4.9 percent on quarter to Rs 3,606 crore in July-September, beating market expectations as it racked up new business client wins. For the second time this year, the company slashed revenue guidance due to its recent performance and "near-term uncertain business outlook".
The Bengaluru-based firm had reported a net profit of Rs 3,398 crore in the year-ago period, it said in a BSE filing.
The consolidated revenue for the quarter was up 3.1 percent on quarter at Rs 17,310 crore. The figures are as per Indian Accounting Standard (Ind AS). Revenues are now expected to grow 8-9 percent in constant currency, translating to 9.2-10.2 percent in rupee terms and 8.2-9.2 percent in dollar terms.
This is the second time the company has reduced its revenue guidance for the fiscal. In July, Infosys had said it expected revenues to grow 10.5-12 percent in constant currency terms, lower than the previously estimated 11.5-13.5 percent for the full year 2016-17.
"While we continue to navigate an uncertain external environment, we remain focused on executing our strategy and increasing momentum of our software plus services model. Considering our performance in the first half of the year and the near-term uncertain business outlook, we are revising our revenue guidance," Infosys CEO Vishal Sikka said. He added that in the long term, it's increasingly clear that the IT industry's future lies in evolving from a cost-based, people-only model, to one in which people are amplified by software and artificial intelligence (AI).
The company's operating margins expanded 80 basis points sequentially to 24.9 percent. "Our margins expanded during the quarter on the back of further improvement in operational efficiency. Operating cash flows for the quarter were healthy and we effectively navigated a volatile currency environment through prudent hedging," Infosys CFO MD Ranganath said. In US dollar terms, its consolidated net profit rose 3.8 percent to $539 million in the September quarter of 2016-17, while revenue went up 8.2 percent to $2.5 billion.
Infosys shares were trading at Rs 1,028.20 apiece, down 2.27 percent from the previous close on the BSE.
The company added 12,717 people (at gross level) and 2,779 employees (net basis) from June quarter, taking its headcount to 1.99 lakh employees as on September 30, 2016. The attrition rate was at 20 percent for the said quarter.
Liquid assets, including cash and cash equivalents, available-for-sale financial assets and government bonds, were Rs 35,640 crore in the quarter under review compared with Rs
33,212 crore as on June 30, 2016.
Infosys has also declared an interim dividend of Rs 11 per equity share.
Business
The Sensex rose 0.29 percent to end the day at 58,296.91, while, Nifty 50 ended the day in green with a growth of 0.31 percent or 54.20 points
India
BSE Midcap ended at 24,382.19, up by 84.68 points or 0.35 percent while BSE Smallcap rose by 0.41 percent to settle at 27,305.31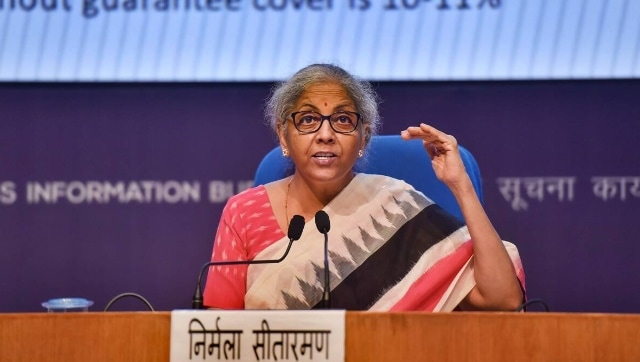 Business
In an exclusive interview to political editor Marya Shakil of CNN-News18, she also addresses the Infosys controversy by saying that the "anti-national statement" made by RSS-backed magazine Panchajanya was not right at all.