Infosys headed for difficult times: The board has erred; a complete reboot is the urgent need
Why did Infosys board, staffed with eminent persons with known corporate background, not take up cudgels on Vishal Sikka's behalf all this while if it believed he is right?
New Delhi: Everyone has had a say in what led to the huge shakeout at Infosys, with many observers and analysts blaming co-founder NR Narayana Murthy for rocking the boat while some others throwing pointed questions at the board of directors, which failed to stick up for Vishal Sikka until it was too late.
Sikka's sudden resignation as CEO and MD at Infosys has thrown the company into a tailspin. But what do the investors of Infosys think? Do they blame the old guard and their frugality mantra for the loss of thousands of crores in market valuation at the IT bellwether in a matter of days, or are they beginning to see the layers behind Infosys' tussle with corporate governance issues in recent months?
As the markets opened on Monday, many self-styled pundits had predicted that the Infosys scrip will rise, given a buyback announcement just a day after Sikka created the furore with his resignation. Well, until now, they have been proved wrong.
This report says shares of Infosys plunged 4.39 percent in early trade as several brokerages downgraded the stock after the resignation of Sikka. Infosys also hit its lowest level in two years. Whether the lukewarm response of shareholders, who are being rewarded with a generous buyback offer after the Sikka shock, is due to the warning by brokerages or due to their own skepticism remains to be seen. But one thing is clear: The entire tussle between the CEO and the promoters and the ambiguity over what exactly is the corporate philosophy at Infosys has taken a toll on shareholder wealth and on their confidence in this blue chip. Shareholders are probably hurt and certainly confused at the turn of events.
It is another matter that the timing of the buyback despite Sikka's resignation preceding it by just a day is also raising the hackles of some. Put simply, the buyback price may not have been as attractive as it seemed on Saturday had Sikka's resignation a day before not plunged the Infosys scrip to historic lows.
Anyway, the biggest culprit in introducing this uncertainty at Infosys is perhaps its board of directors. Why did the board, staffed with eminent persons with known corporate background, not take up cudgels on Sikka's behalf all this while if it believed Sikka to be right about there being no fall in corporate governance standards? Why did it not send a public signal to founders led by Murthy to back off, and show confidence in the leadership through other means? Why did the board decide to literally develop a spine only after Sikka announced his resignation on Friday? Murthy has been making public allegations against the way Infosys has been functioning under Sikka for months but never has the board made its stand clear in public.
Some news reports (read one in The Indian Express here) have suggested that Chairman R Seshasayee and Murthy did not get along well.
And some others (read a report in the Mint here) have suggested that Sikka and Co-Chairman Ravi Venkatesan did not see eye to eye.
With such deep divisions within the board and its relations with the founders fractured, as these reports suggest, is it a wonder that the board was unable to clearly stand behind one individual in this battle of egos? Perhaps, as The Indian Express suggests, it is indeed time to restructure the board completely to reboot Infosys. Several worthies sitting there as directors need to bow out.
Sandeep Agarwal and Pranav Kshatriya at brokerage Edeweiss said in a note to clients this morning that a spate of resignations over the past three years has anyway created a significant leadership vacuum in Infosys' management. They also said that the board of directors may not have full confidence of investors. "The company's press release citing Mr Murthy's charges as primary reason for the CEO's resignation highlights the broken bridges between the founder and the board of directors. It also indicates that the board may not have full confidence of investors and any prospective CEO from outside could be apprehensive under such circumstances." The brokerage has downgraded the Infosys scrip.
Not just the board, perhaps Sikka should have answered some probing questions on the way he went about dismissing allegations of mis-governance. The sore point has been the acquisition of Israeli firm Panaya, which Murthy questioned stridently and which perhaps was the last nail in the coffin for Sikka's Infosys tenure.
If nothing was found amiss even by independent fault finders, why not make the report on Panaya acquisition public? Why not address queries on key officials involved in this deal quitting as soon as the probe was over? This single lapse should be enough for the board to question its own motives, not those of Murthy. One can accuse the founder of imposing his cultural value on a company he helped build from scratch but not of raising valid objections on governance standards at Infosys.
The way ahead for Infosys will neither be easy nor will it have to travel a short distance to reinvent. The company needs to reboot completely. Finding the right CEO and MD itself is a daunting task, given the tussle between what the founders expect and what the shareholders probably want to see in the new leader.
Then, Infosys needs to stem the tide of exits at senior and mid-levels by instilling confidence in its people about the way forward. Last but not the least, Infosys now needs to follow up on established industry leading practices to keep ahead of its peers, even if that means following the Sikka legacy.
Business
This time the scale seems to be tilted towards candidates from inside Infosys. And UB Pravin Rao, the interim CEO, seems to one of the front-runners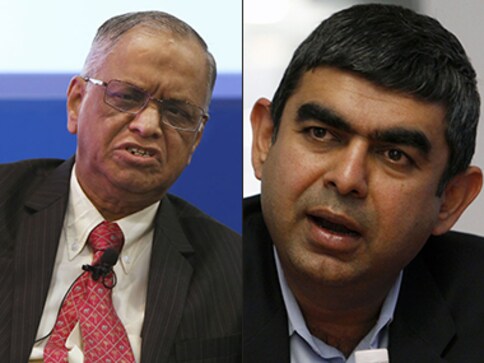 Business
There were no immediate comments from Narayana Murthy on the allegations
Business
In an email to employees, Vishal Sikka said that after much contemplation, he has decided to leave "because the distractions, the very public noise around us, have created an untenable atmosphere".