Infosys' decision to mandate Srikantan Moorthy to oversee US talent acquisition is all about protecting its bottomline
Infosys could boost employee count in the US via acquisitions. It must have a healthy bottomline and any strategy that facilitates the same will be adopted.
Localisation is the 'flavour of the season' in the West, and is also a demand being heaped upon India's IT industry. Protectionist policies are forcing Indian tech firms to hire more in the US. As such, Infosys has decided to move Srikantan Moorthy, who was heading application services at the software major, to the US, to oversee talent acquisition there. It only helps that Moorthy has also served the company as its Group Head of Human Resources Development (HRD).
Clearly, Moorthy will have his hands full in the US. In a recent interview to The Times of India, CEO Salil Parekh said the Bengaluru-based company would be looking to hire college graduates in the US. It hired 3,900 workers in the US, including 850 college graduates, in the year ended 31 March, 2018. The company is building a 50-acre training facility in Indiana, according to a Bloomberg report. Last year, Infosys announced plans to hire 10,000 Americans over a two-year period and also open four new centres in the US as part of efforts to mitigate the impact of H-1B visa curbs.
By hiring in the US, the firm, like its rivals, is reducing its dependency on the H1-B visa programme. According to data analysed by the San Francisco Chronicle, from 2015 to 2017, Wipro logged a 52.4 percent drop in the number of visa applications filed. Infosys logged a 38.1 percent reduction while TCS reported an 18.3 percent decline.
Sector experts said that by mandating Moorthy to head talent acquisition in the US, Infosys is giving out a clear message -- besides focusing on localisation with regard to hires, the message being sent out is that there exists an abysmal shortage of talent in artificial intelligence (AI), robotics, data analytics, cloud computing among other new-age tech solutions in India.
Hiring in the US will aid digital transformation and the company will want to hire people with a digital background, said Kris Lakshmikanth, Founder CEO and Managing Director, The Head Hunters, an executive search firm specialising in C-Suite search and senior-level talent acquisition.
When Infosys makes an important move like placing a veteran in the US for talent acquisition, it goes to show that the country is the target market for the company, said Amit Nandkeolyar, Associate Professor, Organisational Behavior, IIM-Ahmedabad. He said the move will help bring in the right cultural fit in the US, where the firm's customers are based. "By hiring locals, the company will be able to boost its reach in the US. Tech hires in India have not been able to fill roles that the company requires in the US, and some skill-sets are possibly easier to procure in the US," he added.
Lakshmikanth felt the truth that most shy away from is the fact that hiring people of the same colour makes it easier to run a consulting business in the US. Also, you need MBAs with a technical background to do justice to some of those roles, which India cannot match-up to. Creativity is also an important component of the tech quotient. "[Indian] techies are not as creative as their US counterparts, and may not be able to cater to job demands in that country," added Lakshmikanth.
At the end of the day, a company must have a healthy bottomline. Any strategy that facilitates the same will be adopted. "With visa legislation becoming restrictive, it is better to hire locally and meet business targets, and focus on the bottomline," said Alka Dhingra, General Manager, TeamLease Services. "Infosys will have to take to revenue streams that reduce costs. If that can be achieved by hiring locally in the US, helping it meet its targets, that will be the way for the firm and for any other IT company in an increasingly 'hire local' global world," Dhingra added.
Inorganic growth
Infosys could also boost its employee count in the US via acquisitions. Lakshmikanth said, given the shortage of talent in the new-age digital space sought by the IT major, it will look at two strategies: hire more in the US and acquire small companies there, which can help expedite its digital transformation.
Over 25 percent of Infosys' revenue comes from digital.
The BSE-traded firm recently announced the acquisition of WongDoody Holding Company, a US-based digital creative and consumer insights agency, for $75 million.
"We are focused on partnering with global brands and CMOs to help them on their digital transformation journeys, by developing a digital experience services ecosystem with services ranging from strategy, design and user experience, to creative and digital marketing across the customer experience value chain," according to President and Deputy COO Ravi Kumar S, the PTI reported. WongDoody's expertise in driving innovative creative solutions is already yielding significant results in Infosys' initial collaboration with clients, and the acquisition will further enhance the company's capabilities in this space, he added.
Trump-induced woes
According to the US Labor Department, the top three H-1B occupations are computer systems analysts, application software developers and computer programmers — and they account for roughly half of the department's H-1B certifications.
US President Donald Trump's protectionist measures have resulted in changes to the H1-B visa programme. For instance, the duration of work has been restricted to the period in which an employee will have to work, instead of a three-year visa that was issued hitherto. The Trump administration could also cancel work permits issued to the spouses of H1-B visa holders.
Changes in the H-1B visa arrangement will mount immense cost pressures on Indian IT firms, a PTI report said. "The average margin hit for an IT services provider will be in the range of 5-10 percent year-on-year, all depending on the total base of employees currently on H-1B visas, existing compensation, and the need for onsite deployment in the near-term," said Sanchit Vir Gogia, chief catalyst, founder and CEO, Greyhound Research.
In these circumstances, hiring local in the west is the only way out.
Find latest and upcoming tech gadgets online on Tech2 Gadgets. Get technology news, gadgets reviews & ratings. Popular gadgets including laptop, tablet and mobile specifications, features, prices, comparison.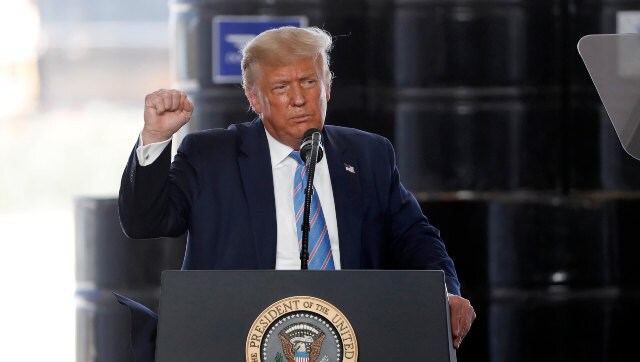 World
The US President claimed that the nation has tested 60 million for coronavirus and added that no other country came close to that figure (edited)
World
Trump is universally presented in the memoirs as a flamboyantly mean and intemperately indiscreet boss
World
When Donald Trump restarted his coronavirus briefings last week after shutting them down in April, he largely hewed to a script, urging Americans to wear masks and practice social distancing