There is no surprise. India's slowing growth is now increasingly visible in the numbers.
At 7.7 percent, the gross domestic product (GDP) figures for the first quarter (Q1) of 2011-12 reinforce the softening trend (of sub-8 percent growth) that first became apparent during the previous quarter.
The decline is more than one percentage point vis-a-vis the same period last year when GDP grew by a strong 8.8 percent. That said, though, the present growth rate is still strong, but has come off from the previous highs.
A look at the details confirms what was largely expected - industrial growth is the main villain. Slowing consumer expenditure growth on account of high inflation and rising interest rates is the other.
The growth rate of industry GDP has fallen by a whole four percentage points during Q1 from the same period last year - to a slowish 5.1 percent. The decline is pronounced in sectors like mining and quarrying, and construction, where growth fell sharply from over 7 percent each during the previous year, to less than 2 percent now.
These two sectors have represented the big drag on industry, even though manufacturing growth fell more moderately to 7.2 percent and growth in electricity, gas and water supply actually accelerated. The various mining scams and the drop in infrastructure and real estate investment are major contributors to the industrial slowdown.
On the expenditure side, spending was most impacted. Growth in private final consumption expenditure, which forms a bulk of the GDP and represents the average person's spending, fell to 6.3 percent from 9.5 percent during the previous year.
Consumer goods production trends had given an indication to this effect, as rising borrowing rates have weakened the appetite for consumer credit and rising inflation in essentials like food articles has made a dent in discretionary spending.
Government final consumption expenditure has also grown at a slower pace for three reasons: the first quarter is usually a sluggish one, the fiscal deficit is constraining spending, and the wearing off of the 2008-09 fiscal stimulus.
On the positive side, though, there are two pleasant surprises in the GDP numbers. First, agriculture continues its run of good growth, on the back of a robust rabi harvest. It grew by about 4 percent, which is well above the average growth during the same period of the previous year.
Second, investments, or gross fixed capital formation, also showed a robust rise by 7.9 percent.
In sum, while a cooling off in the economy is quite apparent on account of slowing industry and consumer expenditure, pockets of strength still exist. We will know for sure how far the challenging economic climate has impacted India in the next quarter, since the slowing is likely to continue.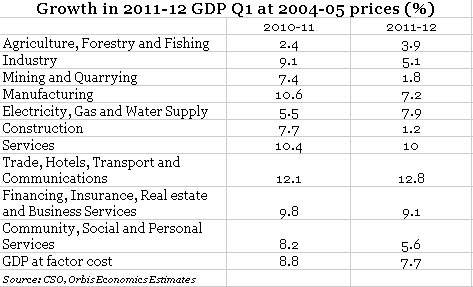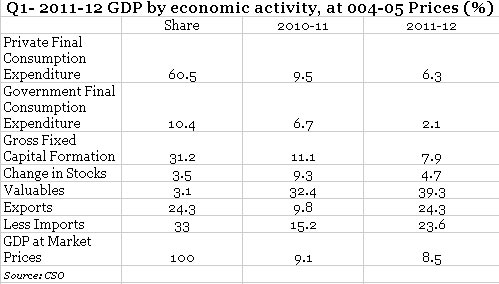 Updated Date: Dec 20, 2014 04:15:35 IST