IndiGo profits decline: Cost control the only mantra airline should follow to stay ahead
High maintenance costs due to the NEO engine issue as well as a change in the airline's earlier model for acquiring aircraft (from sale and leaseback to outright purchase) could be the two main reasons for a spike in costs for IndiGo.
The shocking decline in profitability of India's largest airline by passengers, IndiGo, in the June quarter reinforces the mantra all airlines chant: Cost control and its criticality to their survival. This is true anywhere in the world but especially pertinent in the Indian market, which anyway offers a very high-cost operating environment as taxation on jet fuel is among the highest anywhere. In the past too, Indian airlines have skidded when costs spiralled. So the dismal numbers of the June quarter should be warning enough to IndiGo to buck up.
High maintenance costs due to the NEO engine issue as well as a change in the airline's earlier model for acquiring aircraft (from sale and leaseback to outright purchase) could be the two main reasons for a spike in costs for IndiGo. Since the induction of A320 Neos in 2016, the airline has intermittently been facing engine issues and has been forced to ground some aircraft besides spending more on aircraft maintenance. This, coupled with declining passenger earnings and fuel cost spike, has lead to the dismal June quarter numbers. And the airline management acknowledged that frequent groundings due to engine issues is a problem.
"The Neos continue to face issues, resulting in parts going out sooner than they should and we are not happy about the situation," promoter Rahul Bhatia said during the post-earnings analysts earlier this week. As of now, at least five A320 NEO aircraft are grounded for want of spare Pratt & Whitney engines.
And this piece in The Economic Times warns against outright aircraft purchase, abandoning the earlier sale and leaseback model. "Analysts have raised concerns over the airline's plans to move partially from acquiring aircraft entirely on the sale and leaseback model to outright purchase. The airline's sale-and-leaseback model has been one of the key strengths, helping it earn premium multiples."
Analysts at brokerage Edelweiss noted that during the June quarter, three ATRs were purchased with cash payments. "Management is yet to start buying A320 NEOs in cash, but will start utilising internal accruals for A320s as well," they said.
IndiGo reported an almost 97 percent decline in profit after tax at Rs 27.8 crore from Rs 811.1 crore in the same quarter of the previous fiscal. This was the single biggest decline in profitability for the airline ever since it got listed on the bourses in November 2015. The airline attributed the decline in PAT in the June quarter to the adverse impact of foreign exchange, high fuel prices and the competitive fare environment.
While the airline has little control over forex fluctuations and fuel prices, analysts are right in pointing to its slipping cost management. Brokerage IIF L said in a note to clients that it would not be surprised if the airline reported a loss in the September quarter. "Although we continue to believe in the medium-to-long-term growth story of the sector and Indigo's competitive advantages, we see significant earnings uncertainty in the near-term (weak pricing and high input costs). If the current pricing trend continues, we would not be surprised if Indigo reports a loss in 2QFY19."
The EBITDAR margin contracted by a massive 18 percentage points to 15.8 percent from 33.9 percent in the same quarter last fiscal due to yield compression (how much the airline earns from each passenger) and a sharp rise in fuel cost and operational expenses (rupee depreciation and higher maintenance cost), the IIFL analysts said.
IndiGo's cost per available seat kilometre (excluding fuel) has been the highest in the last 10 quarters in the June quarter at Rs 2.20 per km, according to an analysis by brokerage Edelweiss. It has also seen a spike in CASK for fuel too. The only good news is that at Rs 2.20 per km, IndiGo still spends less per km than its only other listed competitor, SpiceJet (Rs 2.60). Yield, which measures earning per passenger, declined by 5% or by 20 paise to Rs 3.60 year-on-year.
So the situation is somewhat like this: Earnings from ticket sales were subdued in the traditionally busiest quarter of the year due to competitive pressure, costs due to fuel and foreign exchange fluctuations kept on rising and added costs on NEO engine groundings and shop visits could not have been avoided. Now, going forward, the airline needs to find other cost heads to regulate if it wants to sit tight over its market share and maintain robust financials.
India is one of the fastest growing aviation markets in the world, with IndiGo already flying almost 4 in 10 domestic passengers. If yields cannot be maintained in the strongest quarter of the year and oil prices continue to play truant, the only flexibility the airline has is reigning in cost heads outside of fuel. Given the present scenario, reports of the airline going slow on international expansion while committing to a 20-25 percent capacity addition in the current quarter are welcome.
Find latest and upcoming tech gadgets online on Tech2 Gadgets. Get technology news, gadgets reviews & ratings. Popular gadgets including laptop, tablet and mobile specifications, features, prices, comparison.
Arts & Culture
We perpetuate the caste system by negating the existence of caste, trivialising the experience of people from marginalised castes, unseeing the absence of a large part of the country's population from institutions.
India
It was not just the fact that Koshyari chose to make an intervention, his manner of doing so was immeasurably crass and was a direct assault on constitutional values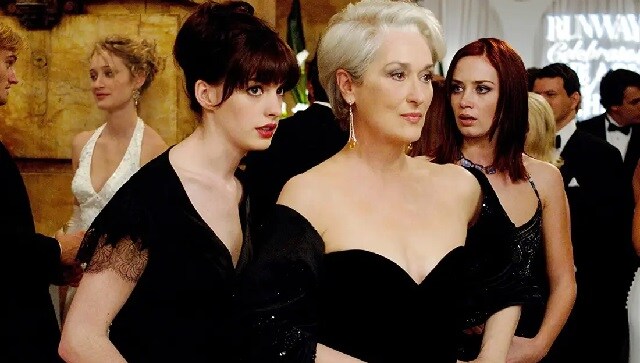 Entertainment
Despite having two women at its centre, The Devil Wears Prada ended up reaffirming and perpetuating harmful gender stereotypes for the most part.