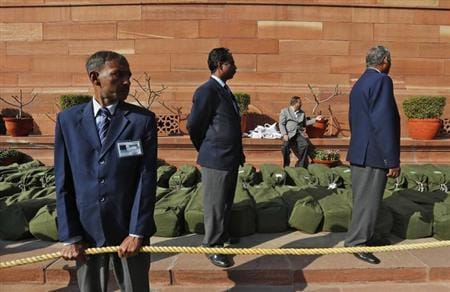 High-earning Indians gave a collective groan on Thursday when the government imposed a 10 percent surcharge on their income, following a global trend which it expects to be popular in an election year.
Just 42,800 of India's 1.2 billion people will be affected by the extra take on pay above Rs 1 crore, according to the finance minister.
The measure will be in place for one year.
"There are substantial number of people with good income who are not paying taxes and the focus should have been more on bringing them under the tax net," said Sunil Duggal, CEO of consumer goods maker Dabur India.
"He should have ensured compliance so that more people who have avoided taxes are brought into the net of taxes," said Issac George, director of GVK Power & Infrastructure Ltd.
Dozens of corporate executives, watching a telecast at an industry event in New Delhi, exchanged nervous smiles as Finance Minister P. Chidambaram introduced the surcharge in his budget speech.
Chidambaram, seeking extra cash to fund a dash for growth, said he expected those affected to pay up "cheerfully."
The ruling Congress faces elections by May 2014 and the tax move is likely to play well with its largely rural and poor core supporter base.
India had 125,500 dollar millionaires in 2011, according to a Capgemini and RBC Wealth Management world wealth report released last year.
Reuters
Updated Date: Dec 20, 2014 17:17 PM