As more and more users are shifting away from SMS messaging towards mobile messaging, OTT messaging apps are becoming big business. And, as a result the industry is attracting some unwanted attention. More precisely, mobile messaging apps are now becoming hot target for cyber crooks.  World's biggest and most popular messaging app WhatsApp, at the very start of 2015, announced that they are handling up to 30 billion messages per day -- the figure which is huge enough to entice cyber criminals.
Over recent months, spammers -- who once used to trick customers by spamming on traditional messaging bearers like SMS -- now seem to be more interested in doing the same on OTT messaging apps, said mobile security provider and specialist AdaptiveMobile in a blog post.
Recent campaigns targeting WhatsApp users include investment spam messages sent from US numbers to Europe, spam promoting fake luxury goods sent from Chinese numbers to users in Europe and a ramp up in junk messages of various flavours to WhatsApp users in India.
There's no doubt that mobile messaging apps have become all the rage across India, and thus there's no chance that spammers are going to spare this country when it comes to WhatsApp spamming. In-fact, according to AdaptiveMobile, "the country where WhatsApp spam seems the worse is India, and here it is increasing, bizarrely, due to government regulation."
"In September 2011 the TRAI's anti-spam regulations for SMS came into being for mobile operators in India. This enforced fines against mobile operators for every single incident of SMS spam reported by subscribers. While it took some time for these regulations to be implemented, the results in the last few years have been widely successful."
"However this success seems to have led to spammers in India changing tactics, and in this case, one of those tactics is to switch to send spam via WhatsApp. First reported in early 2014, recent news reports from India indicate that while operators there confirm they are now winning the fight against SMS spam, spam sent over internet based messaging such as WhatsApp is a major new front of unsolicited messaging. The type of unsolicited messaging covers many different types of spam, but primarily tend to be a whole range of unsolicited advertisements," the mobile security provider added.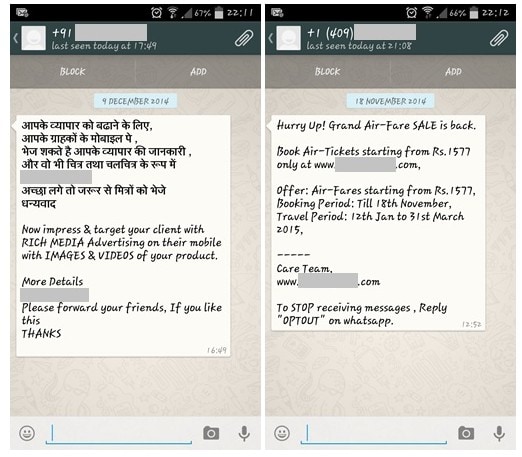 In addition, it's too cost-effective to send WhatsApp spam in India, as prices for WhatsApp advertising text messages bought in bulk are now as low as Rs 0.21, and not much higher for image messages.
However, AdaptiveMobile highlights one main reason why spammers are switching to send on WhatsApp is because they are exploiting a loophole in the anti-spam regulations. "As an IP service, which users optionally sign up for, and not a 'core telecom service', WhatsApp is not covered by the Do-Not-Disturb requirements, leading to a thriving industry offering to send spam over WhatsApp. Government intervention, it seems, has given a perfect reason for SMS spammers to move to WhatsApp in India."
WhatsApp spam more frequently, and it's on track to exceed the searches for SMS Spam by mid-summer 2016, said AdaptiveMobile.
For WhatsApp and others in 2015, the recommendation is to expect more 'cross-overs' from other messaging systems and build in security to stop them.
For more details, read the full blog post.
Your guide to the latest seat tally, live updates, analysis and list of winners for Lok Sabha Elections 2019 on firstpost.com/elections. Follow us on Twitter and Instagram or like our Instagram or like our Facebook page for updates from all 542 constituencies on counting day of the general elections.
Updated Date: Jan 16, 2015 15:09:03 IST