India notifies tax info exchange pact with Marshall Islands, enables bilateral sharing of banking information
The TIEA for exchange of information with respect to taxes was signed on 18 March, 2016 at Majuro, the Capital of the Marshall Islands. India notified the TIEA on 21 May, 2019
The TIEA is based on international standards of tax transparency and exchange of information

The agreement provides for representatives of one country to undertake tax examinations in the other country

The agreement will enhance mutual cooperation between India and the Marshall Islands by providing an effective framework
New Delhi: India has notified a tax information exchange agreement (TIEA) with the Marshall Islands, enabling bilateral sharing of banking information and allowing officials of one country to undertake tax examinations in the other, the finance ministry said Thursday.
The TIEA for exchange of information with respect to taxes was signed on 18 March, 2016 at Majuro, the Capital of the Marshall Islands. India notified the TIEA on 21 May, 2019.
"The agreement enables exchange of information, including banking and ownership information, between the two countries for tax purposes," a finance ministry statement said.
The TIEA is based on international standards of tax transparency and exchange of information and enables sharing of information on request.
"The agreement also provides for representatives of one country to undertake tax examinations in the other country," it added.
The agreement will enhance mutual cooperation between India and the Marshall Islands by providing an effective framework for exchange of information on tax matters which will help curb tax evasion and tax avoidance.
The Marshall Islands are a sprawling chain of volcanic islands and coral atolls in the Pacific Ocean, between Hawaii and the Philippines.
Find latest and upcoming tech gadgets online on Tech2 Gadgets. Get technology news, gadgets reviews & ratings. Popular gadgets including laptop, tablet and mobile specifications, features, prices, comparison.
World
Thousands of people have been moved to safe shelters following the eruption of Mt Mayon in the Philippines, police said
World
A magnitude 5.8 earthquake struck south Mindanao island in the Philippines on Saturday, the US Geological Survey said.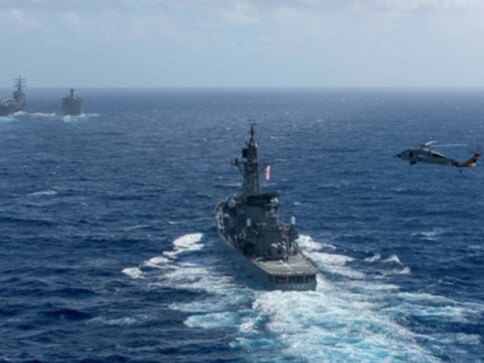 World
A military aircraft with 11 people aboard has crashed into the Philippine Sea while en route to an aircraft carrier, the US said on Wednesday, the latest accident to hit its armed forces in East Asia.