India is certainly not an investors' heaven yet; PM Modi has miles to go to make it one
One of the big reasons why India looks better and a bright spot in the world economy is because the rest of the world is slowing; not necessarily because we are doing exceedingly well.
Prime Minister Narendra Modi's spectacular speech at the Facebook town hall in San Jose and the Q&A that followed reminds one of PM's Madison Square moments last year. In his San Jose speech, Modi claimed that India has "restored" investors' confidence during his 15-month in office. Also, the reforms process, Modi said, has picked up speed and, finally, India is now a "heaven" for investors.
A confident PM asked for a 'certificate' from the NRI-Indians in San Jose for his performance in office. Modi has undoubtedly won over the NRI crowd. But back at home, he might still find it difficult to justify some of the claims such as gaining speed at which big-ticket reforms are taking place and the NDA government's success so far in regaining investor confidence.
India's economy is definitely on the right track as far as growth is concerned. Even the Congress party wouldn't contest the fact that India is much better positioned to catch the growth opportunities in a slowing world. The country's economy is growing, albeit slowly. But even at 7 percent rate, India is still the fastest growing major world economy in the world, where China is slowing, Europe has its own share of economic and political woes and even in US, a quick recovery isn't visible in the foreseeable future. In this backdrop, India surely stands out in the crowd.
But let's be clear on a few things.
One of the big reasons why India looks better and a bright spot in the world economy is because the rest of the world is slowing; not necessarily because we are doing exceedingly well. In fact, industrial growth is yet to pick up in a sustainable manner and stress in corporate sector is still a persisting worry. There are big challenges on multiple fronts, such as infrastructure development, attracting fresh investments and addressing a weak corporate sector.
Modi dreams of growing the economy to $20 trillion (based on Purchasing Power Parity). But, even if India has to reach that size in the next ten years (one of Modi's dreams), the economy needs to grow at an average 10 percent every year. Having said this, one must give Modi his due credit. The PM, in his 15-month work in office, has certainly made progress on a series of incremental reform steps.
True, the NDA dispensation has managed to push some reform bills such as coal, insurance and has set the ball rolling for better utilization of natural resources. It has done a lot of work in pushing financial inclusion through schemes such as Jan Dhan Yojana and offering cheap insurance, pension covers to all.
But, it wouldn't seem entirely true at this stage, if Modi claims that he has regained the lost investor confidence and has made the country a 'heaven' for investors. The proof lies in the still tepid corporate environment and absence of intent from private sector to make fresh investments on the ground.
Last Wednesday, L&T group chairman, AM Naik, became the latest industry leader to observe that no significant turnaround has happened in the economy yet. "In terms of economic revival, it is not happening on the ground," Naik said speaking to Reuters. He said recovery in private sector capital expenditure remained at least one year away, since companies are grappling with high debt problems.
On 2 September, in an interview with Mint, Jim Rogers, the chairman of Rogers Holdings Ltd, too said he has decided to exit from investments in India since the Modi government has failed to live up to expectations.
"I did sell my India shares as I don't see anything happening. The market was high, and investors had anticipated great things, including me—even if he (Modi) were to do things, the market had already discounted some of that because it had gone up a lot, and there was nothing new coming from Modi. You can't just invest on hope," said Rogers.
There are others too such as Deepak Parekh and Rahul Bajaj, who have expressed disappointment about the pace of reforms happening in the country. If Modi wants to make the business/investment environment better, he must take note of these comments.
The short point here is: it might not be correct for Modi to overstate his achievements and conclude that the BJP government has restored the investor confidence already. A large section of investors are still skeptical with respect to the ability of this government to pull off large-ticket reforms. Also, there are concerns on clarity of the tax regime and ease of doing business on ground by facilitating availability of land and power and removing red tapes.
The BJP government is badly stuck in Parliament with respect to the fate of large ticket reforms such as GST and land bill, since it doesn't have majority in the Upper House. Things might change for better for BJP if the party manages to improve its strength in Rajya Sabha in next two years, but for now, its ability to pull of big-ticket reforms is under doubt.
Even more critically, the government has to urgently act on clearing the mess in the banking sector and initiate the much-needed privatization process of weak state-run entities. This way, the government can unlock capital and use it for quality spending.
Part of the reasons why investors are having a face-off with the Modi government right now can be attributed to the high expectations Modi built up during the run-up to the Lok Sabha elections last year. The burden of such high expectations has even shadowed the good, incremental work the government has achieved so far. Evidently, there is lot more work to be done to regain investors' faith.
Politics
Although West Bengal accounted for the third-highest numbers of migrant workers who returned home during the exodus last year, they still remain neglected by the political class in terms of real welfare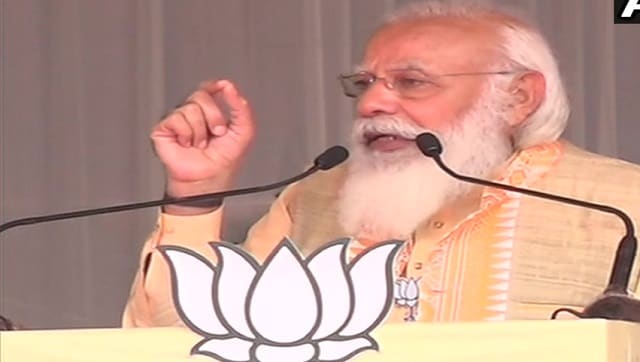 Politics
Modi and Mamata Banerjee have traded barbs, with the former even predicting that Bengal chief minister will lose the prestige battle in Nandigram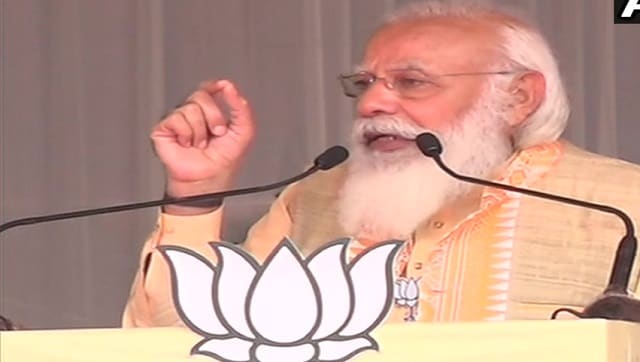 Politics
At a rally in Kokrajhar, the BJP leader alleged that the previous Congress-led governments in the state and at the Centre did nothing to check violence in the Bodoland areas