India has great expectations from govt's economic reforms but data shows not all of them are being met
The common man doesn't know much about government's big ticket economic reforms but knows, for sure, their grocery bill is impacting their kitchen needs
The Cvoter Budget Tracker 2018 (see results here) confirms people have great expectations from Narendra Modi government's major reform initiatives. But, it re-confirms these expectations are not being met, certainly not in public perception. There are always two major stakeholders in Union Budget: The business houses and the common man. While the big ticket reforms over the past three years might be scoring ten pointers from the industry, same could not be said for people at large. Though, these reforms are causing big headlines, the common man is still figuring out whether they have bettered their life.
To put it simply, this government has not been able to meet people's expectations on the economic front. The common man doesn't know much about the big ticket reforms but knows, for sure, their grocery bill is impacting their kitchen needs. The budget tracker also confirms these expectations were on the back of not-so-visible economic development agenda pursued by the government since it came to power in 2014. The outcome of all the three 'States of the Nation' polls -- conducted by CSDS-ABP, India Today and CVoter-Republic -- reveals biggest issue before voters right now is lack of jobs and economic hardships.
Let's start by looking at the difference between income and expenditure. Are people at large able to strike a balance between the two? In our budget tracker, we ask people if their income had gone up and whether their expenditure increased in the year concerned. Or their income remained the same while expenditure went up? It also finds out whether income plummeted and the expenditure rose. Some say income increased and the expenditure rose or remained the same and others say income went down and expenditure remained the same. There are some who maintain their income and expenditure both are same. Broadly speaking, we can put these answers in three categories: gone worse from bad; remained the same; and became better from good.
A close analysis of 'Total Negative' will tell you the hype and expectations aside, for overwhelming majority of Indians, there is hardly any change on economic front over past so many years. From the high negative sentiment of 72 percent under UPA-II in 2013 Survey; it came down 10 percentage points to 62 percent in 2015 only to climb back to 68 percent this year. In short; hardly anything changed as far economic hardship of common man was concerned. This data should be an eye-opener for anyone and everyone who happens to be an advocate of economic policies of this government. The past could be imperfect, the big-ticket reforms are certainly good things for the future; but the present is absolutely tense. Make no mistakes about it.
I had written in my pre-budget analysis three years back, "Budget 2015 is going to be the breakpoint budget of Modi Sarkar, if prime minister pulls this one off then he will become India's Deng Xiaoping otherwise he runs the risk of facing people's wrath for falling short of expectations." Inflation or price rise was the primary tool for political attacks NDA used against the UPA government. Three years back about 49 percent of respondents agreed that inflation had been brought under control, but as on today only 23 percent say that. More than 50 percent complained about enhanced prices in the economy. Clearly the person on the street is not impressed with the 'sarkari' numbers on stagnant inflation.
It's not a rocket science to understand that despite a decline in global fuel prices, the impact of lower energy prices has not permeated across the board. The people at large are not happy with the fact that the prices have remained more or less where they were under UPA. Their expectation was that it would go down big time under Modi Sarkar; and no matter what the government numbers say; the common man has not got any respite whatsoever from the pressure of being unable to make their ends meet.
My colleague Manu Sharma had written three years back that "economy is currently marred by huge supply side constraints that need to be addressed in order to alleviate the economy of shortages that has come to occupy the market space in past few years. With half of the population unimpressed on the inflation front, more needs to be done to alleviate the concerns real or perceived." Unfortunately; nothing much seems to have happened on that end. Certainly not something which would have made the lives of ordinary Indians better. Every third respondents admitted that in the last one year; the state of inflation had "too much" of an adverse effect / bad impact on your quality of life. And another bunch of same number sating "Little bit" and you know the sentiment of 2/3rd Indians on this issue.
Our pre-Budget poll also queried people on "Acche Din" or the quality of life. Every 3rd Indian admitted to an improved quality of life over the past year, while about 18 percent stated it was, more or less, the same. But the alarming bell should sound from the number of 42 percent who complained about a deteriorated standard of living. Three years back this number was only about 24 percent. Under the UPA, it was as high as 54 percent in 2014 before the government changed.
So the trajectory of "Negative" sentiment nosedived after Modi's victory, only to make a depressing comeback with early and mid-thirties in 2016 and 2017 Surveys. In 2018 Survey; this number has started going back on the same dangerous curve that spelt doom for the UPA. As a student of public opinion, I would be failing my duty if I don't red-flag the policy makers about this sharp rise in negative public opinion. I know the majority of Indians still trust Modi for his pursuit of 'Achche Din' and almost 51 percent said they expect in the next one year the overall quality of life of 'Aam Aadmi' or common man will improve.
This however is a drop from 61 percent saying the same three years back when we were confident that they will enjoy improved quality of life in the coming year. About 10 percent over the past 3 years have changed their opinion fearing a decline in living standards. Three years back; when asked to rate the overall performance of the Modi sarkar on the economy front, 36 percent rated the performance as better than expected. Riding the emotions and popular support on demonetisation as the ultimate attack on black money, this number had sharply gone up to 53 percent last year; but only for a crash-landing back to 37 percent this year.
As our tracker on demonetisation had clearly indicated, the people aggressively supported the note ban drive; but they raised question on the ultimate output of the exercise as no concrete results could be shown to them mainly the gains made. Those rating Modi Sarkar 'negatively' on economic front last year were only about 26 percent. This number has gone up sharply to 37 percent this year. Those who understand hard numbers in Lok Kalyan Marg should take notice of this public sentiment.
As explained in our previous analysis that in the run up to the General Elections 2014 there were loud whispers of income tax abolition for individuals and other measures to free up the individuals to consume and grow unhindered. It is a fact that a lot of people, particularly in the middle class, bought into such ideas. Unfortunately, so far there has been hardly any movement on this front. The pre-Budget survey numbers provide great insight into possible policy alternatives. All these years we have asked the common Indians to quote an income figure that would sustain average quality of life for a family of 4 on a monthly basis.
This is a wonderful open-ended question and this particular number is inflation adjusted automatically as the common man knows their kitchen well. On an average the families quoted Rs 27,000 per month as their benchmark number which comes out to be approx. Rs 3.25 lakhs per year. This number has been changing over the years, only on the upper side though; as the inflation kept on making the impact. About five years back it was around Rs 21,000 per month. All these years over 80 percent Indians asked the government to make this much of income as tax-free. As on today about 84 percent Indians from all socio-economic strata still asking their respective aspirational incomes to be declared tax-free.
So, for all those who are keeping a keen eye on standard deduction and tax-slabs for personal tax, your key number is Rs 3.25 Lakhs per annum. Anything less than this number is not likely to gain much traction in public perception, because we asked, "As on today, according to you how much income per month is required for an 'average' quality of life for a family of 4 people?" Please see the emphasis on 'average' quality of life and you will understand that this is not about 'luxury' that politicians accuse the common man is asking for. Now that we have entered into an election year, the middle class as a vote bank would be critical mass that Modi Sarkar has to take along if the BJP wants to repeat the 2014 mandate.
It is the middle class which supported demonetisation and GST against all odds. It is the middle class which still support the vision of PM for a better future without doubting the intent of all critical decision. It is the middle class which forms the majority of taxable personal entities. And it is the middle slass, approx. 35 percent of population, forms the biggest 'caste' group in today's electoral mathematics. So far Modi Sarkar has enjoyed great chemistry with this critical mass. But as many electoral verdicts in recent past have shown time and again, the mathematics is more important if you wish to score even in chemistry numerical. And public perception venture in state of the are organic chemistry.
The CVoter Tracker is carried out each and every week, 52 waves in a calendar year, in 11 national languages, across all states in Union Territories in India. This Union Budget Tracker survey is based on CATI interviews of adult (18+) respondents across all segments. Data is weighted to known census profile. The MoE is +/- 3 percent at macro level and +/- 5 percent at micro level with 95 percent confidence interval. Tracking poll sample size is 5,436. The tracking poll fieldwork was carried out between January third week in 2017 and January second week in 2018.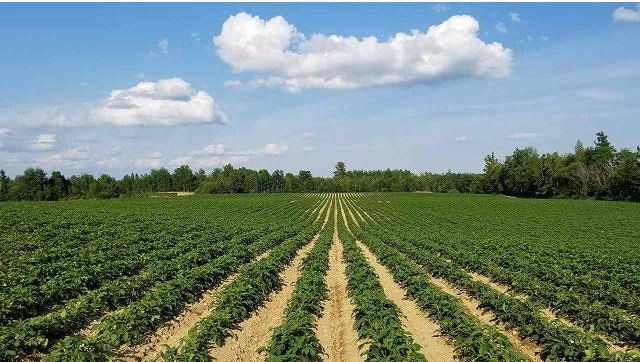 Politics
Freebies are not just fiscally ruinous, but also have other baneful consequences. Punjab, for instance, has not just emptied the state exchequer but also harmed soil because excessive groundwater is drawn using electric tube-wells
Politics
Nitish Kumar had on Tuesday pulled the plug on JD(U)'s alliance with the BJP and resigne from the post of chief minister. He followed it up by staking claim to form a new government with support from the Grand Alliance
Politics
The much-delayed expansion of the 41-day-old Maharashtra ministry saw as many as 17 former ministers taking oath on Tuesday. Only one has become a minister for the first time