India can play major role to strengthen global economy: PM Narendra Modi
India can play a major role in providing strength to global economy that is facing slowdown, Prime Minister Narendra Modi said today, while exhorting small businesses to make products with 'zero defect' and 'zero effect' on environment.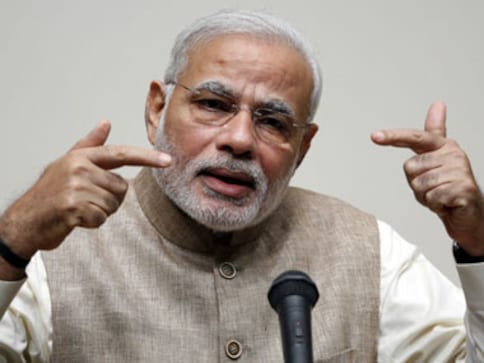 Ludhiana: India can play a major role in providing strength to global economy that is facing slowdown, Prime Minister Narendra Modi said today, while exhorting small businesses to make products with "zero defect" and "zero effect" on environment.
He also stressed upon the need to promote Khadi industry. Modi, who distributed 500 wooden charkhas to women, said there was a time when Khadi was used as a tool in fight for Independence now it should be used for fashion.
"Things are different today. See how well Khadi is marketed now. Earlier it was only 'Khadi for nation', now it's also 'Khadi for fashion'," he said. Appealing to people the use Khadi products, he said that it is a priority for India as a Charkha at home brings more income.
"I urge entrepreneurs that they participate in ZED (zero defect, zero effect) movement. At least 10 lakh units should come forward. We have set 50 parameters to meet ZED certification standard. Please enable yourself to comply with those," the Prime Minister said addressing at National Award function for MSME.
Modi also launched ZED Certification Scheme for Micro Small and Medium Enterprises (MSME) and SC/ST HUB for providing support to entrepreneurs.
"The spirit of entrepreneurship among Dalits will benefit us. There are youngsters whose dreams are to create enterprises and jobs," he said.
Modi stressed that MSME was crucial for India's economy and said "our aim should be to target the global markets". He also said India today is the fastest growing major economy in the world and amid global slowdown, India is providing strength to the world economy.
"For India's economic progress, the MSME sector is crucial," he said.
With an initial outlay of Rs 490 crore, the hub launched today will work towards strengthening market access/linkage, monitoring, capacity building, leveraging financial support schemes and sharing industry-best practices.
Modi also went around an exhibition and tried his hand at a Charkha.
After giving national awards to MSMEs, he said the central government was working to give boost to small and medium enterprises.
Noting that India aim should be to target global markets, Modi told the entrepreneurs that government stands shoulder to shoulder with them to realise this aim.
He said that India is fastest growing economy in the world.
Modi said that despite two earlier years when there was drought and when agriculture production dropped considerably, it was the manufacturing sector, especially MSMEs, which ensured that country had a steady economic growth rate.
He said at a time when world economy was facing slowdown like the one witnessed in 2008, India's economy was strong and was giving strength to world economy.
On promoting Khadi, Modi, who also moved the spinning wheel here, said the sector provide self employment opportunities, especially to women, and helps to realise Mahatma Gandhi's dream to strengthen rural economy.
Modi, who visited a Khadi stall, said he was impressed to see the changes in the quality of Khadi and its packaging.
"During country's Independence movement, the mantra was Khadi for nation..today's mantra is Khadi for fashion, if we give boost to this, it will help bring change in rural landscape," he said.
Modi appealed to the people to buy more and more Khadi products including during festivals like Diwali, and make Khadi part of one's wardrobe.
He said that be it tribals or Dalits, they too have bigger aspirations and need of the hour was to provide them right opportunities.
"If they get opportunity, they can contribute even more to change the fortunes of our country," he said.
SC/ST entrepreneurship has to be promoted and given a boost, he said.
About ZED scheme, he said times have undergone a change and common consumer is not willing to make compromise on quality.
He also asked the small and medium entrepreneurs to look beyond Indian markets and said our aim should be to adopt global standard in quality control and make our presence felt in international markets.
Modi also said how one used to blindly trust when one found "Made in Japan" mentioned on any product, because of the global standard in quality which that nation had adopted.
"Can't we have the same identity for Make in India products. We have to move ahead with this dream," he said, adding that it was also important how we package our products.
He also said, "Our new generation wants to innovate and take bold steps. New products will have to be introduced and Start up supports innovation."
India
The sixth such interaction since 2016 will see both sides deliberating upon key issues of the sector and explore potential areas of collaboration and investment
India
The daily average coal requirement at the power plants is about 18.5 Lakh tonnes of coal per day whereas the daily coal supply has been around 17.5 lakh tonnes per day, as per a government release
India
In his annual interaction, the prime minister said the aim is to make India 'aatmanirbhar' in the oil and gas sector