With just four more days left, there's going to be a mad rush to file Income Tax Returns (ITR), as no one would like to miss the extended deadline of 5 August, and later face scrutiny from I-T sleuths. But, one needs to be really careful as last-minute rush in filing the tax returns can seldom lead to making mistakes. Here are five such common mistakes people make while filing returns, and we are alerting you in advance so that you can avoid them.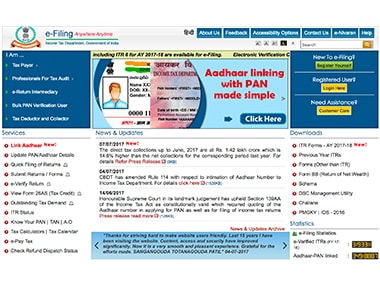 Don't avoid filing the return: There are many who think just because their income is not taxable they don't need to file returns. Even if you owe zero tax or have paid all your taxes or your company has cut the required TDS, you still have to file your returns. You need to file returns if your gross taxable income is above the basic exemption limit. This limit is Rs 2.5 lakh for regular taxpayers, Rs 3 lakh for senior citizens (above 60 years) and Rs 5 lakh for very senior citizens (80 plus).
Mistakes in personal information: Double check every alphabet and number you write in your IRT form. It's important to give details regarding name, address, PAN number, Aadhaar card number, the amount of deducted tax and details of your bank account. If you are tying the form yourself, double check for errors. If the online portal's software is populating your data on the form, make sure you double check that too. Just like humans, computers too can make mistakes.
Do not choose the wrong form: The forms for filing I-T returns change almost every year. Check for the form you filled in last year. After all, it's quite possible your financial situation may have changed this time around. Here's a quick update on which form to use this year.
ITR 1
This is for people with,
* Income from salary/ pension.
* Income from one house property.
* Income from other sources (interest, etc)
Keep in mind as per the new rules, if your income is above Rs 50 lakh, this is not the form.
ITR 2
This is for people who have:
* Income from salary/pension
* Income from house property (income can be from more than one house property)
* Income from capital gains/loss on sale of investments/property (both short term and long term)
* Agricultural income more than Rs 5,000
* Income from other sources (lottery wins, legal gambling wins)
* Income of a person as a partner in a firm (note that, there's a change this year - instead of ITR form 3, you now have to fill ITR 2)
* Foreign assets
ITR 3
Use this form if you:
* Are an individual or HUF with income from proprietary business or profession
* Have income from house property
* Have income from salary, pension and other sources
Keep in mind that you don't have to fill this form if you have presumptive taxation.
Forgetting form 26AS
Along with form 16 and form 16A, remember to fill form 26A. This form lets you know if you have paid more tax than you need to. For instance, you can get details of tax deducted on your income, advance tax paid, self-assessment tax payments you made, regular assessment tax deposited,  detail the of refund received by you during the financial year, and details of the High-value Transactions in respect of shares, mutual fund etc. You can find the form from TRACES website
Not getting your ITR-V verified: After filing your return, you need to put your digital signature on it. If you haven't registered for your digital signature, you have to sign on your ITR-V form and send it to the Centralised Processing Centre. Another way to do it is via the option of e- verifying using Aadhaar card. Or E- verifying using EVC which is an OTP number sent by the department as a mobile/email message. And finally e- verifying using net banking. Where you go to your net banking page and chose the "Income Filing" button. Choose the option "Click here to view your returns pending for e-verification" and then click on "e-verify". Once you do so your e-verification is done.
Updated Date: Aug 02, 2017 12:25 PM