In Rs 30,000 cr ONGC-HPCL deal, the biggest beneficiary is likely to be the govt
In ONGC, HPCL gets a parent who is not really worthy to be one. The oil explorer, meanwhile, may see a reduction in the flexibility of its books to acquire or develop upstream assets. However, the government gets Rs 30,000 crore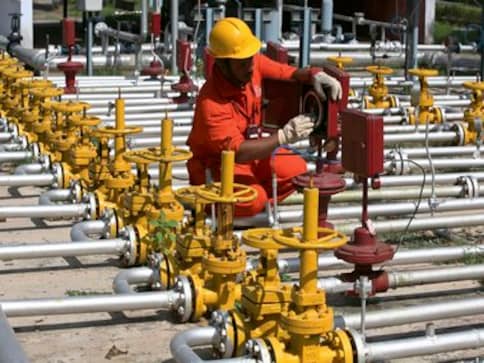 The Union Cabinet on Wednesday gave its in-principle approval for acquisition of oil marketer Hindustan Petroleum Corp Ltd (HPCL) by state-run explorer Oil and Natural Gas Corp (ONGC), according to media reports citing sources.
The move comes months after finance minister Arun Jaitley's announcement in the Union Budget 2017-18 that the government proposes to create an integrated public sector oil major "which will be able to match the performance of international and domestic private sector oil and gas companies".
"Through consolidation, mergers and acquisitions, the central public sector enterprises can be integrated across the value chain of an industry. It will give them capacity to bear higher risks, avail economies of scale, take higher investment decisions and create more value for stakeholders. Possibilities of such restructuring are visible in the oil and gas sector," he had said.
Here is all the information about the acquisition thus far known:
What is the ONGC-HPCL deal all about?
The cabinet approved the sale of the government's 51.1 percent stake in HPCL to ONGC, reports say. The deal is estimated to be valued between Rs 26,000 crore and Rs 30,000 crore. According to a PTI report, prior to the merger, HPCL is likely to take over Mangalore Refinery and Petrochemicals Ltd (MRPL) to bring all the refining assets of ONGC under one unit.
ONGC currently owns 71.63 percent of MRPL while HPCL has 16.96 percent stake in it. However, in a Reuters report, ONGC Chairman Dinesh Sarraf did not commit to this. "Though the idea (of merging MRPL with HPCL) is meritorious, a decision on this will be taken by the boards of HPCL and MRPL," Sarraf has been quoted as saying in the report.
HPCL buying ONGC stake in MRPL will give the explorer Rs 16,414 crore at Wednesday's closing price. ONGC, which has cash reserves of Rs 13,014 crore, also has an option to sell part or all of its 13.77 percent stake in IOC which is worth nearly Rs 25,000 crore. Under the arrangement, the ONGC will not have to make an open offer after buying the stake as the deal is between two state-owned companies and the ownership does not change.
The transaction is likely to be completed within this fiscal year. The modalities of the deal will be worked out by a committee headed by finance minister Arun Jaitley and comprising oil minister Dharmendra Pradhan and road and transport minister Nitin Gadkari.
So will this create an integrated oil giant?
Not really. Because HPCL will remain a listed subsidiary of ONGC and its board will continue to be in place. Sources have told PTI that the government was initially looking at creating an integrated oil company through the merger of an oil producer with a refiner but the idea was dropped for the fear of repeating the Air India-Indian Airlines kind of a merger which is not considered successful.
Similarly, differences in work culture and ethos prevail in upstream and downstream firms and so the exercise under consideration now is to only help the government mop up resources and HPCL would become a mere subsidiary of ONGC.
What are the companies saying?
According to ONGC's Sarraf, the benefits of synergy would be huge. "Today crude prices are down, so ONGC's profitability is down while gross refining margins and marketing margins of refiners are up so it makes a lot of sense for ONGC to make this acquisition," Sarraf told Reuters.
HPCL controls India's 11 percent refining capacity through its three plants, which can process 276,000 barrels of oil per day.
What is the government saying?
According to PTI, the oil minister is likely to make a statement on the deal as well as other potential mergers today in parliament. Pradhan, however, has said the merged oil company would have less risk and give it more leverage to go abroad as low oil prices hit producers' revenue and higher prices hurt fuel refiners.
Pradhan had also clarified that the government's intent to merge state-run oil companies into a single entity will actually mean creation of multiple entities. "It will not be one company. It will not be wise to put all eggs in one basket. There will be multiple companies... but all these will be integrated," Pradhan had told reporters following the Budget announcement. He elaborated that each new company would deal with aspects of the entire value chain such as exploration and production, refining and marketing.
ONGC financials in Rs crore
Year
Net sales
Net profit
Debt
Total assets
Cash balance
FY08
96773
19872
13877
129359
NA
FY09
104337
19753
23704
160336
NA
FY10
101663
19403
23726
172652
22384
FY11
120111
22456
6704
199706
20816
FY12
146451
26102
15973
230500
27891
FY13
162367
24221
20686
260571
19619
FY14
174477
26343
49113
322076
24480
FY15
161212
18328
53944
348813
16097
FY16
131498
17826
56046
376006
24689
FY17
142149
21069
55682
370206
13014
Source: CapitalinePlus
Who gains - HPCL, ONGC or govt?
In all probability, the government will reap the big benefit. Analysts have already raised doubts over the potential benefits for companies or shareholders.
Ambit analysts Ritesh Gupta and Gaurav Khandelwal said in a recent report that they don't see much synergy benefits for both the sides. As far as ONGC is concerned, its solutions are in sharpening technical competence to improve production and improve the ability to choose the right assets. The Rs 30,000 crore that ONGC shells out for HPCL stake "will reduce the flexibility of ONGC's books to acquire or develop upstream assets", they note. It has to be remembered that ONGC already has Rs 56,000 crore debt on its books.
V G Ramakrishnan, managing partner, Aventeum Advisors LLP, echoes this view. He notes that in the last one year, for instance, ONGC's international investments in exploration have not worked well as a strategy due to non-renewal of contracts.
Meanwhile, Ambit analysts feel, HPCL will get a parent which may not be worthy to be one. "HPCL, which is a well-run company, may see a cultural weakening as ONGC cross-pollinates key officials," the analysts said in the note put out before Wednesday's reported decision. According to them, even if a full-blown merger of HPCL doesn't happen, ONGC directors will be on its board.
The acquisition will erode the operational independence of HPCL. Explaining the rationale behind terming ONGC an unworthy parent, they note that the company has failed to ramp up domestic crude and gas production due to the lack of any major success in exploration and production despite consistent investments. "Very few ONGC discoveries have reached production while capex/opex were increased to sustain production at mature fields," they note.
HPCL financials in Rs crore
Year
Net sales
Net profit
Debt
Total assets
Cash balance
FY08
109966
1502
17300
43388
NA
FY09
129243
739
24061
49711
NA
FY10
111128
1512
24336
57468
NA
FY11
138742
1887
31124
70500
761
FY12
185284
185
40169
86455
734
FY13
216355
355
45737
93010
865
FY14
234237
1105
47995
99181
2179
FY15
216648
1485
36916
87249
2236
FY16
187079
4965
35432
90657
154
FY17
187108
8236
18032
80319
136
Source: CapitalinePlus
Moreover, if HPCL is to buy out ONGC's MRPL stake as is being proposed, the company may need to borrow funds. It just has Rs 136 crore as cash as of 31 March 2017.
For HPCL shareholders, there is nothing to look forward to as there is unlikely to be an open offer from ONGC.
Reacting to the news, shares of ONGC are currently trading at Rs 165.30, up 1.38 percent, while those of HPCL are down about 5 percent to Rs 365.15 with the market cap eroding by Rs 2,825 crore. The BSE Sensex is down 0.1 percent.
All in all, as Ramakrishnan reminds, the government has only disinvested from one of its holdings but both HPCL and ONGC will continue to be government entities. With the deal, the biggest beneficiary seems to be the government, which will pocket a good Rs 30,000 crore.
Data contribution by Kishor Kadam
(With inputs from agencies)
Business
Even if the government waives a significant part of the Air India' debt from the books, its looming presence would be enough to deter sound investors.
Business
The announcement will benefit 34 lakh central government civil employees and 14 lakh defence employees
Business
The Union Cabinet today approved ONGC Videsh buying an additional 11 per cent stake in Russia's Vankor oil field for USD 930 million.