Weak IIP, high inflation: If rains fail, 2016 will be another forgettable year
Economists' inference based on the April numbers is that a June rate cut by RBI is out of question
No economist would overly worry with a sharp jump in April retail inflation number. Reason: Food prices typically shoot up in the peak of summer on account of heat and higher transport costs. It isn't different this time too. In fact, it's not the March-April numbers but what lies ahead that should worry us.
The spike in Consumer Price Index Inflation (CPI) to 5.4% from 4.8% is primarily a result of jump in food price inflation from 5.2% to 6.3% and even a sharper upward spike in the CPI vegetable inflation to 4.82% from 0.46%. Growth in pulse prices remained sticky but still high showing a monthly jump of 34%. May inflation too will be on the higher side for the same reasons of seasonality.
What lies ahead? It all depends on how far Indian Meteorological Department (IMD) is right in their above-normal monsoon forecast for this year. If it rains well across the country inflation would cool off later going ahead, else things can go haywire. That is the next big trigger one should watch out for.
Remember, the retail inflation has more or less come under control over the last year from near double-digit levels to around 5% level post a series of measures from the Reserve Bank of India (RBI) and government to adjust interest rates in the economy and ease the supply problems, especially that of pulses, which in October-November period grew by 46% a month.
Economists' inference based on the April numbers is that a June rate cut by RBI is out of question. "These price outcomes reinforce our expectations that the Reserve Bank of India will keep rates unchanged in June, with focus primarily on policy transmission after slew of measures unveiled in April," said Radhika Rao, economist at Singapore-based DBS Bank.
Weak factory output
More than inflation, one should worry more about the disappointing factory output numbers, economists warn. The Index of Industrial production (IIP) in March fell sharply to 0.1% from 2%. This takes the average factory output growth for 2015-2016 at 2.5% as compared with 2.8% a year before. This is no good news for the economy that is presumably growing at 7.6% this year after clocking 7.3% growth last year.
The IIP internals show that capital goods segment (shows the investment activity) continuing its weak run for the fifth successive month. In the month of March, capital goods segment shrank by a massive 15.4% as against de-growth of 9.5% in the preceding month. The growth in the manufacturing sector shrank by 1.2% from 0.7% in the preceding month.
The story is not too different with the consumer segment as well with consumer goods growth slowing to 0.4% from 0.8% with both durable and non-durable segments disappointing. Here again, economists point out the adverse weather conditions that have hit rural India has contributed to the muted growth and good monsoon holds the key for recovery.
The only segment that has shown jump in IIP is the electricity generation, which grew by 11.3% compared with 9.6%. But, it is strange since when no other segment has shown growth, how alone electricity segment show a spike.
But, the larger point here is that the prolonged slowdown in the factory output raises serious concerns on the recovery momentum in the economy. "So far, there are no signals that indicate strong recovery in the economy. It is a concern," said D K Joshi, chief economist at Crisil.
"For the next one year, the recovery pace will largely depend on the monsoon," Joshi added. Rao of DBS too highlights the weak economic picture. "These production numbers question the tentative signs of a recovery in Jan-Feb 2016 after a lacklustre 4Q15. Overall, consumption-driven sectors are expected to fare better, but the tilt towards weak investment interests points to another year of tepid 3.0-3.5% annual industrial production growth," Rao said.
One can argue that the IIP numbers aren't probably reflecting the true picture of economic growth (in line with what the GDP numbers show) since its base is old 2004-2005. But, where most economists clearly agree is that strong recovery has so far eluded the economy. That should be the bigger concern for finance minister Arun Jaitley. In a scenario, where private investments remain tepid, he will have to take the lead and pump in money to push growth at the ground level.
But, in the short-term, the critical point is how good will be the monsoon distribution this year. A good monsoon can push rural demand and spur growth besides keeping vegetable prices under control. That'll also be an enabler for RBI to guide its monetary policy to a lower interest rate regime. If IMD forecast falls through, then 2016-17 will not be a year finance minister Jaitley would love to remember.
India
In a suo motu statement in Lok Sabha, Vaishnaw said that with several checks and balances being in place, "any sort of illegal surveillance" by unauthorised persons is not possible in India
India
The weather department said it had indicated that moist easterly winds would spread into northwest India including Delhi, from 10 July. However, there was no significant rainfall activity over the National Capital even though it rained at neighbouring places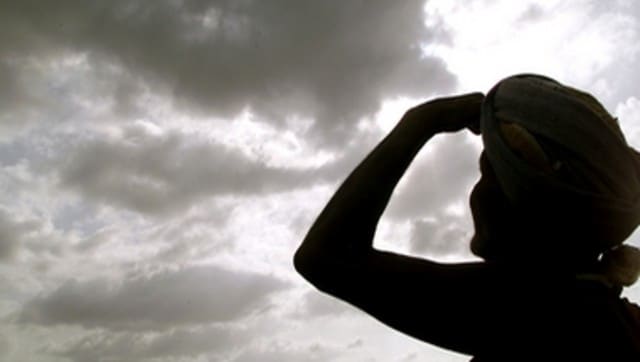 India
The start-stop monsoons this year have already resulted in a decline in the sown area as compared to last year, a worrisome sign amid a jump in inflation