Unbxd, a Bengaluru-based provider of eCommerce product discovery software, has secured an undisclosed amount of capital in the Series B round of funding. The funding was led by entities advised and managed by Nirvana Venture Advisors, along with existing investors including IDG Ventures, Inventus Capital, and Indian Angel Network. This is slated to help the startup grow faster, and scale the product to dominate the online retail market globally.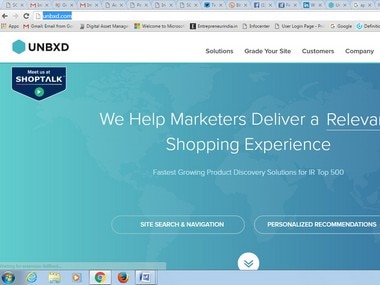 Pavan Sondur, Co-Founder and CEO said, "the capital raised will help us expand faster, acquire the right talent and further augment our available infrastructure."
The startup has been helping eCommerce companies deliver a shopping experience that is relevant and personalized as per the usual behavior patterns of their customers. The platform is serving 200 million eCommerce visitors a day. They expect to grow 10x by end of this year.
According to Venkatesh Peddi, Executive Director at IDG Ventures India, "Unbxd has grown very aggressively, and their successful expansion into North American markets validates their huge potential".
Unbxd is now looking at strengthening its reach in the North America region increasing its user base for enterprise retail customers.
Unbxd Inc is an on-site product discovery software for ecommerce companies that provides search, navigation, product recommendations, merchandizing and analytics solutions for eCommerce companies.
Updated Date: May 05, 2016 17:56 PM