Idea-Vodafone merger hides 2G wounds. They now need FMCG skills to bounce back. Hoyenga?
The answer lies to that may lie with much Aditya Birla group chairman Kumar Mangalam Birla, whose Idea will name the chair to lead the merged entity, knows how to deal with mass market consumer trends compared with Mukesh Ambani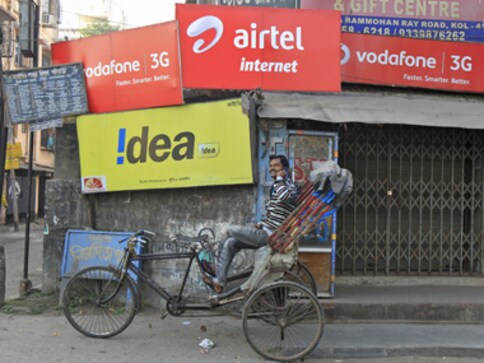 To truly understand the deeper implication of the merger of Idea Cellular and Vodafone announced on Monday, you have to view a larger context. Because size is not everything despite the Rs 80,000-crore giant created by the planned merger that puts the merged entity with a revenue share of 40% and 380 million customers, ahead of Bharti Airtel.
What do you call a game in which the game itself is about changing rules? Anyone looking at global telecoms in general, and India in particular since it decided to usher in private enterprise in the state dominated sector in 1994, is one in which there has been two megatrends shaping the course of the industry: one in which state controls have been dismantled to aid the private sector, and another in which exploding technological innovation -- particularly the hypergrowth in mobile Internet, have been queering the marketplace in dramatic ways.
What's more, the state cannot simply wither away in this sector. While the scope for private innovation and competition remains large, it is all umbilically tied to state-managed spectrum -- which is now a household word in India thanks to the 2G spectrum scandal that played a vital role in the defeat of the Congress-led UPA government in 2014 to the BJP-led NDA. Also, the Telecom Regulatory Authority of India (TRAI) remains a strange kind of umpire who keeps changing the rules of the game to ensure a balance between industry viability and consumer interests.
The industry oscillates between a tendency towards cartelisation and cut-throat competition to keep market share, as evolving technologies and a whimsical regulator throw up nasty (or rarely pleasant) surprises to players.
The merger of Idea Cellular with Vodafone India announced on Monday has to be viewed in this context. The obvious point to all is that the entrance of Reliance Jio as a cheap-rate player in the market led by Bharti Airtel for long has necessitated a consolidation in which those with smaller shares such as Idea and Vodafone must embrace each other to stay in the game.
The less obvious bit is that Mukesh Ambani-led Reliance Jio, unlike Anil Ambani-led Reliance Communications, is a late entrant into the game and simply jumped over the 2G era of GSM telephony to run with the ball in the 4G data-driven mobile Internet revolution. The world has evolved from the voice-based market in which CDMA technology lagged GSM in quality to one in which old-world standards are less important and serving up the most affordable and/or quality access to Internet is the new game.
Now, think of the fact that the 2G scandal led to the Supreme Court and the government framing new rules of engagement based on spectrum auctions on the one hand and mergers and allocation rules on the other. In effect, therefore, we are playing a new game even as it is called an old one -- much like Twenty20 stepping into an era of simple Test cricket.
The key point to remember is that in jumping from 1990s to 2016, Reliance Jio has -- in technological terms -- leapfrogged. It has spent very little on spectrum compared with Idea and Vodafone and has much less baggage. It stepped in last year to buy pectrum, having avoided the messy legacy of the 2G days that left early leaders licking their wounds and stuck with a baggage.
What next? It is quite clear that innovation and customer service may matter more than the old habit of storing spectrum and selling telecom access like a commodity.
To quote the latest Jio ad: Hoyenga?
The answer to that may lie with how much Aditya Birla group chairman Kumar Mangalam Birla, whose Idea will name the chair to lead the merged entity, knows how to deal with mass market consumer trends compared with Mukesh Ambani.
Both these gentlemen are not exactly FMCG leaders but increasingly, telecom is more like one, but in a complex landscape where pervasive Internet has content, carriage and commerce intertwined.
Remember, both these men have interests in garments and retail as well. Get the hint?
Where does that leave Sunil Mittal-led Bharti Airtel? For the moment, the premium player image remains intact for Airtel, but it may need new tricks to stay ahead. We all remember how Hindustan Unilever lost its British-era sheen.
(The author is a senior journalist. He tweets as @madversity)
Disclosure: Reliance Industries owns Network18, the publisher of Firstpost
also read
Explainers
Tipu Sultan, the 18th Century Mysore ruler, slept in a hammock suspended from the ceiling of his locked bedchamber with this sword by his side. Found in his private apartments after his defeat at the battle of Seringapatam in May 1799, it was previously owned by Vijay Mallya
Explainers
Bernand Arnault, who owns LVMH – which includes luxury brands such as Louis Vuitton, Moet & Chandon, and Christian Dior – saw a considerable drop in his fortune after shares of the conglomerate declined five per cent on Tuesday. Arnault's net worth is currently at $192 billion
Explainers
The term 'comfort women' has been given to people that were forced to work as sex slaves by the Japanese Army during World War II. It comes from the Japanese word ianfu – which combines the Chinese characters 'comfort or solace' (i-an) and woman (fu)