Hudson Media chief James Cohen to buy National Enquirer
(Reuters) - American Media Inc (AMI) said on Thursday it is selling its tabloid the National Enquirer to James Cohen, chief executive officer of Hudson Media.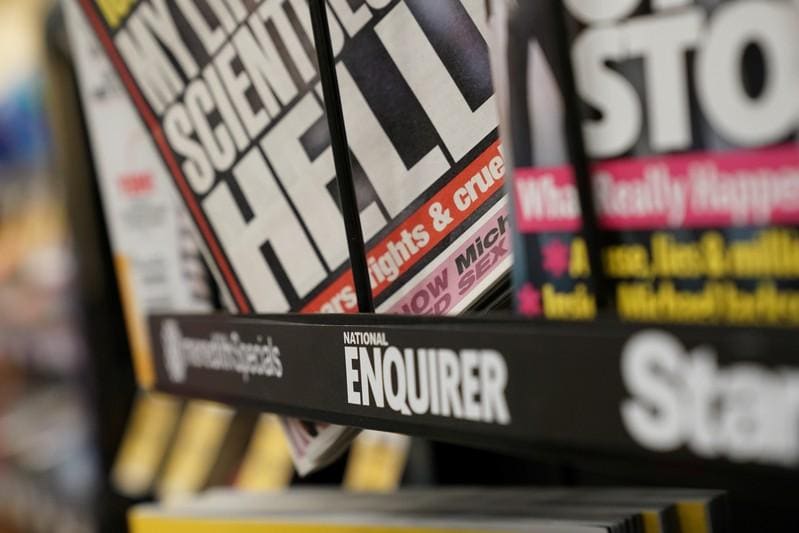 (Reuters) - American Media Inc (AMI) said on Thursday it is selling its tabloid the National Enquirer to James Cohen, chief executive officer of Hudson Media.
The National Enquirer had admitted to paying hush money to help U.S. President Donald Trump get elected and been accused of attempting to blackmail Amazon founder Jeff Bezos.
The weekly tabloid, along with two of its sister publications, will be purchased by the head of Hudson Media, which is known for its airport newsstands.
This comes a week after AMI said it was looking at "strategic options" for the National Enquirer as well as for the Globe and the National Examiner brands.
The sale is expected to reduce AMI's debt to $355 million.
Earlier in the day, the Washington Post reported about the AMI's decision to sell its tabloid to the head of Hudson News for $100 million.
Last week, the New York Times reported that owners of the National Enquirer were in talks to sell the tabloid to the California-based billionaire Ronald Burkle.
Besides, Paul Pope, one of the heirs of the National Enquirer founder Generoso Pope Jr, had also been in the list of bidders, according to media reports.
On Tuesday, Pope dropped his bid to buy the supermarket tabloid from American Media, the New York Post report said.
Over its 92-year history, the National Enquirer has enticed readers in supermarket checkout lines with sensational headlines and photos about celebrities. The tabloid's website claims it has a viewership of 5 million.
Earlier in February, Amazon.com Inc CEO Bezos accused the publication of trying to blackmail him with the threat of publishing intimate photos.
(Reporting by Arjun Panchadar and Vibhuti Sharma in Bengaluru; Editing by Maju Samuel and James Emmanuel)
This story has not been edited by Firstpost staff and is generated by auto-feed.
Find latest and upcoming tech gadgets online on Tech2 Gadgets. Get technology news, gadgets reviews & ratings. Popular gadgets including laptop, tablet and mobile specifications, features, prices, comparison.
World
By Tim Hepher and David Ljunggren PARIS/OTTAWA (Reuters) - France said on Friday it would download the black boxes from a Ukrainian airliner downed by an Iranian missile in January, easing a stand-off over where they should be read. France's BEA crash investigation agency said it was acting at the request of Iran, which remains responsible under global rules for conducting a formal accident probe after acknowledging that the Boeing 737 was downed by its forces
World
By Brad Brooks LUBBOCK, Texas (Reuters) - With new coronavirus cases surging in Texas and Florida, officials in both states on Friday ordered bars to close again and imposed tighter restrictions on restaurants, setting back efforts to reopen their economies. Governor Greg Abbott gave bars in Texas until midday Friday to shut, while Florida's Department of Business and Professional Regulation told bars to immediately stop serving alcohol on their premises
World
By Patricia Zengerle WASHINGTON (Reuters) - The U.S. Senate passed legislation on Thursday that would impose mandatory sanctions on people or companies that back efforts by China to restrict Hong Kong's autonomy, pushing back against Beijing's new security law for the city. The measure also includes secondary sanctions on banks that do business with anyone found to be backing any crackdown on the territory's autonomy, potentially cutting them off from American counterparts and limiting access to U.S.