Hindi poetry, Sanskrit shlokas and witty one liners: How different FMs tried to make budget speeches interesting
Annual budget in India is an eventful affair and it sparks heated national debate around the times of its release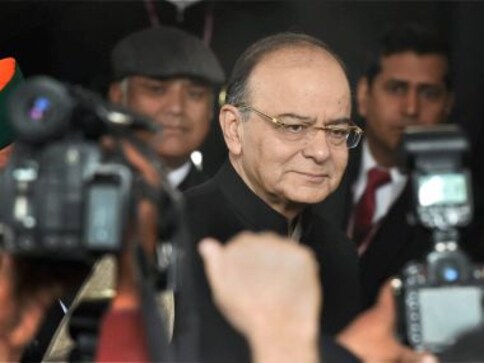 Finance Minister Arun Jaitley on 1 February will present the Narendra Modi government's fourth and the last full budget before the 2019 General Elections to Lok Sabha.
Annual budget in India is an eventful affair and it sparks heated national debate around the time of its release. However, ministers' speeches on the budget can be quite monotonous and boring. That might be the reason why finance ministers in their budget speech seek to humour the Lower House with Hindi quotations, Sanskrit shlokas and witty one-liners.
Here is how finance ministers over the years have tried to make their budget speeches interesting:
Budget 2017-18: 
Blending poetry with the Budget speech, Finance Minister Arun Jaitley expressed his vision for a digital India in the following verse:
"Iss mod par na ghabra kar tham jaaiye aap,
Jo baat nayi hai usay apnaaiye aap.
Darte hain nayi raah pe kyun chalne se,
Hum aage-aage chalte hain, peeche aaiye aap"
Though Jaitley could have conveyed the meaning of the above phrase by simply saying that the country shouldn't get nervous and stop, he chose a poetic tone.
He took to poetry again while speaking on Modi government's war on black money. The finance minister had said:
"Nayi duniya hai, naya daur hai, nayi hai umang,
Kuch the pahle se tariqe to kuch hain aaj ke rang-dhangh.
Raushni aake jo andheron se takdai hai,
Kaale dhan ko bhi badalna pada aaj apna rang."
The English summary of the above verse is: "It's a new world, it's a new regime, new hope and under this bright light, even black money was forced to change its colour." Jaitley not only championed the BJP government's efforts in fighting the war against black money but also took a potshot at the previous regime.
Budget 2016-2017: 
Underlining the point that he had inherited a bad economy, but knew how to fix it, Jaitley recited an Urdu couplet at the beginning of his budget speech:
"Kashti chalane walon ne jab haar kar di patwar hamein,
Lehar-lehar toofan mile aur mauj-mauj majhdhaar hamein,
Phir bhi dikhaya hai hamanein aur phir yeh dikha denge,
Sabko, in halaat mein aata hai daria karna paar hamein"
(When the sailors handed the oar of a boat to us, we encountered storms and rough weather, but we demonstrated and we will still show to everyone that we know how to get ashore in a situation like this).
Concluding his speech, the finance minister had said: "Champions are made from something they have deep inside of them — a desire, a dream, a vision."
Budget 2015-2016
Emphasising the government's commitment to equality and Justice for all, without concern for caste, creed or religion, Jaitley had quoted the Upanishada saying:
"Om Sarve Bhavantu Sukhinah...
Sarve Santu Nir-Aamayaah...
Om Shaantih Shaantih Shaantih"
(May all be happy, May all be free from illness, May All See What is Beneficial, May No One Suffer).
Taking a dig at UPA's rule, the finance minister borrowed lines from a Hindi poetry. He said:
Kuch to phool khilaye humne, aur kuch phool khilane hai,

Mushkil yeh hai bag me ab tak, kaante kai purane hai
A literal translation would be: Some flowers have blossomed under us, we have to grow many more. But there are still problems in the garden, with thorns of times past.
Budget 2014-2015: 
As a finance minister, P Chidambaram delivered quite a few Budget speeches and the Tamil poet and philosopher Thiruvalluvar's couplets have been quoted in almost each of the nine budgets that Chidambaram delivered in the Lok Sabha.
In the last budget of the 15th Lok Sabha, the Congress leader had said:
"Vel Anru Venri Tharuvathu Mannavan Kol Athuvoom Kodaathu Enin"
An English translation of this is: "Not the spear but sceptre swayed with equity alone gives the ruler victory".
Budget 2013-2014:
In order to drive home the point that India can progress further if it makes the right decisions and choices, Chidambaram, an ardent lover of Tamil literature, quoted a couplet from Thirukural, a classic Tamil text consisting of 1,330 couplets. He said:
"Kalangathu Kanda Vinaikkan Thulangkathu Thookkang Kadinthu Seyal"
An English translation of the above couplet is: What clearly eye discerns as right, with steadfast will and mind unslumbering, that should man fulfil.
During the budget speech, Chidambaram also quoted Swami Vivekananda to drive home his point that India could become one of the top economies in the world. The then finance minister had said: "All the strength and succour you want is within yourself. Therefore, make your own future."
Budget 2012-2013: 
Pranab Mukherjee often used to quote Kautilya also known as Chanakya, the great Indian pioneer of economics and politics, in his budget speeches. In his last stint as finance minister in 2012, Mukherjee quoted from Shakespeare's famous play Hamlet.
"I must be cruel only to be kind," Mukherjee quoted Hamlet, the prince of Denmark, from the play, while talking about the tough policy decisions he needed to take for the good of the economy in the long run.
Budget 2011-2012: 
Mukherjee invoked Lord Indra, the Hindu rain god and prayed to the goddess of wealth Lakshmi saying:
"While, like last year, I seek the blessings of Lord Indra to bestow on us timely and bountiful monsoons, I would pray to Goddess Lakshmi as well. I think it is a good strategy to diversify one's risks."
Budget 2010-2011: 
While presenting tax-related proposals in the budget, Mukherjee had quoted Kautilya, saying:
"Thus, a wise collector general shall conduct the work of revenue collection.... in a manner that production and consumption should not be injuriously affected.... financial prosperity depends on public prosperity, (the) abundance of harvest and prosperity of commerce, among other things."
Budget 2009-2010:
In preparing some of his fiscal proposals, Mukherjee found inspiration in Mahatma Gandhi and Kautilya, both of whom he quoted in his budget speech in 2009.
While concluding his budget speech, Mukherjee turned to the Father of the Nation. He said:
"Mahatma Gandhi said and I quote, 'Democracy is the art and science of mobilising the entire physical, economic and spiritual resources of various sections of the people in the service of the common good of all.'

"This is precisely what we will have to do. With strong hearts, enlightened minds and willing hands, we will have to overcome all odds and remove all obstacles to create a brave new India of our dreams."
Pointing out that the short-term fiscal stimulus has to be balanced against long-term prudence and fiscal sustainability objectives, Mukherjee quoted Kautilya, saying:
"In the interest of the prosperity of the country, a king shall be diligent in foreseeing the possibility of calamities, try to avert them before they arise, overcome those which happen, remove all obstructions to economic activity and prevent loss of revenue to the state."
With inputs from agencies
For full coverage of Union Budget 2018-19, click here.
India
The government with a view to protect interests of sugarcane farmers has decided that there shall not be any deduction in case of sugar mills where recovery is below 9.5 per cent
Business
By early recognition for the need to undertake supply-side measures and maximising the bang for the taxpayer buck on the demand side, India has been able to insulate itself in this time of great economic volatility globally
India
An iron-clad Sino-Bhutanese boundary would act as a veritable wall against any nefarious moves by China against India in the Eastern Sector