Dharmendra Pradhan, the petroleum minister, has tweeted that the answer to the spiraling fuel prices could lie in bringing petroleum products under the GST regime. In Delhi, the petrol price is Rs 70 a litre whereas in Mumbai it is Rs 80 as pointed out by the Finance Minister Arun Jaitley. It could be as low as Rs 38.10 at both the cities if it were under the GST regime attracting a 12 percent tax. But Pradhan has also gone on record citing at least a dozen countries that sell petroleum products at prices higher than India.  This may seem to be a contradictory stand but it isn't.  These countries have an agenda---to discourage the consumption of polluting and steadily depleting fossil fuel. India however doesn't have such an explicit green agenda to rationalise high fuel prices but arguably a weak alibi---mobilising resources for infrastructure building.
Indeed, the state governments have to bear a large part of the blame for the spiraling fuel prices.  They run with the hare and hunt with the hound. They blame the Centre for the rising petrol and diesel prices despite knowing that they are the ones who have opposed bringing in of petroleum products into the GST net for the fear of losing substantial revenue. On 15 September 2017, the price of a litre of petrol at any Indian Oil outlet in Delhi was priced at Rs Rs 70.43.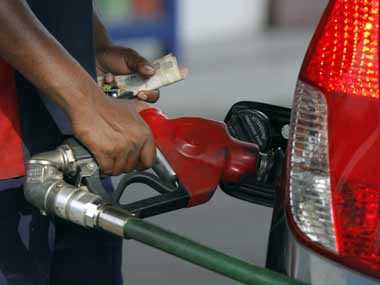 Out of this, the dealers pay Rs 30.41 (without taxes) to Indian Oil and keep Rs 3.57 as their margins. Out of rest Rs 36.43, Rs 14.97 goes to Delhi government and rest Rs 21.48 goes to union government. Delhi again gets nearly Rs 11.59 out of collection of union government. This is true for all the states in the country. And this also explains their dilemma which of course they won't admit, especially, if they are non-BJP ruled states.
Indeed, we have flogged the petroleum horse for too long.  We would get an idea from the following figures.  The Delhi price of Rs 70.40 includes state VAT of Rs 14.96 and central excise paid by refineries of Rs 21.48 thus making a tally of Rs 36.44.  And we haven't done yet because we have to factor in customs duty of 115 percent on crude oil.  Thus a retail customer pays upwards of 70 percent of the retail price as taxes.  Petroleum products small wonder have become the milch cow or the hen that lays golden eggs for governments.
Its demand is inelastic as witnessed by the steady demand for it despite the repeated price hike. But unlike Germany which has shifted massively to solar energy, India is yet to embrace non-conventional energy in a big way whose share in the energy use pie is just around 4 percent.  So the argument that high fuel prices would dissuade petroleum consumption is a cruel, crude joke and specious. Pundits are applauding the government for keeping the prices high thus for once heeding economic rationale and disregarding populism at the risk of attracting voter ire. But heavy tax on an essential commodity of mass usage is not good economics.
Pending bringing of petroleum products into the GST net, the central government must do its bit---sharply reduce the custom duty on crude and excise duty on refineries in a retreat from the current retrograde policy of hiking them in lockstep with decline in international oil prices.  States will of course protest this too because at 42 percent of the central tax revenues, states' share is considerable.  Be that as it may.
We have been alive to non-conventional energy but not much has been done on energy saving measures like car pooling, accent on public transport and special lanes for heavy occupancy vehicles.  We haven't also done much on the non-tax revenue front like tourism beyond platitudes and budget eve sermons.  Poor Nitin Gadkari was lampooned for threatening to use coercion in use of electric cars.
Your guide to the latest seat tally, live updates, analysis and list of winners for Lok Sabha Elections 2019 on firstpost.com/elections. Follow us on Twitter and Instagram or like our Instagram or like our Facebook page for updates from all 542 constituencies on counting day of the general elections.
Updated Date: Sep 18, 2017 11:59:08 IST