Halliburton sees moderate Permian growth on pipeline worries
By Liz Hampton and John Benny (Reuters) - Shares of oilfield services provider Halliburton fell by more than 8 percent on Monday after the company warned of moderate growth in the oil and gas-rich Permian Basin and lower third-quarter earnings.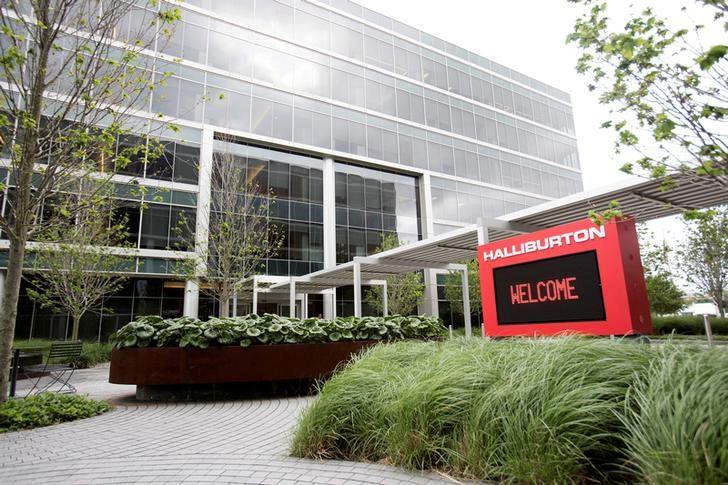 By Liz Hampton and John Benny
(Reuters) - Shares of oilfield services provider Halliburton fell by more than 8 percent on Monday after the company warned of moderate growth in the oil and gas-rich Permian Basin and lower third-quarter earnings.
Halliburton said some of its customers are reducing activity and lowering their rig count because increased production in the Permian Basin in west Texas and New Mexico has left companies that transport oil to Gulf Coast markets unable to keep up, as existing pipeline, rail and trucking capacity falls short of needs.
The bottlenecks have driven down the price of regional crude compared with U.S. benchmark oil and are threatening to dampen demand for oilfield services and equipment. Halliburton was the largest hydraulic fracturing provider in North America as of March, according to consultancy Rystad Energy.
Halliburton Chief Executive Jeff Miller said third-quarter results would likely mirror those of the second quarter and strove to play down the problems with transportation of crude out of the Permian. The company expects a 4 cents per share hit to earnings in the current quarter on the slowdown and on higher maintenance costs, he said, a number already baked into the company's forecast.
"I'm not naive to the math around the off-take issue," he told an earnings conference call, adding later: "Even in the Permian, as we've described that, that's a moderation in growth as opposed to a pullback."
Analysts said investors read those comments as an admission that the Permian was on the cusp of a slowdown and Miller also said that the bottlenecks would subside only in 2019.
That took the shine off a 24 percent year-on-year rise in Halliburton's revenue for the second quarter that was slightly ahead of analysts expectations.
Shares were down 8.1 percent at $41.53 afternoon trade.
WEIGHTED
While Halliburton continues to benefit from soaring U.S. oil production - a record 11 million barrels per day this month - the Permian issues and a stalling of both oil prices and the U.S. stock market have helped knock more than 20 percent off Halliburton shares since May.
The company's operations are more heavily weighted toward North America than those of its peers, leaving the it more vulnerable to the pipeline bottlenecks than rival Schlumberger, which missed forecasts for quarterly revenue last Friday.
Excluding one-time items, the company earned 58 cents per share, in line with Wall Street estimates, according to Thomson Reuters I/B/E/S.
"What the market is trying to discount is the change in earnings estimates and the outlook for North America especially North American land market ... as growth in the Permian moderates," said Evercore ISI analyst James West.
A doubling of crude oil prices since early 2016 has underwritten a surge in production that should make the United States the world's biggest oil producer this year.
Still, the number of wells that are getting drilled but not completed, or DUCs, continues to grow amid tightness in the hydraulic fracturing market and as some companies opt to delay completions until prices rise.
In June, there were 3,368 DUCs in the Permian Basin, up 164 from the prior month, according to the U.S. Energy Information Administration (EIA).
(Reporting by John Benny in Bengaluru; Editing by Maju Samuel and Steve Orlofsky)
This story has not been edited by Firstpost staff and is generated by auto-feed.
Find latest and upcoming tech gadgets online on Tech2 Gadgets. Get technology news, gadgets reviews & ratings. Popular gadgets including laptop, tablet and mobile specifications, features, prices, comparison.
World
OTTAWA (Reuters) - Canadian Prime Minister Justin Trudeau on Friday said he will continue to stand up against China's "coercive diplomacy" and its human rights abuses in Hong Kong and Xinjiang after being rebuked by Beijing for similar comments earlier this week. "We will stand up loudly and clearly for human rights all around the world, whether it is talking about the situation faced by the Uighurs, whether it is talking about the very concerning situation in Hong Kong, whether it's calling out China for its coercive diplomacy," Trudeau said in a news conference. (Reporting by Steve Scherer and Julie Gordon, Editing by Franklin Paul)
World
By Caroline Pailliez PARIS (Reuters) - Solene Tissot, a 19-year-old student in Paris, will obey the curfew imposed to fight COVID-19, but she has one request for her country's leaders: don't blame young people for the second wave of the virus. "There's been this kind of assigning guilt to young people," she said on Friday, hours before the new curfew was to come into force in Paris and major French cities. "I reject that." After a lull over the summer, the rates of transmission of coronavirus are going up in many parts of Europe and officials have identified social interactions between young people as a source of the resurgence.
World
By Adrian Portugal and Eloisa Lopez MANILA (Reuters) - Jailed Philippine activist Reina Mae Nasino wanted to hold her three-month-old daughter for the last time before she was laid to rest on Friday but she could not. Heavily armed prison officials guarding her refused to uncuff her despite pleas from her family and human rights supporters, who have decried what they described as inhumane treatment of Nasino and other mothers in Philippine jails.