Gulf oil crisis deepens: Indians lose jobs to Pakistanis, Bangladeshis
Indians who work in the Gulf countries are not only losing jobs thanks to the oil crisis but these jobs are being taken by Pakistanis and Bangladeshis, according to official reports.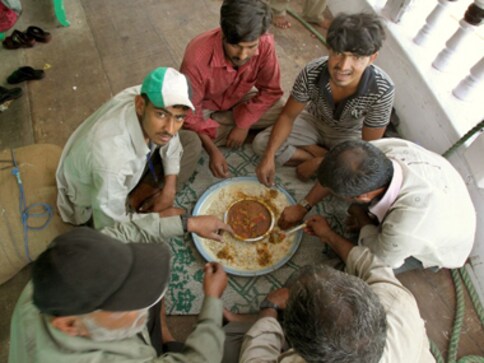 Indians who work in the Gulf countries are not only losing jobs due to the oil crisis but are losing out to Pakistanis and Bangladeshis, according to official reports.
Data from the eMigrate, the Indian government's official recruitment online channel, reveals that while in 2015, 7.8 lakh Indians migrated to 18 Emigration Clearance Required (ECR) countries, in 2016 the number came down to 5.2 lakh, a dip of around 34%.
And in the case of Saudi Arabia, while 3 lakh Indians migrated officially to the Kingdom in 2015, in 2016 the number was around 1.7 lakh, a dip of 47%.
Asif Nawaz, from Jamia Milia Islamia University, has prepared a paper detailing the change in preferences of Gulf countries in recruiting Indian workers. Nawaz says India is already looking at heavy losses in the overall remittance in the financial years of 2015-2016 and 2016-2017.
"If we have lost 50% of two recent years' probable employment from Saudi Arabia in particular, and 35% of two recent years' probable employment from all Gulf nations alongside the steep slump in oil prices, it means we have already headed for heavy losses," Nawaz said.
Nawaz's study, entitled Pakistan, Bangladesh's Surgical Strike on India's GDP,  which was conducted in India, confirms that emigration from Bangladesh and Pakistan is going up.
Official data from Pakistan and Bangladesh emigration offices reveals that until 2014 — the year around which India introduced its official recruitment channel — Pakistan and Bangladesh were sending only around 3 lakh and 10,000 workers respectively into the Saudi workforce.
However, in 2015, 5.2 lakh Pakistanis migrated to Saudi Arabia, and 58,270 Bangladeshis migrated to Saudi Arabia. And in 2016, while the number of workers from Pakistan declined slightly to 4.6 lakh, the Bangladeshi numbers jumped almost three times, reaching 1.4 lakh.
"All of a sudden in 2015-16, the number of Pakistani workers shot up to 500,000. The number of Bangladeshi workers jumped up to around 60,000 in 2015 and 140,000 in 2016. In other words, the share of Bangladeshi workers in the Saudi migrant workforce was constantly around 2% for many years till 2014. However in 2015 and 2016, it unexpectedly rose to 7% and 19% respectively," Nawaz said.
Pakistan's share of migrant workers to the Kingdom was always lower than India's share, but in 2015 and 2016 Pakistan's share eclipsed India and reached 60% from the previous average of 45% per year.
Data from the Saudi's General Authority for Statistics (GAS) also reveals that there has been a 12.17% increase in the number of expatriates until the third quarter survey of 2016. The GAS survey further shows that the number of expatriates in the Kingdom reached 11.6 million by mid-2016. In 2015, there were only 10.2 million migrants in the Kingdom.
The report clearly indicates and confirms that the inflow of migrant workers into Saudi workforce was never interrupted, rather there was a 12.17% increase in the number of expatriates joining the Saudi workforce.
A migration expert in India said that lengthy official recruitment procedures and keeping a high minimum wage is forcing Saudi Arabia to look for migrant workers from Pakistan and Bangladesh, rather than from India. "eMigrate system, the official recruitment channel initiated by India to ensure rights and protection for workers, and raising the monthly minimum salary has forced the Saudi employers to look for workers from Bangladesh and Pakistan," Bheem Reddy, president of Coalition of Overseas Telangana Assocaition, said.
An Indian working in Riyadh, the capital of Saudi Arabia, said that it is not only minimum wage and lengthy procedures that is causing problems for Indian workers. The worker says that Saudi employers feel more comfortable with Pakistanis and Bangladeshis. "They can get along with Pakistanis and Bangladeshis very well. It is evident here. Moreover, Indians aren't ready to do low-paid jobs, which Pakistanis and Bangladeshis are ready to do. Some may cite the dip in oil prices and the struggling Saudi economy. But I don't believe it," the Indian worker said on the condition of anonymity, citing security reasons.
Boban Nalinakshan, an Indian who returned to India after working in Saudi Arabia for 18 years, said  surviving in the Kingdom was hard. "Indians are often looked down upon, Also, companies are in trouble due to the dip in oil prices. Why should we Indians struggle there and always be at the receiving end? So, I came back. Now, I am an auto driver in Kerala. I have a small business too. It's fine. It's far better than being there," Boban added.
Loss in remittances
Job loss for Indians in the Gulf region, including Saudi Arabia, will lead to a dip of Rs 6,000 crore in remittances, say migration experts citing official data. The Indian government's official data reveals that in comparison to 2015, in 2016, the number of Indians migrating to six Gulf countries were short by 2.5 lakh.
Whatever be the work conditions, majority of the Indian migrant workers manage to send back home around Rs 20,000 per month from Gulf countries. Multiply this with all the jobs lost last year and it comes to over Rs 500 crore per month. Annually, loss in remittances touches the Rs 6,000 crore mark.
In 2015, the remittances to Indian were $69 billion (Rs 4.6 lakh crore). Now, the World Bank predicts a lesser amount for 2016 due to economic conditions in the Gulf led by oil price dip. "Although India will still remain the world's biggest recipient of such funds, the bank estimates there could be a 5% fall in the quantum of money sent back home," the World Bank report says.
Jose Chacko, a financial expert in Oman, predicted that the losses would only increase as Saudi Arabia is turning away Indians and for various reasons, prefers Pakistanis and Bangladeshis. Chacko said that Saudi Arabia changing its recruitment priorities is going to hit India hard.
"Remittances to India will witness a dip due to oil price crisis and job loss in Gulf countries. World Bank statistics reveal that around 50% of remittances to India come from Gulf expatriates. Among Gulf countries, Saudi Arabia stands second with approximately a 30% share—the United Arab Emirates (UAE) with 38% share is first—so when Indian numbers in Saudi Arabia go down, our remittances will be hit hard," Chacko said.
In 2016, thousands of migrant workers from Asian countries took to the roads in Saudi Arabia and set buses on fire, protesting a delay in payment of salaries as companies declared bankruptcy. Last Wednesday, replying to a written question, Minister of State for External Affairs VK Singh said as many as 4870 Indian workers who faced job-related difficulties are being brought back to India in cooperation with the Saudi authorities. "The process is nearing completion," he said in Parliament.
Hubertson Tomwilson, an advocate and migrants rights activist in India who focuses on Gulf Cooperation Council migrants' issues, agrees that the change in preference of Saudi Arabia will hit Indians hard.
"During the visit to the Kingdom, Prime Minister Narendra Modi was seen as euphoric, declaring that cooperation and people to people exchange would increase. But statistics reveal that has not happened. Unemployment rates are not good in India. Now, we are losing opportunities abroad too. It's a worrisome situation," Hubertson said.
India
We have come a long way since those fateful months of 1991 when the country finally decided to jump on the free market bandwagon
India
The 'annadata' narrative is slowly peeling off. Indians can now clearly see that beneath the costume of farmers exist many hardened criminals and anti-national elements
World
Economically, strategically and even politically, China finds itself in a fix today. If it doesn't mend its way, it would soon find its superpower dream going kaput.