Gujarat, Himachal Pradesh elections litmus test for Narendra Modi govt after reforms: DBS Bank
Himachal Pradesh will go to polls on 9 November while elections in Gujarat will be held in two phases -- on 9 and 14 December
Mumbai: Singaporean lender DBS Bank on Friday said the Gujarat and Himachal Pradesh elections will serve as a "litmus test" of the Modi Government's popularity in the wake of major reforms including the GST implementation.
The ruling BJP is "wary" in Gujarat because of the slow-down in growth, impact of GST roll-out on small traders and caste rifts, it said in a note.
"These election results will serve as a litmus test of the government's popularity in light of recent policy changes and reforms, particularly the Goods and Services Tax (GST)," it said.
The election results will provide some insights into how the recent "important, yet disruptive" reforms were interpreted, it said.
The BJP will "shift the political narrative" towards its fight against corruption and black money and efforts to ease the GST-driven bottlenecks to assuage the trader
community, and support the farm and rural sector with more focused reforms, it said.
Apart from the slowing growth, which is being blamed by observers on demonetisation and a hasty GST introduction, persona politics is also a key concern for the BJP in Gujarat as this is the first election without Narendra Modi as the lead candidate, it said.
"We reckon that drawing any conclusions for the May 2019 general elections based on these results might be premature. Next year's state elections might provide a better
gauge of the underlying sentiments," it said.
Himachal Pradesh will go to polls on 9 November.
Elections in Gujarat will be held in two phases -- on 9 and 14 December.
An opinion poll conducted by some pollsters has predicted a win for the BJP in both the states, the bank noted.
India
Both the leaders have displayed a strong chemistry and also a commitment to collaborate on common goals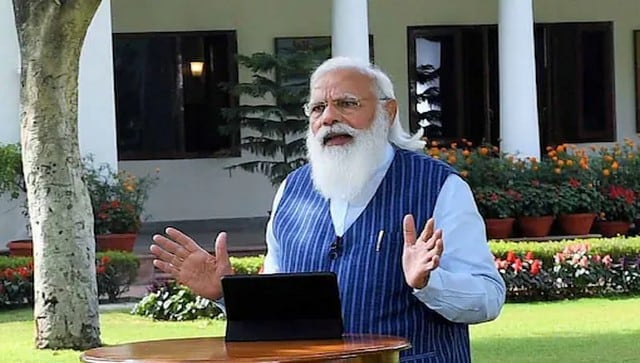 India
The reshuffle comes in less than a week after Prime Minister Modi last Saturday met secretaries of all ministries and departments to speak about required reforms in government processes.
India
The visit by the Saudi foreign minister comes at a time when India has been engaged with all leading powers on the developments in Afghanistan