GST Network crash: Will e-way bills system bring back border check posts and Inspector Raj in new form?
GST Council finalised e-way bills rules in August, but a planned rollout in October was deferred after GSTN portal had crashed last year.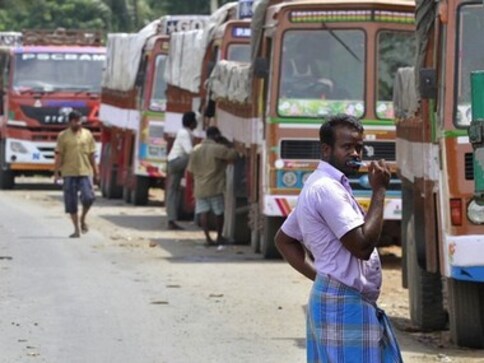 It has been fifteen days since the e-way bill system under the goods and services tax (GST) regime was deferred as the GST Network portal had crashed on its debut day, but there is no word as yet when it will restart. GSTN chairman Ajay Bhushan Pandey said they will try to ensure all stakeholders are completely comfortable with the technology before it is resumed.
But few are asking a far more basic question – should it come back at all? And will this not mean a return to the old days of border check-posts with trucks lined up in queues?
What exactly is an e-way bill and why was its need felt?
In the pre-GST days of value-added tax (VAT), state governments had way bills that transporters had to carry, which had details of the consignment being transported. Since VAT was an origin based tax, and the rates varied across states, payment of tax at borders and checking of consignments was the norm.
Since GST is a destination based tax on final consumption and since the rates are uniform across the country, there was no need for such paperwork and checks. That is why soon after GST kicked in, much was made of the fact that the travel time of freight had been drastically reduced with the dismantling of border check-posts.
But governments had never given up the idea of a way bill in some form. State governments wanted to keep track of goods moving in and out of their borders since they had to get their share of GST revenues. Besides, they couldn't shake off the suspicion that businesses would evade paying taxes.
Hence came the idea of electronic way bills which could help track movement of goods within and among states. This is not unique to India, says Amit Bhagat, partner, indirect tax, PwC; other countries also have similar mechanisms, though not as complex as India's.
The e-way bills are required for consignments above Rs 50,000 in value and headed for destinations beyond 10 km. A large number of goods, especially those of mass consumption, are exempted. Unlike the earlier system where a separate way bill was required for each state, one e-way bill was applicable throughout the country.
One bill would be valid for 100 km in a day; if a truck took longer, a fresh bill had to be generated after 100 km. The bill had to be shown to tax officials if they asked for it.
Isn't this return of Inspector Raj in a different form? Finance secretary Hasmukh Adhia had, in interviews and interactions with industry in the early days of GST, assured that this was not the case; there would only be random checking to see if trucks were carrying the e-way bills or not. While this caveat itself was a kind of red flag, other signals emerging from tax officials at the Centre and in the states were a bit more disturbing – trucks would be checked if there was suspicion of evasion. That put discretion back in the hands of tax inspectors. "It is still the same mindset of distrust," says Kavita R Rao, professor at the National Institute of Public Finance and Policy (NIPFP).
At the heart of it is the fear of rampant tax evasion.
The GST Council finalised the e-way bills rules in August, but a planned rollout in October was deferred after the GSTN portal was found to be wanting in coping even with GST filings. The rollout date was then shifted to 1 April (with a staggered rollout starting from 1 January), by which time, it was thought, all glitches would be ironed out.
But when revenues from GST fell below target, this was quickly attributed to tax evasion and the implementation date was advanced to 1 February in the case of inter-state movement of goods. The date for e-way bills for intra-state movement was 1 June.
Are these fears real?
It is true that GST revenues in October and November did fall. Against the Rs 90,000 crore plus collections in July, August and September, revenue in October was Rs 83,346 crore and in November Rs 80,808 crore. But how much of this can be attributed to evasion and how much to the lowering of GST rates?
That will be difficult to disaggregate. Besides, collections went up in December to Rs 86,703 crore, in spite of rate reductions. So is evasion really as widespread as governments would like everyone to believe?
Rao, for one, feels evasion will not be much more than what it used to be before GST; it may even be a bit less. Adhia, however, has argued in media interviews that several states that had implemented e-way bills during the VAT regime (Karnataka and Uttar Pradesh are two) had seen a jump in revenues as a result. There are varying estimates on revenue gains – from 10 percent to 20 percent.
The picture on evasion may not be very clear, but what is clear is that compliance costs have increased. Though the nation-wide rollout of e-way bills has been deferred, states which had e-way bills in the pre-GST era are implementing it in some form; some have even issued notices for suspected violations, according to Bhagat.
The implementation has been particularly hard for the small and medium enterprises, not used to regular and online filing of returns and other formalities. The larger firms may find this easier, but the inability of the GSTN to deal with the large number of e-way bills generated on 1 February has left a bad taste in their mouths. "Large players understand and are ready to adapt, but the system needs to be toned up and simplified," says Bhagat.
What, however, is worrying is the likely return of border check-posts and inspectors. Assurances that checking will be done only in exceptional cases on the basis of specific information and that a truck once checked would not be checked again wherever it goes, do not help.
Who decides which are the exceptional cases and what checks are there to prevent random inspections, not just of the electronic challan but also of the goods being carried? An electronic challan may make speed up inspection, but if trucks have to stop to show these challans the days of seamless movement of freight will be over even before it really took off.
So, should governments not take steps to check evasion? Bhagat feels this is a short-term measure till governments are assured that evasion is minimal and it should be phased out or replaced by a very simple and easy to comply mechanism with invoice as the basis rather than any additional reporting.
Rao, however, feels this step should not have been taken at all. "If traders see the merit in paying tax, they will come in," she argues. Indeed, as the Economic Survey points out, many firms that need not have registered for GST had done so, because they saw the benefits of doing so.
With GST processes entirely online and automated, evasion should become easier to detect and check. Given that, a better option would have been to not further burden the GSTN system and waited to see how collections played out for at least a year; if there was clear sign of rampant evasion, an e-way bill system could then have been initiated. By then, the GSTN system would also have stabilised. For now, one will only have to wait till the next date for the e-way bill launch.
India
The GST Council had in June decided that a 12 per cent tax will be levied on all hotel rooms that cost below Rs 1,000 per day
Business
For five months in a row now, the monthly GST revenues have been more than Rs 1.4 lakh core, showing a steady increase every month.
Explainers
The Central Board of Indirect Taxes and Customs said the move will allow 'risk analysis' of passengers prior to departure and prevent economic and other offenders from fleeing the country. It will also help in checking illicit trade such as smuggling of narcotics and gold