National Anti-Profiteering Authority is an assurance to consumers of India, says Ravi Shankar Prasad
National Anti-Profiteering Authority under GST will work as a watchdog to ensure smooth transfer of benefits
Mumbai: The government has decided to set up a National Anti-profiteering Authority or NAA under the new indirect tax regime, the Goods and Services Tax, to ensure benefits of tax reduction are passed on to the end consumers, union minister for information technology, law and justice Ravi Shankar Prasad told the media on Thursday.
Union Minister Ravi Shankar Prasad told PTI currently there are only 50 items which attract the highest tax of 28 percent under the Goods and Services Tax (GST) regime and rates on many items have been cut to 5 percent as well. "The National Anti-Profiteering Authority is an assurance to consumers of India. If any consumer feels that the benefit of tax rate cut is not being passed on, then he can complaint to the authority," Prasad told reporters after the Cabinet meeting.
Frank Noronha, principal spokesperson of union government, took to the Twitter to inform about the important decision. Noronha made it clear that NAA enables consumers to apply for relief if they feel reduction in prices as a result of cut in GST rates is not passed on to them. "An institutional framework has been provided to take appropriate remedial action," Noronha said.
Noronha added setting up of the ombudsman reflects government's full commitment to taking all possible steps to ensure transfer of all the benefits of implementation of GST to the common man. The NAA was set up as there is a provision for such a body in GST laws. Besides, that the "anti-profiteering" measures enshrined in the GST law provide an institutional mechanism to ensure full benefits of input tax credit are also passed on to the end consumers.
The GST Council last week revealed it has moved as many as 178 of 227 items in top 28 percent tax slab to the standard 18 percent bracket. Finance Minister Arun Jaitley who chairs the Council had at that time said the restaurants will no more get inputs tax credit as they were not passing the benefits to their consumers. Jaitley had also said the Council has decided to cut GST rate on restaurants other than five-star ones to a flat 5 percent.
The institutional framework comprises NAA, a Standing Committee and Screening Committees in states and Directorate General of Safeguards in the Central Board of Excise and Customs, Noronha informed. Under the NAA mechanism, a consumer who thinks he or she was not getting benefits of lower tax regime in GST can approach the Screening Committee in their respective State. "In case the incident of profiteering relates to an item of mass impact with 'all India' ramifications, the application may be directly made to Standing Committee," Noronha tweeted.
The Standing Committee if finds there is prima facie a matter of profiteering after vetting it can refer the issue to Directorate General of Safeguards, CBEC, which will share its finding with the NAA. Anti-profiteering authority has the power to order the supplier or businesses to reduce the prices or return the undue benefit availed by them. NAA can also slap penalty on erring units and can also cancel their GST registration.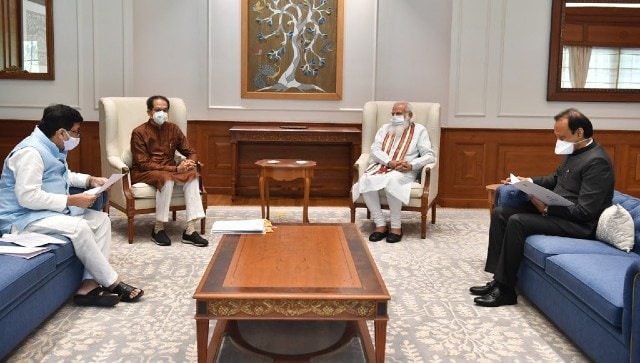 India
Maharashtra deputy chief minister and senior NCP leader Ajit Pawar and senior Congress leader Ashok Chavan also accompanied Thackeray during the meeting with the prime minister
India
The AAP and BJP have traded accusations about the initiative since 6 June, when CM Arvind Kejriwal wrote to Narendra Modi asking why the doorstep delivery scheme had been stalled by the Centre
India
Union Minister of State for Finance Anurag Singh Thakur, however, countered Mitra's charges and said that technical glitches had marred the latter's speech