Now, that the Goods and Services Tax (GST) constitution Amendment Bill has been passed in the parliament, the focus will shift to the actual implementation of this key reform. With the government hoping to rollout the bill as per the scheduled date of 1 April, 2017, stock market analysts are already zeroing in on stocks and sectors that will be positively impacted by the implementation of this key tax reform.
Emkay Global's Dhananjay Sinha expects the automobile sector to be biggest beneficiary once the GST becomes operational. Currently, the two-wheelers, small cars, commercial vehicles witness tax outgo of 27 percent. With the introduction of GST, a standard of 18 percent would be levied, resulting in a 9 percent reduction which could then be utilised in reducing vehicle prices and stimulate demand, Sinha says.
In the automobile space, HeroMoto Corp, Bajaj Auto, TVS, Eicher Motors, Maruti Suzuki would see traction. Similarly, in auto ancillary segment, analysts are betting on Exide and Amara Raja Batteries.
Among other sectors, he is upbeat on building materials, cement, consumer durables, media and infrastructure, where tax rationalisation will significantly help them save on cost front.
Below is a detailed table sourced from Emkay, which highlights the sectors and stocks that will benefit from GST: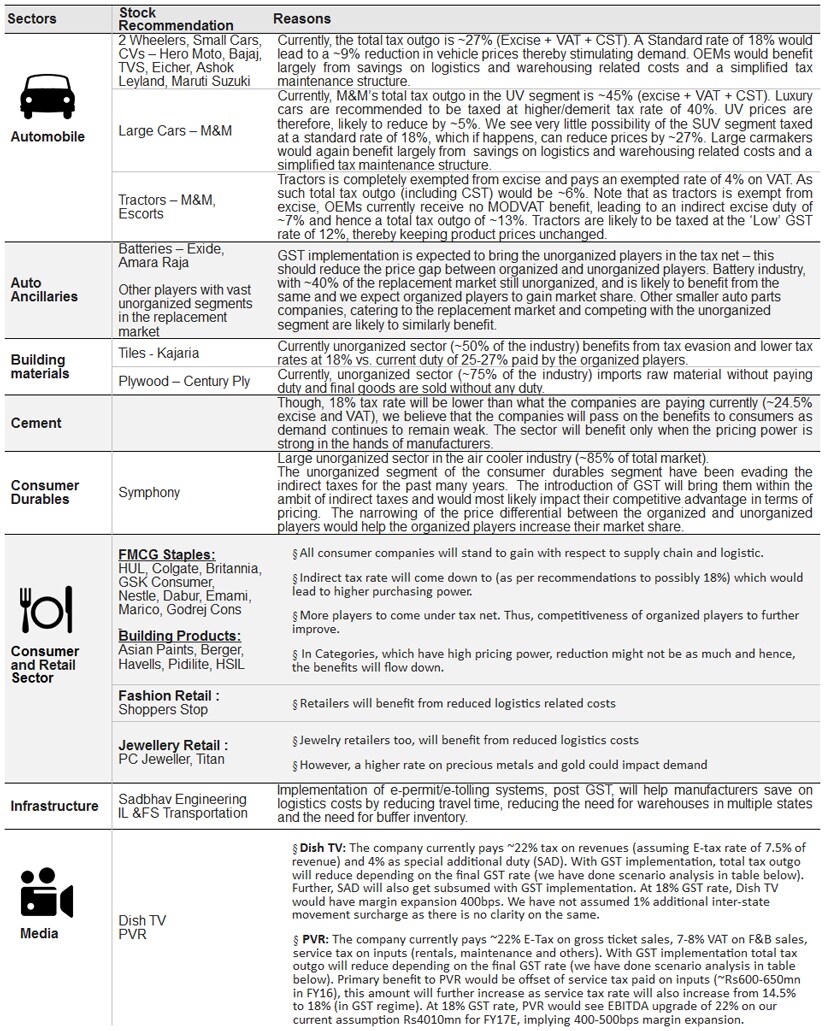 Updated Date: Aug 04, 2016 13:31 PM