New Delhi: A issue that riles the common citizen every winter is the problem of pollution in cities. The state governments do not have any long-term plan for controlling pollution and the central government has also not made any budgetary allocations for tackling this problem.
The pollution in cities in winters is exacerbated by farmers in nearby villages burning crop stubble. This combined with vehicular traffic, dust and other construction waste makes the air poisonous. Several cities have tried to reduce vehicular traffic through 'odd and even' rules but it does not really help reduce pollution. Much more needs to be done by both the central and state government. Which is why LocalCircles asked citizens about: What should the government do in the budget to control the menace of pollution?
The response by 36 percent of the 8,901 citizens polled was that the government should aggressively fund public transportation in cities. Several cities including Delhi, Chennai, and others are expanding both the capacity and network of their metro networks. State bus corporations across the country are highly subsidised, and unable to service the population. Another 26 percent of the citizens said that cleaning systems for cities should be less polluting. Burning waste is another major contributor to pollutants in the city.
Approximately 17 percent of the citizens said that subsidy should be given to farmers for buying equipment that will prevent them from crop stubbles. Remaining 21 percent of the participants want funding for effective enforcement of rules laid down by National Green Tribunal. Most of the orders issued by NGT are not enforced by the state or local administration.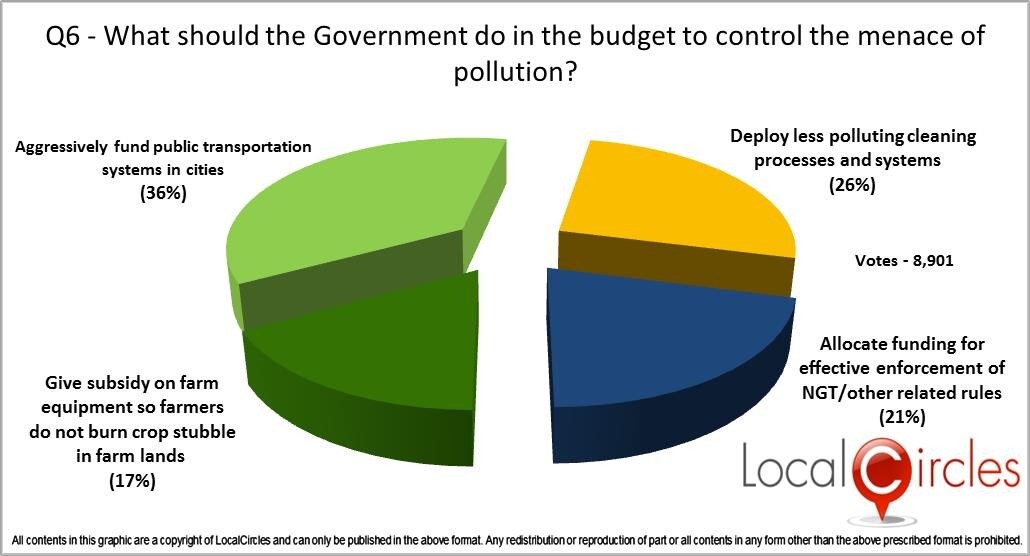 The spread of the citizens views on this question means that it is not one step that needs to be taken in the budget. But a more holistic view for budgetary allocation to tackle this problem needs to be adopted.
Your guide to the latest cricket World Cup stories, analysis, reports, opinions, live updates and scores on https://www.firstpost.com/firstcricket/series/icc-cricket-world-cup-2019.html. Follow us on Twitter and Instagram or like our Facebook page for updates throughout the ongoing event in England and Wales.
Updated Date: Jan 24, 2017 17:25:55 IST