Greece's NBG ends talks with Gongbao over insurance unit sale
By George Georgiopoulos and Angeliki Koutantou ATHENS (Reuters) - Greece's National Bank (NBG) said on Wednesday it had ended talks with Shanghai-based Gongbao Group on the potential sale of a majority stake in its wholly-owned insurance subsidiary. The bank, Greece's second-largest by assets, said no further negotiations with Gongbao would be pursued. It would not specify why it ended the discussions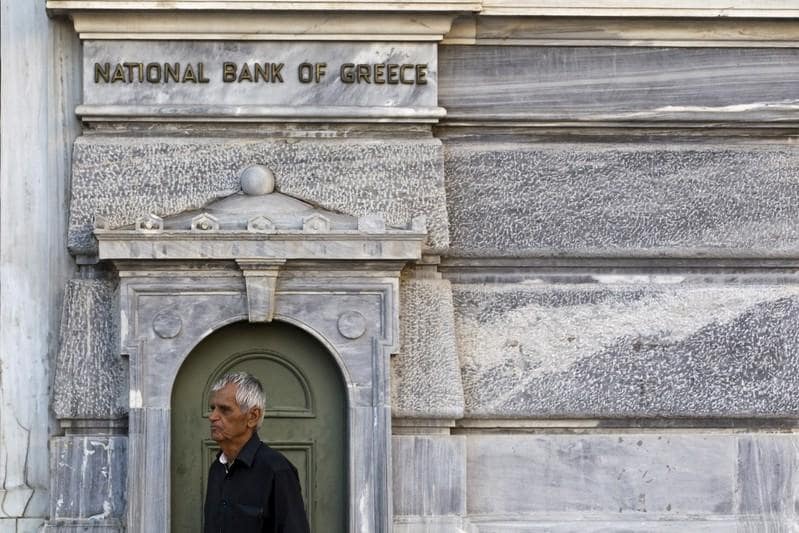 By George Georgiopoulos and Angeliki Koutantou
ATHENS (Reuters) - Greece's National Bank (NBG) said on Wednesday it had ended talks with Shanghai-based Gongbao Group on the potential sale of a majority stake in its wholly-owned insurance subsidiary.
The bank, Greece's second-largest by assets, said no further negotiations with Gongbao would be pursued. It would not specify why it ended the discussions.
In a statement issued through a PR agency in Athens, Gongbao said NBG had unilaterally halted negotiations.
It said the Greek group had ignored what it described as a "solid offer" of 350 million euros ($404 million) in cash, with bank facilities of up to 450 million euros backed by the Industrial and Commercial Bank of China (ICBC) for the insurance business.
"We reserve our rights to pursue legal action," the Gongbao news release said.
In response, an NBG official, who declined to be named, said: "The sale procedure did not go through because NBG was asking for required information regarding the money Gongbao had offered but this never came to NBG."
NBG had put its National Insurance business up for sale as part of an EU-approved restructuring plan to focus on core banking operations.
Previous discussions to sell the insurance business to U.S. and Dutch investors fell through in March.
U.S. fund manager Calamos Investments and EXIN Partners had agreed to acquire 75 percent of NBG's insurance arm for 718 million euros ($830.65 million), but the deal turned sour after a legal row between the two buyers.
Gongbao had submitted an offer for a majority stake in National Insurance in June.
NBG, which is 40.4 percent owned by Greek bank rescue fund HFSF, said that after assessing various aspects of Gongbao's binding offer, including the "certainty of a successful conclusion" of the transaction, it decided to stop discussions.
"NBG remains committed to exploring alternative options of compliance with its commitments under the restructuring plan as agreed with the (European Commission's) DG Competition and will inform investors accordingly in due course," NBG said in a statement.
Gongbao was the only bidder in the final stage of binding financial offers for the buyout of a 75 percent stake in Greece's leading insurer.
"There is an agreement with EU competition authorities that the bank will have an ample time extension to sell the unit, beyond December 2018," an official at NBG said, declining to be named. "Hence the sale most likely becomes a 2019 story."
Founded in 1891, National Insurance is Greece's oldest insurer and provides life and non-life insurance products. The company had a 16.6 percent share of the market in 2016.
($1 = 0.8672 euros)
(Writing by Michele Kambas and George Georgiopoulos; editing by Emelia Sithole-Matarise and Adrian Croft)
This story has not been edited by Firstpost staff and is generated by auto-feed.
Find latest and upcoming tech gadgets online on Tech2 Gadgets. Get technology news, gadgets reviews & ratings. Popular gadgets including laptop, tablet and mobile specifications, features, prices, comparison.
World
By Jeff Mason WASHINGTON (Reuters) - U.S. President Donald Trump, facing the possibility of a cash crunch, said on Tuesday he would spend "whatever it takes" of his own money to finance his 2020 presidential campaign against Democrat Joe Biden if he had to
World
By Lisandra Paraguassu BRASILIA (Reuters) - Brazilian House Speaker Rodrigo Maia said on Tuesday that lawmakers are currently finalizing the text of a bill targeting those that finance "fake news" attacks on social media sites, adding that it could be voted on by the end of this year. The draft of the Brazilian bill was approved in the Senate on June 30, but the lower house created a working group to suggest modifications. Those changes will be finalized in two weeks, Maia said
World
DUBLIN (Reuters) - Ireland plans to allow the reopening of all pubs on Sept. 21, dropping a ban on bars that do not serve food, a senior minister said on Tuesday.