With pulses spiking to a record of up to Rs 190 per kg, the government today swung into action with a number of measures including use of price stabilisation fund and imports to cool prices and create a buffer stock.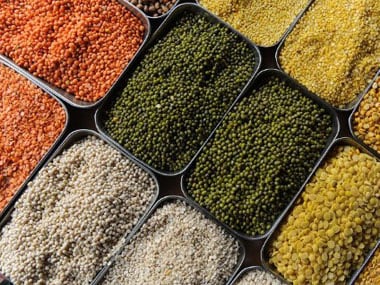 An inter-ministerial group headed by Finance Minister Arun Jaitley reviewed the price situation as rates peaked to Rs 187-190 a kilogram in retail markets across the country. Jaitley said the government has decided to invoke the Rs 500-crore Price Stabilisation Fund that will be used to pay for transportation, handling, milling and processing — aimed at reducing the cost of imported pulses. This would help in increasing supplies and making pulses available in the retail markets at lower rates.
Also, states have been asked to lift stock of pulses lying at ports like Jawaharlal Nehru Port near Mumbai. To deal with supply crunch, the government has also decided to create a buffer stock of lentils mainly through imports, Jaitley said. "Keeping in mind that some amount of stock is available with JNPT, the group decided that we build up a buffer stock preferably by imports to take care of the problem in future," he told reporters after the IMG meeting.
Jaitley further said that "more quantity for the next few days will also be imported into the country so that the supply side problem can be taken care of which will have an impact on prices." Sources said a further 2,000 tonnes of pulses will be imported to curb rising prices. This will be in addition to the 5,000 tonnes lying at the ports and another 2,000 tonnes of pulses that are in transit.
"We have also decided to invoke our Price Stabilisation Fund and therefore the handling charges at the port, the transportation charges, the milling and processing charges -- in order to make the price of the pulses more affordable," will be borne by the fund, he said. The Finance Minister said a "considerable" amount of stock will come to the market over the next few days. This together with the invocation of the Price Stabilisation Fund will have some impact on cooling down the prices of pulses.
PTI
Updated Date: Oct 15, 2015 11:58:40 IST