Govt to allow 100% privatisation of six airports in terms of operation, development and management; will offer 50-year lease
The government is mulling to offer a 50-year lease for these airports and has said that the turnover and net worth of the bidders will be the key criteria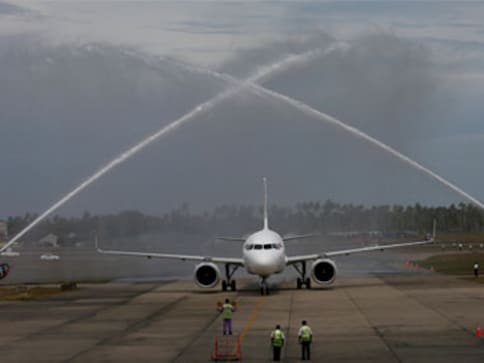 The government is reportedly planning to complete the leasing of six airports - Ahmedabad, Jaipur, Lucknow, Guwahati, Thiruvananthapuram and Mangaluru - by 28 February 2019, a media report said.
The government is mulling offering a 50-year lease for these airports and has said that the turnover and net worth of the bidders will be the key criteria, The Times of India reported.
The report added that the government has decided to allow 100 percent private participation for operation, development and management. The government has formed an empowered group of secretaries to ensure that the privatisation of six airports goes smoothly.
"The empowered group of secretaries will ensure that all issues are resolved for a successful completion of the privatisation process," a senior government official familiar with development was quoted as saying last week by The Economic Times.
On 8 November, the Union Cabinet had approved the leasing of the six airports for operation, management and development under the Public Private Partnership (PPP).
Currently, the airports being managed under the PPP model include Delhi, Mumbai, Bangalore, Hyderabad and Cochin.
"While these PPP experiments have helped create world-class airports, it has also helped AAI (Airports Authority of India) in enhancing its revenues and focusing on developing airports and air navigation infrastructure in the rest of the country," an official statement had said.
As per the Civil Aviation Ministry statement, PPP in infrastructure projects brings efficiency in service delivery, expertise, enterprise and professionalism apart from harnessing the needed investments in the public sector.
The decision to lease the airports under the PPP model was expected to enhance the revenue to AAI and increase the economic development in the concerned areas in terms of job creation and related infrastructure, as per the statement.
With inputs from IANS
India
The regulator urged all airport operators to assess their wildlife hazard management plans in order to find any gaps and ensure that they are strictly followed in and around aerodromes
India
The new process will initially implemented in three cities – Bengaluru, Mumbai and Delhi. The airline plans to expand to all cities gradually
India
Dhirendra Singh was out on a road on his bicycle on Saturday when the accident took place near Kishorepur village around 7.30 pm