Govt does not want Air India to shut down the way Kingfisher Airlines did, says Ashok Gajapathi Raju
Air India is a good airline, but its finances are bad
Senior Telugu Desam Party (TDP) member P Ashok Gajapathi Raju feels the aviation industry is going to continue to make huge strides in the coming years and expresses confidence that India will face a major boom in this sector.
In an interview with Firstpost, he talks of the developments and investments in the sector.
Excerpts from the interview:
How is the Indian aviation sector doing?
The last three years have been very good for the Indian aviation industry. We are the fastest growing in terms of passengers in the world. We have grown from the ninth rank to the third rank domestically and are on the fourth place internationally. The aviation sector has seen a growth of 20 percent for the last two years. The Ude Desh ka Aam Naagrik (UDAN) is also doing well. Under the Udan scheme we are looking at 80 destinations from which 18 destinations have already started by paying Rs 2,500 for one hour of flying. From April we will be adding 43 new destinations with the launch of the Regional Connectivity Service. Flying was a rich man's prerogative but now it has also become a common man's prerogative. We have 400 air strips that are owned by the government of India, state governments and the defense ministry. We have 73 airports which are active.
What kind of future investments are you looking at?
We need private players to come in because our airport infrastructure needs to be strengthened. Airports Authority of India is expected to invest a sum of Rs 150 billion for upgradation of existing airports and for new airports in the coming few years. However, the speed with which the civil aviation sector is growing, this will not be enough. We need larger investments, which makes it necessary to invite private groups and partners if we want to sustain the growth.
What has been decided about Air India?
Air India is a good airline, but its finances are bad. The government does not want Air India to shut down the way the Kingfisher Airlines did. All Indians are proud of it. But its management has to be run in a professionalised manner. Decision-making processes are cumbersome in the government. The government does not want anyone working in Air India to lose their job. The Air India-specific Alternative Mechanism is looking to guide the whole process. This is headed by Finance Minister Arun Jaitley and they are looking into the modalities to divest Air India. But it is not possible to give any timelines for this. Air India has many assets. The airline is getting a rent of Rs 84 crore from its Mumbai office. It has housing colonies. It has aviation hangers -- some are junkyards and not being used. What is not appropriate should go. How to apportion this debt has to be decided.
What is the percentage of disinvestment that is likely to take place in Air India?
No final decision has been taken on this yet. There are lots of suggestions, a lot of thinking is going on. There is no final decision yet. I say, you are welcome to make suggestions.
The Parliamentary Committee is also looking into this whole disinvestment issue. Is there a possibility that the Parliamentary Standing Committee might ask the government to suspend the divestment process and give Air India at least five years to get back to its feet?
Members of Parliament are free to suggest. Whatever suggestions they give us, we will look into them. Recommendations, discussions on this issue are always welcome but I don't think anything will be called back. That's not how the government works.
The Minister of State had said that disinvestment for Air India open to the tune of 51 percent?
Everyone is free to give suggestions - solicited and unsolicited.
Why can't the debt of Air India be written-off ?
Working off a debt (of this magnitude) is difficult. Aviation is a competitive business. Decision-making process in the government is not conducive to airline operations. Airlines are a service industry. Under the Udan scheme, an airline ended up placing an order for a propeller aircraft. This is because of quick decision-making. Government is a slow machine but airlines need quick decision-making.
But national governments around the world have stepped in to save their national carriers as they saw these carriers as reflecting the identity of their countries?
Yes, that has happened. Take the case of British Airways where the government went in for a strategic disinvestment.
Last year a large number of pilots faced regulatory action. Is that correct?
Safety will not be compromised but I must re-emphasise that the Indian skies have been reasonably safe last year. Last year was a good year for aviation.
While dynamic pricing has become the norm, the fact is that on some routes airlines are asking for exorbitant prices?
This is an economic activity. There was a time when government fixed the prices but the world has moved towards dynamic pricing. We have noted the high price of tickets in some sectors but by and large this is not the case. A study has shown those who suggest caps this will end up increasing cost for 98 percent of the public and will serve only two percent. The answer is to try and create more competition by getting additional capacity to be used in certain seasons.
What is your reaction to Indigo refusing to shift its terminal from T1 to T2?
Delhi International Airport (P) Limited (DIAL) had asked airlines operating from T1 to shift (some of) their flights to T2 so they could carry out their expansion plans. Work on this should have started last year. The world over, it is the airport operator who takes a final decision on this.
Indigo has chosen to go to court on this matter?
Their plea was rejected by the Delhi High Court. The matter should be settled at the earliest.
Is the TDP planning to break away from the NDA alliance?
As of today, we are part of the NDA government. These are sensitive issues. When Andhra Pradesh was divided, it was done so in a very unscientific manner. Certain commitments were made to the people of Andhra Pradesh which must be met.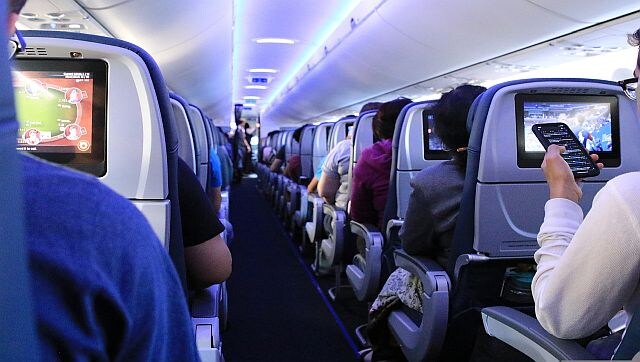 News & Analysis
Research has shown that in-flight use of phones don't impair the aircraft's ability to operate. But cabin crews may prefer not to be delayed in providing in-flight service to all of the passengers
India
There is a growing realisation among the Canadian political class that the appeasement of Khalistanis will cost Canada its bilateral relations with India big time
India
After being severely hit by the Coronavirus pandemic, the country's civil aviation sector is on the recovery path, says data from the DGCA