Good news for Modi: March inflation at 6-mth low, Feb factory output signals revival
if the good news on monsoon front turns out to be real, the Narendra Modi government may hit a jackpot this year on the economy front
India's retail inflation eased in March to a six-month low, helped by smaller rises in food prices, giving relief to policymakers as they strive for faster economic growth without unleashing price pressures.
Raghuram Rajan, governor of the Reserve Bank of India (RBI), cut policy rates by 25 basis points last week to a more than five-year low, saying he could look for more room to ease if inflation trends stay benign.
Annual consumer price inflation, which the RBI tracks to set its interest rate policy, eased to 4.83 percent in March from a year ago, data released by the Ministry of Statistics on Tuesday showed.
If inflation holds below 5 percent, that could encourage the central bank to ease interest rates further, some analysts said, while others saw little room left.
"The drop in Indian consumer price inflation in March is likely to fuel talk of more interest rate cuts, but we think that the scope for further monetary loosening is limited," said Shilan Shah, India economist at Capital Economics.
Economists surveyed by Reuters had forecast retail inflation would slow to 5 percent in March from an upwardly revised 5.26 percent in February.
Output at factories, utilities and mines grew an annual 2 percent in February, higher than the 1.0 percent forecast by economists surveyed by Reuters.
Retail inflation has eased from double digits in 2013, helped by a plunge in global crude oil prices, tight monetary policy and fiscal consolidation.
Finance Minister Arun Jaitley aims to bring down the federal deficit to 3.5 percent of gross domestic product in the current fiscal year, while allocating more funds to the struggling farm sector.
Food inflation eased slightly to 5.21 percent in March from 5.30 percent the previous month.
Rating agency Crisil noted that core inflation fell slightly to 5.4% from 5.7% in February, albeit remaining above the 5% mark in March.
"Core inflation felt some upside pressures which mainly came from the sticky inflation in items like personal care and effects, education, and heath. The stickiness in core inflation is led by services, indicating capacity constraints in the sector," it said.
Offering hope that India's two-year drought may soon end, India's weather office forecast that this year's June-September monsoon rains would be above average.
In this context, Crisil expects inflation to remain close to 5% in the current financial year. It also notes that the recent RBI inflation expectation survey (Mar 2016) signals that households' inflation expectations have moderated. The number of respondents expecting inflation to rise in the coming months has fallen to 31% from 36% in Dec 2015, it said.
The good news on monsoon front is also seen as a boost to the severely stressed rural economy.
"The above-normal monsoon forecast should augur well for agricultural production, and thus there are downside risks to inflation estimates as far as food inflation is concerned," said Madhavi Arora, an economist at Kotak Mahindra Bank in Mumbai.
India's annual economic growth slowed to 7.3 percent in the October-December quarter from 7.7 percent the previous quarter, below the 8.0 percent growth needed to generate jobs for the millions of Indians joining the workforce each year.
The central bank aims to bring retail inflation down to 4 percent by March 2018.
It fears a proposed hike of about 24 percent in the wages of nearly 10 million federal government employees and pensioners later this year could put upward pressure of 1-1.5 percent on inflation. However, Crisil is of the view that this is unlikely.
"Given the excess capacity in industry, fiscal restraint, weak demand and softer commodity and oil prices, the impending Seventh Pay Commission payouts are unlikely to swing inflation away from the RBI's glide path," it said.
However, it expects only another 25 bps rate cut this year because of the sticky-inflation in some items, especially services such as health, education and personal care, which is a concern.
On the factory output, though the positive reading after a gap of three months was indeed a good news, the weakness in the capital goods sector is a drag.
"The breakup of the headline number showed that growth picked up on the back of impressive performance of the core sector as mining and electricity both touched multi-month highs. However, the crucial manufacturing sector growth remained subdued as capital goods production continued their streak of negative prints for the fourth month in a row," said Rishi Shah, economist, Deloitte India.
According to Shah, this clearly shows that there is still very little momentum on capital expenditure and any sustainable increase in investments is still some time away.
However, urban consumption growth has picked up and resulted in increased production of consumer durables.
"Going forward, we are likely to see growth emanate from parts of the core industries on the back of ongoing reforms as seen in the power sector and a possible increase in consumption demand from both the urban and rural parts of the economy," he said.
According to Crisil, capacity utilisation rate (72.5% between Oct-Dec 2015) for manufacturing, though remained low, displayed signs of bottoming out.
"We expect the pickup in consumption next fiscal to push capacity utilisation rate higher and revive the capex cycle by the second half of FY17," it said.
Overall, if the good news on monsoon front turns out to be real, the Narendra Modi government may hit a jackpot this year on the economy front.
With Reuters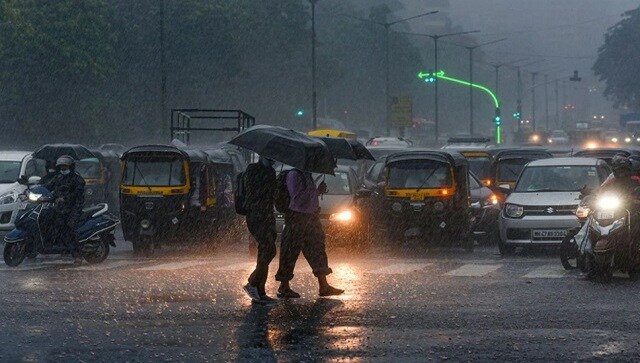 India
The state received an average 155.9 mm rainfall triggering floods in urban and rural areas
India
With this continuous rainfall in September, Delhi has received 404.7 mm of rain till now.
Sports
According to the India Meteorological Department (IMD), southwest monsoon withdrawal from northwest India takes place if there is cessation of rainfall activity over the area for continuous five days.