Gold slips to four-month low on stronger dollar, stocks
By Brijesh Patel (Reuters) - Gold prices fell to a near four-month low on Tuesday as the U.S. dollar gained and investors sought out riskier assets, dampening the safe-haven metal's appeal. Spot gold was down 0.2 percent at $1,271.75 per ounce as of 12:35 p.m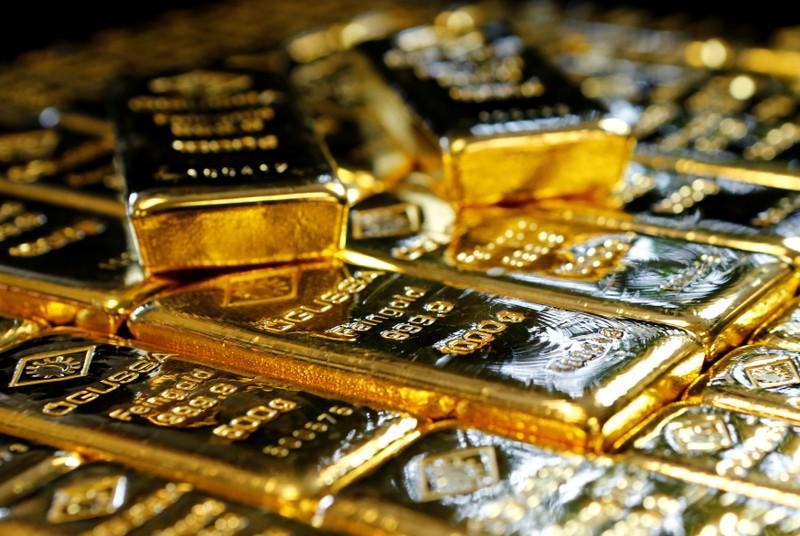 By Brijesh Patel
(Reuters) - Gold prices fell to a near four-month low on Tuesday as the U.S. dollar gained and investors sought out riskier assets, dampening the safe-haven metal's appeal.
Spot gold was down 0.2 percent at $1,271.75 per ounce as of 12:35 p.m. EDT (1635 GMT), after falling to its lowest since Dec. 26 at $1,265.90 earlier in the session.
U.S. gold futures fell 0.23 percent to $1,273.90 an ounce.
"Gold traders are on the sidelines because of the strength in the dollar, stock and bond markets," said George Gero, managing director at RBC Wealth Management.
"Gold (market) is taking a back seat, waiting for something solid like inflation numbers or some political changes in the U.S.; until then, prices are expected to trade in the lower ranges."
Denting appeal for bullion, the dollar index held near a three-week high as a drop in market volatility boosted demand for riskier assets, with higher U.S. bond yields also offering support to the U.S. currency.
Also, U.S. stocks were trading higher on better-than-expected corporate results.
"There is risk-on sentiment, and no flight to safety now, even with what happened in Sri Lanka," said Phillip Streible, senior commodities strategist at RJO Futures.
Attacks on churches and luxury hotels in Sri Lanka on Sunday killed over 300 people and wounded more than 500.
Adding to gold's headwinds are better-than-expected economic readings recently from both the U.S. and China, contributing to the metal's decline of about 6 percent from its 2019 peak touched in February.
Markets are now awaiting the release of U.S. GDP data later in the week for an indication of the strength of the world's largest economy.
Analysts and traders said gold's break below key support levels last week, including the 100- and 50-day moving averages, signalled further downside for prices.
Indicative of sentiment, holdings of SPDR Gold Trust, the world's largest gold-backed exchange-traded fund, were at their lowest since Oct. 26.
In other metals, silver fell 1.1 percent to $14.82 per ounce, after dropping to its lowest level since Dec. 26 at $14.71.
Platinum was down 1 percent, to $886.85 per ounce, having hit a two-week high of $911.75 in the previous session.
Palladium fell 0.4 percent to $1,380.79 per ounce, after falling as much as 3.5 percent in the previous session.
(Reporting by Brijesh Patel in Bengaluru; Editing by Marguerita Choy and Bernadette Baum)
This story has not been edited by Firstpost staff and is generated by auto-feed.
World
By Andrea Shalal WASHINGTON (Reuters) -The United States said on Thursday it would boost public climate finance to help poor countries reduce greenhouse gas emissions and adapt to a changing climate, doubling funding by 2024 from high average levels hit during the Obama administration. The White House said it was embracing "ambitious but attainable goals" for international aid to developing countries, given the urgency of the climate crisis and to compensate for a sharp drop in U.S. funding during the Trump administration.
World
(Removes extraneous word 'while' in paragraph 3) (Reuters) -Pregnant women infected with COVID-19 and their newborn children face higher risks of complications than was previously known, a study by British scientists showed on Friday. An infection of the new coronavirus in such newborns is associated with a three-fold risk of severe medical complications, according to a study conducted by scientists at the University of Oxford. (https://bit.ly/3tNwkJ7) Pregnant women are at higher risk of complications such as premature birth, high blood pressure with organ failure risk, need for intensive care and possible death
World
MADRID (Reuters) -Anonymous death threat letters with bullets enclosed in the envelopes have been sent to two of Spain's top security officials and the leader of the hard-left Unidas Podemos party, officials said on Friday, adding police are investigating.