Gold rises to near six-year high on dollar weakness, U.S.-Iran tensions
(Reuters) - Gold prices rose to their highest level in nearly six-years on Tuesday as the dollar sat near multi-month lows and the announcement of fresh U.S. sanctions on Iran boosted interest in the safe-haven metal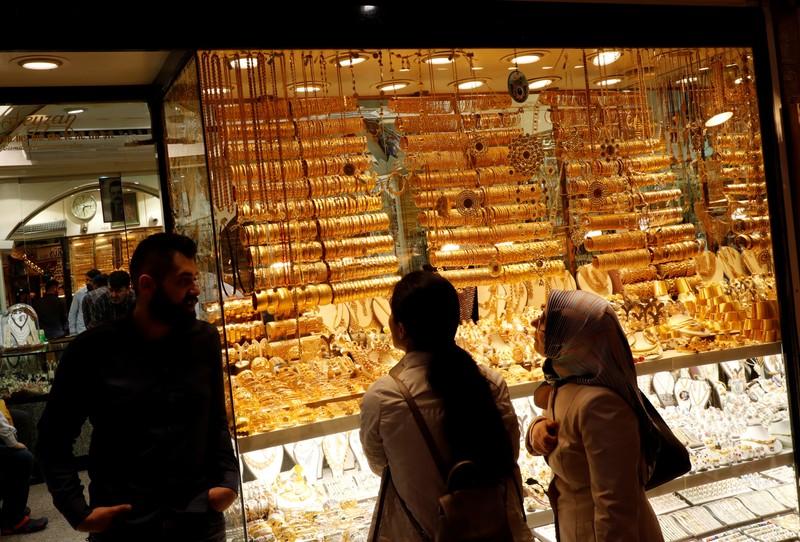 (Reuters) - Gold prices rose to their highest level in nearly six-years on Tuesday as the dollar sat near multi-month lows and the announcement of fresh U.S. sanctions on Iran boosted interest in the safe-haven metal.
FUNDAMENTAL
Spot gold was up 0.4% at $1,424.35 per ounce as of 0100 GMT, after hitting its highest level since August 28, 2013 at $1,428.54.
U.S. gold futures rose 0.8% to $1,429.40 per ounce.
U.S. President Donald Trump targeted Iranian Supreme Leader Ayatollah Ali Khamenei and other top Iranian officials with sanctions on Monday, taking a dramatic, unprecedented step to increase pressure on Iran after Tehran's downing of an unmanned American drone.
The dollar dropped to a three-month low against a basket of currencies on bets the U.S. Federal Reserve may lower interest rates more than once this year.
U.S. Treasury yields fell on Monday, holding just above almost three-year lows, ahead of trade talks between the U.S. and China later this week.
Trump again criticized the Federal Reserve on Monday for not cutting interest rates, keeping up his pressure on the central bank to change its policies.
Investors are focused on whether President Trump and Chinese President Xi Jinping can de-escalate the trade war between the two countries when they meet at the G20 summit in Japan.
Trump is slated to meet one-on-one with at least eight world leaders on the sidelines of the G20 summit in Osaka, Japan, later this week, a senior U.S. administration official said on Monday.
Asian stocks were left adrift on Tuesday as expectations of more dovish talk from the Federal Reserve pushed down Treasury yields and the dollar.
Holdings of SPDR Gold Trust, the world's largest gold-backed exchange-traded fund, rose 0.37% to 801.96 tonnes on Monday from 799.03 tonnes on Friday.
(Reporting by Brijesh Patel in Bengaluru; editing by Richard Pullin)
This story has not been edited by Firstpost staff and is generated by auto-feed.
Find latest and upcoming tech gadgets online on Tech2 Gadgets. Get technology news, gadgets reviews & ratings. Popular gadgets including laptop, tablet and mobile specifications, features, prices, comparison.
World
By Jeff Mason WASHINGTON (Reuters) - U.S. President Donald Trump, facing the possibility of a cash crunch, said on Tuesday he would spend "whatever it takes" of his own money to finance his 2020 presidential campaign against Democrat Joe Biden if he had to
World
By Lisandra Paraguassu BRASILIA (Reuters) - Brazilian House Speaker Rodrigo Maia said on Tuesday that lawmakers are currently finalizing the text of a bill targeting those that finance "fake news" attacks on social media sites, adding that it could be voted on by the end of this year. The draft of the Brazilian bill was approved in the Senate on June 30, but the lower house created a working group to suggest modifications. Those changes will be finalized in two weeks, Maia said
World
DUBLIN (Reuters) - Ireland plans to allow the reopening of all pubs on Sept. 21, dropping a ban on bars that do not serve food, a senior minister said on Tuesday.